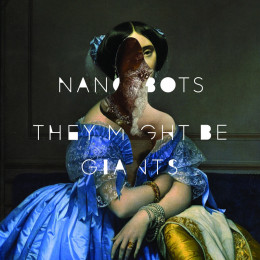 First thing that comes to mind when I think of They Might Be Giants? Craziness. Not in a bad way, though. They exude an attitude of outright wackiness combined with a prominent musical prowess. You'd think that this twitch would wear out eventually, but They Might Be Giants has still got it goin' on, with their recent release of "Nanobots."
The 25-song long album presents a fresh new set of TMBG tunes, while still retaining their classic musical style. This album can warm up very easily to any tried-and-true TMBG fan. They maintain and rejuvenate their alternative, jangly quirkiness. The songs "Nanobots"and "Call You Mom" are good examples of salutes to TMBG's classic style of song: slightly absurd lyrics crooned over jangling guitars and sculpted rhythm.
There is one song in particular, that stands out among the rest. The song "The Darlings of Lumberland" is freakin' cool. Upon first listen, it's difficult to deduce immediately that it came from the loins of TMBG. The opening reversed-drumbeat coupled with the light brass instruments is enough to hook the ears of anyone. It then proceeds into a brass-heavy, catchy beat, followed by creepy, almost alien-like vocals, then juts back into bold, brassy goodness. In short, it's crazy awesome, and everyone should listen to it at least once in their lives. I think, at least.
Overall, this album had some sweet ole' evocations of childhood sentiment, from times when I listened to TMBG as a tot, yet still presented some new, uncharted TMBG flavor.