Rock on, Romeo
www.theoldglobe.org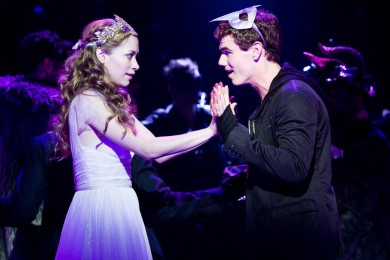 Swordplay, dance sequences, forbidden love: this production has it all. The Old Globe's "The Last Goodbye," with music by rock artist Jeff Buckley and choreography by "So You Think You Can Dance"'s Sonya Tayeh, is a rock musical taking place in modern times while preserving Shakespeare's classic "Romeo and Juliet" storyline and old English language.
The stage was set with sort of a grunge-like feel. Two-storied stone arches dominated the stage. These mobile structures also served as sources of various lighting fixtures, steps, and other props The stage transitioned easily from scene to scene, making clear distinctions between each location. Friar Lawrence's cell, for example, was lit by a series of small bulbs built into the stone arches and perfected the warm, homely chapel where both Romeo and Juliet sought solace. Juliet's bedroom consisted of a rolling bed, wheeled on stage among the arches to replicate a new room. Other special effects included trapdoors on stage, light-up words, ingenious lighting techniques, and realistic wounds when characters were injured.
The music in itself was fantastic. A live rock band, centered at the back of the stage, was separated from the actors by a curtain that was raised during several scenes. The choreography encompassed the rock music perfectly. In musical numbers where many actors appeared on stage, the choreography seemed random and sporadic, with each actor moving in a different manner and direction. However, there was an underlying organization that contributed to an overall aesthetic appeal.
The casting was spot on. Romeo's (Jay Armstrong Johnson) focused passion ranged anywhere from teenage angst to unconditional love. Juliet's (Talisa Friedman) body language, including poor posture, created an air of insecurity and doubt in her actions and love for Romeo. The couple together was a prime display of unconditional love. Other characters, such as Mercutio (Hale Appleman) and Tybalt (Jeremy Woodard), were also excellently cast; their passion and anger could be felt throughout the theater.
All of these components combined to form a musical that, while retaining the original language and storyline, exhibited as much wit and cleverness as it did drama and tragedy. A performance such as this is one sure to delight and enrapture audiences looking for a fresh take on a classic tale. This production is scheduled to run through November 3 at The Old Globe theater in Balboa Park.
About the Contributors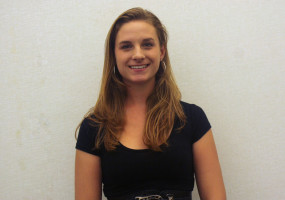 Lauren Shaw, Staff Writer
Senior Lauren Shaw is the president of FIRST Robotics Team Paradox 2102 and enjoys a warm night at the beach or a dip in the pool. She can be found at...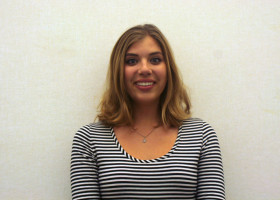 Manon Wogahn, Staff Writer
Senior Manon Wogahn is an art, history and English fanatic who loves a nice bowl of ice cream while enjoying a French movie. She can be seen cruising around...