Old Globe's "Bethany" Depicts Desperation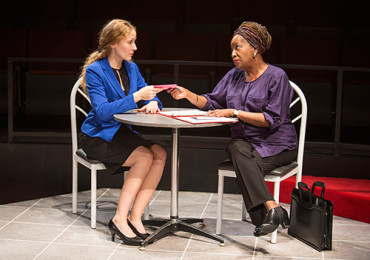 The Old Globe's production of "Bethany" instantly immerses the audience in a scene that might not typically be brought to mind when thinking of theater: A business woman and a homeless man crossing paths in the empty home they have broken into.
The play holds the audience in suspense, revealing little about the motives of the main character, Crystal, whose determined personality is uncovered more with each scene.  Underlying themes, mostly regarding the atrocities the nation's obsession with wealth as well as the recent housing crisis have caused, are seen throughout the play.  The plot takes dramatic twists with every scene becoming more desperate and dark with each turn.
As an audience member, my perception of Crystal drastically evolved. At first she appeared a desperate, but innocent, mother willing to do anything for her child. However, by the end she had spiraled into a sinister sequence of dark decisions that made me question my ability to forgive her.
The further into the play, the more obscene, immoral and violent the actions of the characters became.  Although the overt violence, profane language, and suggestive actions could at times make the audience feel uncomfortable, it forced them to truly evaluate the haunting message the writer and director were trying to send: that greed and desperation can cause people to resort to  terribly drastic measures.
The acting was phenomenal, especially Jennifer Ferrin's portrayal of Crystal. She took the audience on a convincing emotional journey that revealed how powerful a mother's instinct and desire for society's definition of wealth can be. Ultimately, the performance compelled the audience to consider an uncomfortable, but important idea: Society has conformed us to define security and success as material wealth.
"Bethany" will be playing through Sunday, Feb. 23, in both the Sheryl & Harvey White Theatre and the Conrad Prebys Theatre Center.