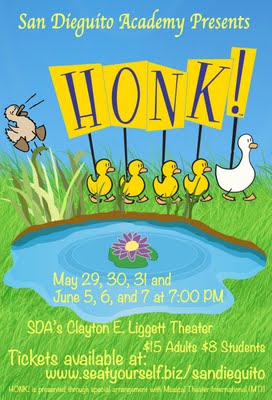 https://sites.google.com/a/sduhsd.net/sda-theatre/home
SDA Theatre ended the year on a literal high note with a dazzling production of "Honk!" The musical is a production of George Stiles and Anthony Drewe's story based on the ugly duckling fairy tale.
There were some noticeable opening night jitters during the first singing number but the actors gained confidence as the show progressed. Once Ugly (sophomore Will Fletcher) is introduced; the play seems to take shape.  From there, the vocal performances become stronger and the show lets its lead actors shine.
The funniest scenes come when the sly Cat (senior Trevor LaPlante) is on stage.  LaPlante's character engages in a hilarious attempt to cook Ugly alive filled with double ententes and well executed slapstick comedy.  LaPlante and Fletcher share great chemistry on stage with LaPlante's dry humor meshing perfectly with Fletcher's more reserved stage presence.
Sophomore Jessica Morilak also provides a strong performance as Ida, the mother duck who is the only one who takes a liking to Ugly.  Her strong and dedicated performance contrasts well with her embarrassed husband Drake (junior Bryce Ayers). As the show progressed the vocal cast gained more confidence in the second act and their performances improved.
Among the notable standouts was junior Ben Ellerbrock, who playing a happy go lucky Bullfrog, joins Fletcher in a catchy singing number to convince him that someone will love him, "warts and all."
The cast was consistently backed by strong performances from the pit orchestra, conducted by senior Katrina Smith.
While LaPlante keeps the show entertaining with his chaffing humor, it is Fletcher who is the backbone of the backbone.  His blocking and stage presence evolve from shy and timid at the beginning to strong and graceful representing Ugly's transformation into an elegant swan.
At one point during the show the emcee, somewhat tongue-in-cheek, advises the audience to honk while driving away if we enjoyed the show.  So in lieu of causing extra chaos in the staff parking lot I'll simply toot my proverbial horn to SDA Theatre on a job well done.