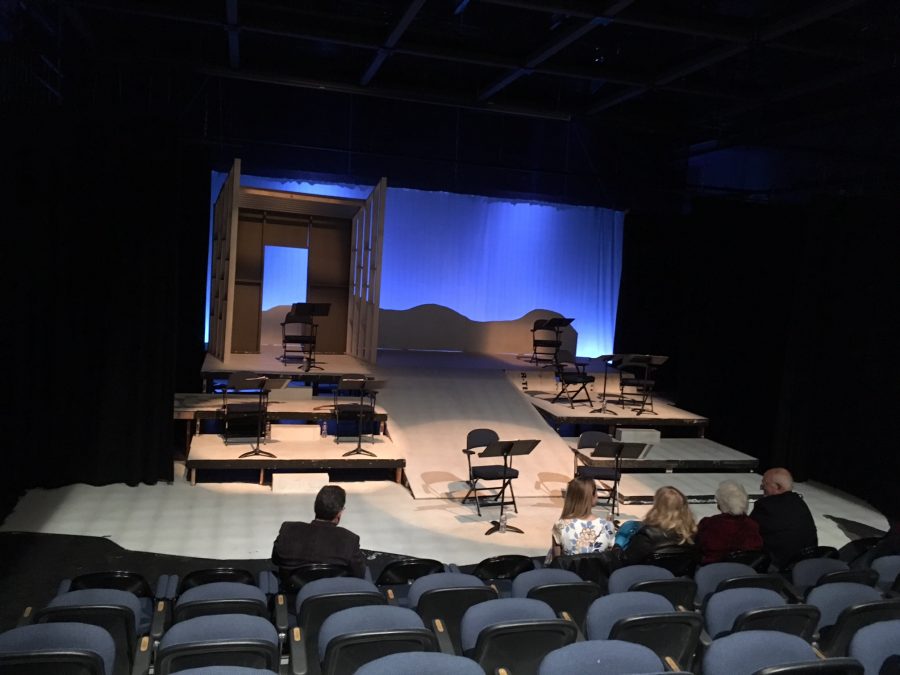 Mallika Seshadri
The Clayton E. Liggett theater hosted the world premiere of the new play "The Middle of It." Directed by playwright Paul Coates from the class of '76, "The Middle of It" narrates the stories of three families and their grieving over losing their child both literally and figuratively. Each of the complex and multifaceted adult characters were played by SDA alumni as well as a few guest actors. Current students (including junior Jenna Steinberg and freshman Jacob Morilak) acted as the younger characters.
The audience members, who were dressed rather formally, gathered in the auditorium. Because this performance was a stage reading of the script, the stage had eight chairs each with a music stand, though there was a simple set.
Once the lights dimmed and a soundtrack of a simple piano melody started to play, the actors took their places and began to embody their characters who, to a certain degree, endure the same struggles. Throughout the play, the thematically overlapping plots seamlessly interrupt each other to propel each story forward.
One of the couples is rather young. When Diane's (Michelle Marie Trester) boyfriend engages her in a discussion after a long day at work, the two quarrel profusely until Diane admits she is pregnant. Though the two don't share the moment of joy and excitement Diane had fantasized about, that moment results in her boyfriend falling deeply in love with her for the first time. Later in the play, Diane has a miscarriage where she briefly, but powerfully, describes the moment she physically felt, in her womb, the loss of her child to be. This news leaves the now deeply in love couple distraught and devastated. Later on in the play though, she becomes pregnant again.
The second couple, which the play is focused on, had a 21-year-old son named Sam (Jewels Weinberg, from the class of 2016) who ventures off to college forcing his parents to find a new way of life. His mother, Alyson (April Audia) is grief stricken after dropping Sam off at Stanford University and takes on the hilarious role of a stereotypically paranoid and child-obsessed mother who calls her son constantly; she begs him not to get a tattoo and not to get a girl pregnant. Meantime, Sam is convinced that his mom (who filled his dorm with potpourri, reorganized his underwear drawer and took away his gummy worms) has filled his life with embarrassment, and he eventually avoids interaction with her. This worsens his mother's emotional challenges and she struggles to reconcile the truth of her son being an independent young man, which at times is more comically conveyed. Then, with Sam's approval, his father, Jason (Paul Coates), attempts to surprise his wife by redoing Sam's old room, which causes Alyson's feelings of loss to be exacerbated. She ultimately feels that her husband is trying erase her memory of her son and that she is left with a meaningless life without him.
The third couple is burdened with guilt. When their daughter, Samantha, was younger, the family's car skidded on black ice, seemingly leaving Samantha in paralysis for over 30 years–though the play intentionally maintained a level of ambiguity regarding Samantha's situation. The mother, Elaine (Lisa Beezley), despite being Samantha's main caretaker, tries to lead a care-free life of denial focusing on trivial things like parties and vacation packages, which generated a wealth of giggle inducing scenes including when Elaine waltzes on stage singing Christmas songs in an intentionally comedic manner. Her husband, on the other hand, is more introspective. He scarcely interacts with his daughter and constantly apologizes to her often angry voice, which is only heard and not seen. The father's memory of his daughter–who is referred to as Samantha Then (Jenna Steinberg)– constantly haunts him through a chilling and simple melody sung acapella.
Though there were many humorous moments throughout the play, overall, the emotions it elicited of loss were numbing. In many ways, the reading's simple approach allowed each viewer to individually interpret the play, which in turn, enabled the audience to further relate with the characters and their struggles. Because such emotions were so raw and relatable, there were many moments where my vision became clouded behind mounting tears and all I thought about was preventing myself from weeping.
This play was primarily told from a parental perspective. However, it did enable the audience to sympathize with the children portrayed on and off stage, one who was physically debilitated (Samantha) and one who was eager to create a life of his own (Sam).
"It was my aim to really and truthfully examine the dilemma in the family makeup of suddenly having those unfilled bedrooms lurking in the home. I'm excited to convey this very important theme in so many lives–to an audience of many who are going through this," said Coates in a quote from The San Dieguito Academy Foundation.