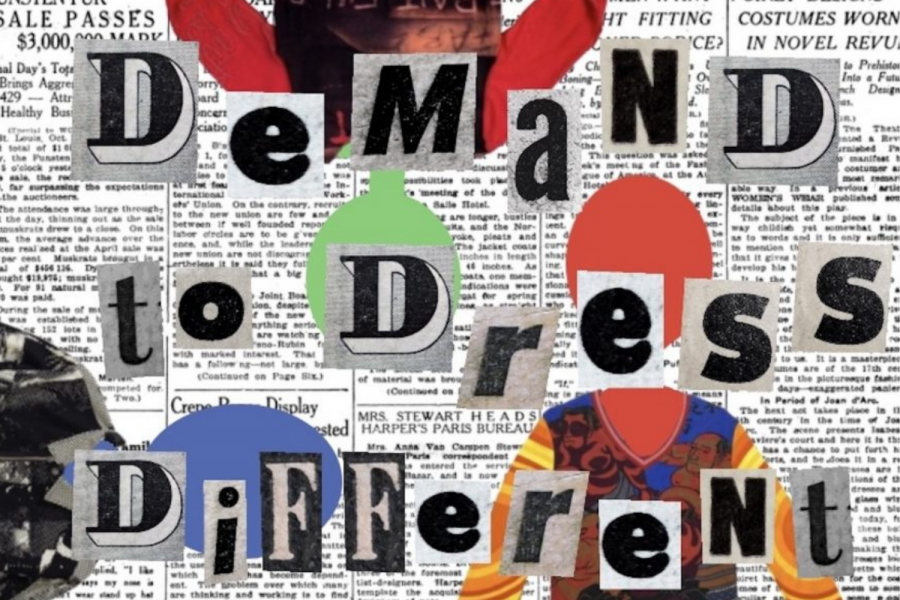 The Demand to Dress Different
How fashion individuality has fueled a demand for vintage designer clothing
February 21, 2021
Fashion. It's the thing that continues to take our money every time the trends change. But, in a growing teenage world, mainstream retail fashion isn't quite cutting it anymore. In the past few years, it has become a competition of sorts to ditch the retail fashion trends instead of obtaining the most avant-garde style that places a high value on individuality. It has rewritten fashion in the sense that in order to be considered fashionable, you have to dress away from the trends. And what better way to fuel this need to stand out other than articles of clothing that are virtually impossible to afford, replicate, or locate? That's where vintage designer pieces that originated during the past three decades come into the story.
Cyber prints, mesh long sleeve tops, and square-toed boots are just a few of the designer pieces that are ironically coming back in style, despite people seeking them for being hard to come by. Designers such as Jean Paul Gaultier combined cyber and mesh to make the rare tops that usually showcased renaissance-era art. I managed to find a few used Jean Paul Gaultier pieces through online retailers such as Depop and eBay, with some costing upwards of $600. 
You may be wondering, who would pay that much for a top that has already been worn? The thing is, over half of the expensive tops that I found had already been purchased. However, if blowing $600 on second-hand clothing isn't your thing, there's plenty of less expensive but still expensive pieces out there for you. 
Another popular '90s designer brand featured on Depop is Cop Copine. Like Jean Paul Gaultier, Cop Copine was popular for its long sleeve tops, which commonly featured realistic graphics of animals or places. Cop Copine's pieces generally retail between $50-$150 on Depop and are usually only available in extra small or small sizes. These tops can only fit a small demographic of the population yet are still continually being sought after. 
This mindset mirrors a similar exclusivity in a mainstream fashion that remains a burgeoning issue: Brandy Melville and their implicit tailoring towards smaller sizes. Like Brandy Melville, designer clothing was generally produced for smaller people, and there was no question about it. The evident lack of inclusivity twists the knife deeper into the already damaging beauty standards set by these companies.
Although some people may not want to admit it, people go where the trends go. If the current trend is to be "off-trend," then everyone feels compelled to ditch their skinny jeans and Nike sneakers for something a bit more eccentric. It's easy to find comfort in these expensive, exclusive designer pieces, as they are deemed "rare" by the general public. However, if everyone likes the idea of acquiring something hard to come by for their wardrobe, then the notion that designer clothing equates to uniqueness starts to lose its truth.
The whole situation is ironic because these expensive articles of clothing made by high-profile designers have become increasingly trendy, despite being so few in quantity. This isn't the kind of fashion trend you can stop by your local department store and join in. This trend, which cannot truly be called a trend because of its lack of availability to the public, has started to gain a new kind of residence amongst the teens who can't get their hands on the clothes. It's becoming more of a trend to want the piece than to actually own it. 
The narrative that you have to dress up in rare vintage designer pieces to be considered fashionable is false and increasingly harmful. Just because this type of fashion is hard to come by, that doesn't stop the style from being popularized and imitated in trends. In other words, it's not necessary to have the most exclusive pieces in your wardrobe to have an individualistic style if, at the end of the day, it's what everyone is trying to get their hands on.