Banksy hoping to purchase Reading Prison where Oscar Wilde was imprisoned
Banksy raising awareness to what's right and influencing the youth.
January 20, 2022
Banksy is an anonymous street artist who is well known for his controversial and often politically themed artworks and he is a street artist whose identity remains unknown. His primary creations of art is stencil art and Banksy started to gain popularity in the early 1990s due to his creativeness. Banksy's artwork is characterized by many different images and he often combines the images  with slogans. 
Banksy is now getting himself into a controversial topic as he has gathered over 13 million dollars  to buy the prison where Oscar Wilde was imprisoned. There is also additional money that has been raised  by the Reading Borough Council to save this prison. Banksy has already tagged this building with what looks like a prisoner escaping with a poet, which is exactly what Oscar Wilde's identity was. Wilde had a very famous and controversial career as well; he became one of the most popular playwrights in the 1890s. He's most famous for his epigrams and his plays, with The Picture Of Dorian Grey being  one of the most popular novels he wrote in his early career. As his career developed and gained popularity, he was arrested in the year of 1895. He was arrested and convicted of gross indecency and for consensual homosexual acts in one of the first celeberity trials. Wilde had a really tough first couple of months inside the prison when he first arrived as he didn't get much attention, and this made it very difficult for him mentally nand put him in a bad spot even though it was supposed to get easier for him when he got to transfer to Reading. His situation eventually improved when a new prison governor granted Wilde access to more books and to some writing paper. He wrote The Ballad Of Reading Gaol when he was released from prison and it recounts the fate of an inmate who was hanged on prison grounds. Gyles Brandreth, a writer, actor, and broadcaster, president of the Oscar Wilde Society said that Wilde being in prison showed his place in society and in global literature, and it showed how he needed to be saved. 
With Banksy wanting to turn the Reading Prison into an arts venue, he had something to say about why he felt it was right as well: "Converting the place that destroyed him into a refuge for art feels so perfect, we have to do it." The arts venue costs more than £250,000 pounds a year to keep it maintained. Matt Rodda, the Labor MP for Reading East, said, "He [Banksy] really sees the potential in this important historic building, which not only has links to Oscar Wilde but is built on top of the site of the former Reading Abbey, where King Henry I was buried." The Community where Reading prison is located is very much supporting of this offer and hope that it can work out and that Bansky makes it a memorable place for everybody. And theory are doing this for the correct reasons as they want to raise the awareness of what had happened to Oscar Wilde and to make more people undrtsand the LGBTQ community and how it effects us all and the positivity being spread with this idea by Bansky.
Banksy is hopeful to complete the purchase of the prison. They're hope is that it can make this a better place for everybody to come experience something new especially because the most famous artist in the world's work is gonna be there. He and the prison system have raised more than $13 million and it would be a crime for them not to accept the $13 million that Bansky and the foundations have gathered from the beginning. Oscar Wilde had an impact on the community as one of the most popular playwrights of the 1890s and his popularity is beginning to gain again with the help of Banksy. 
Leave a Comment
About the Contributor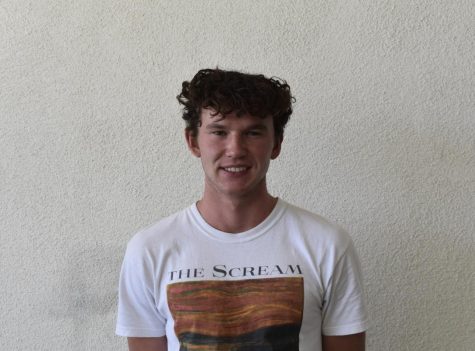 Owen Isachsen, Staff Writer