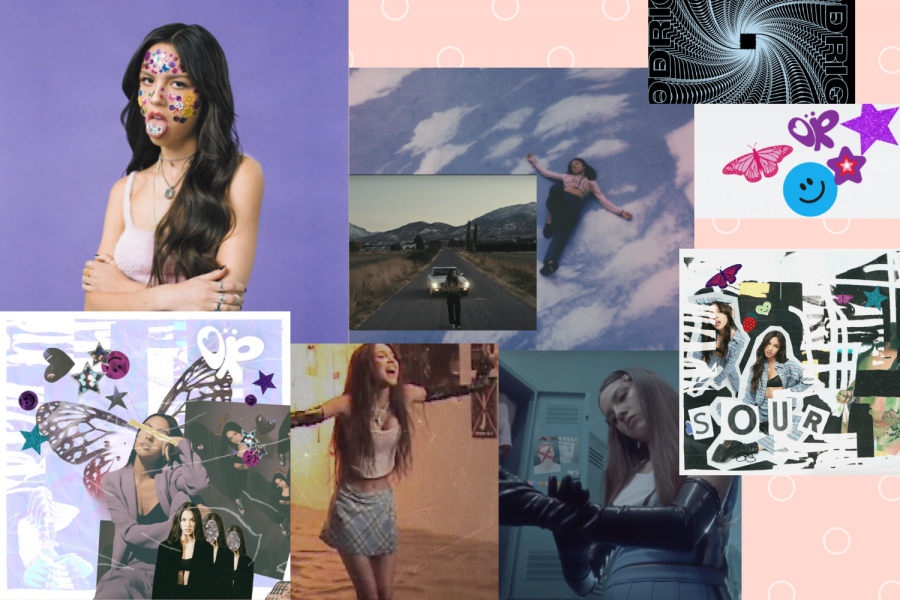 Olivia Rodrigo's album "SOUR"—a mix of reflection, sadness and heart-wrenching lyrics
I have listened to Olivia Rodrigo's debut album "SOUR" every second of every minute since it came out. Here are my thoughts.
June 9, 2021
I sit on the edge of my seat. No, literally, I do. I am shaking and sweaty, and I haven't moved at all in the last five minutes. It's 8:59 p.m., Just 20 seconds until the release of Olivia Rodrgio's new album "SOUR." 36 minutes of pure teenage angst, heartbreak, and extreme happiness. Also known as my perfect album. 
The rings that adorn my fingers shake and cut in deep as I clutch my computer as close to my face as I possibly can. On my phone, my friend screams in anticipation. We had already received the gift of three songs from Olivia, from which we overanalyzed and listened to until we had reluctantly worn them out. My snake rings (inspiration courtesy from Olivia's musical mother, Taylor Swift) shined in the light as I waited and waited; the seconds mercilessly ticked on. 5…4…3…2…1. 
Oh, the absolute horror—a commercial! Other than telling, in painstaking detail, every second of that night, I will review the album. I may disclaim that I am a forever Livvie and will never think low of her albums, but this is my objective, honest opinion. I promise you it won't be too brutal.
Speaking of, let's discuss "brutal!" "brutal" is the first track on the album, and although many of us reasonably expected it to be a breakup song, Olivia delivers something insanely humorous and refreshing. It's an ode to everything that makes a human angry: disillusionment, hating the way you're being perceived, and the most annoying of them all, having to learn to parallel park. In the 14-seconds-long interlude, we are lulled into a sense of security that this will be another heartbreaking breakup song. Olivia turns this on its head as she says in the background of the loving, peaceful notes, "I want it to be, like, messy." Then, we are catapulted into anger and pure angst. It is, all in all, INCREDIBLE.
A common criticism of someone like Olivia's songs is that they all sound the same. Although many artists are beginning to prefer more quiet and pretty songs, that does not in any way mean they are not masterful works of art. It's pure and beautiful when an artist shows us on a stripped-down base their feelings and honest truth in a way they haven't before. I concede that some of the songs on the album sound the same at first listen. However, if you listen closely, you see beautiful and surprising, amazing, honest truths buried between wrenching guitar chords and wishful breaths and sighs. 
One other amazing breakthrough on the album is the single "good 4 u". At the moment, it is one of the top songs in the world and broke records that were previously only held by "driver's license." I first watched this song in jaw-dropped silence. Through screams and "what"'s that punctuated the lyrics, I tried to silence myself to get every amazing drop of the song. Although I've never been in the sort of relationship, she is describing. I couldn't help but absorb every lyric and relate it to other things in my world.
I'll be honest. I love when I see female artists at any age unleash their anger, and it is extra special when they are at the young age of 18. I honestly felt every lyric in my bones, even if I didn't relate to the lyrics in every sense of them. This song shows what it's like when an ex-girlfriend sees her old boyfriend seeming happy and moving on. She sings, "You're getting everything you want…you look happy and healthy, not me if you ever cared to ask," and then follows up with how her ex-boyfriend is acting like a "damn sociopath." It shows Olivia's character getting angrier and angrier, and the music video shows her burning her house and standing in a quickly and rapidly flooding bedroom at the same time. Touche. If that doesn't spark your interest, I'm not sure what would. 
Another surprising, amazing song from the album is "happier." It shows what it is like to see an ex-boyfriend moving on with their new girlfriend and honestly wish them some happiness, but not as much as it was when they were with them. Originally posted on her Instagram in 2020,  where a lot of these early versions can be found, it is a very stripped down and honest song about the heart-wrenching feeling of someone seemingly move on.  It is beautifully and refreshingly honest because she doesn't wish her boyfriend horrible things; she wants him not to be as happy as when she and he were together. Some lyrics include, "I hope you're happy, but not like how you were with me," and, "and now I'm picking her apart, like cutting her down will make you miss my wretched heart," which is honest because she is not even saying that she hates the new girlfriend. Her personality is reflected through these lyrics, and it comes across as amazing in the album.
So, is it harmful that the album contains a lot of breakup anthems? I say absolutely not. She is an honest songwriter, and it comes across in her lyrics. She shares on The Guardian. 
"I'm a teenage girl. I write about stuff that I feel really intensely. And I feel heartbreak and longing really intensely. I think that's authentic and natural. I don't really understand what people want me to write about. Do you want me to write a song about income taxes? How am I going to write an emotional song about that?" 
I absolutely love this response. She shares how sexism has a big place in music, as well as how "[Thing such as] anger, jealousy, spite, sadness, they're frowned-upon as b*tchy and moaning and complaining or whatever, but I think they're such valid emotions." I feel this in every bone of my body. Good for singers like Olivia for directly shredding the narrative that weakness is seen in emotions.
And, many tracks on the album are not breakup songs. "brutal" details teenage honesty ("Where's my f***ing teenage dream?"  she sings mournfully, at times), whereas  "jealousy, jealousy" wraps up what an hour on social media feels like ("All your friends are so cool, you go out every night…I want to be you so bad and I don't even know you, all I see is what I should be; happier, prettier"). "hope ur ok" is definitely the most impactful song Olivia gives us. The last track on the album details the lives of teenagers whose lives are made difficult because someone doesn't accept them as themselves. In the verse, she sings of two emotional or physical pain stories because someone doesn't feel that these people fit their narrative of who they are supposed to love. In three minutes and 30 seconds, she flips the album on its head and leaves you with the feeling of engulfing sadness and hope. "I hope you know how proud I am you were created, with the courage to unlearn all of their hatred," is a line that even makes my family sob for a long time. It shudders away with a bridge that leaves you shocked. 
Address the letters to the holes in my butterfly wings, nothing's forever and nothings as good as it seems, and when the clouds are ironed out and the monsters creep into your house, and every door is hard to close…I hope you know how proud I am you were created, 
It is an everlasting and stupendous, incredibly amazing way to close out an album. It takes you away from the feelings of breakup songs and makes you notice some of the most important things in your life, which could possibly entail having someone who accepts you in your life. I adore how the only time she says "I love you" is in this song ("I love you, and I hope that your okay."). This shows how she thinks these childhood friendships and people's acceptance are more important than anything. Maybe, as an 18-year-old, she wasn't ready to say "I love you" to a boyfriend yet. She for sure will say it to a hurt friend, though.
Olivia chooses to courageously let us come along on her teenage journey of heartbreak, angst, and happiness in all their forms. I am proud to be a Livvie. I know that her musical story has only just begun and that the extent of her potential as an artist has yet to be seen. 
About the Contributor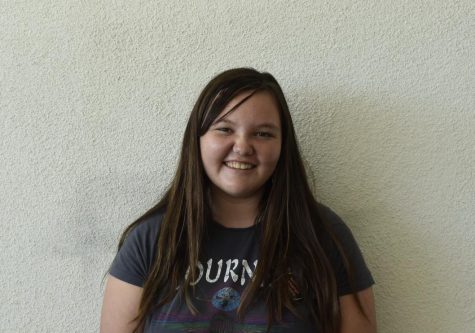 Kaya Simcoe, Staff Writer
Supplying trees with CO₂ faithfully since 2005™️