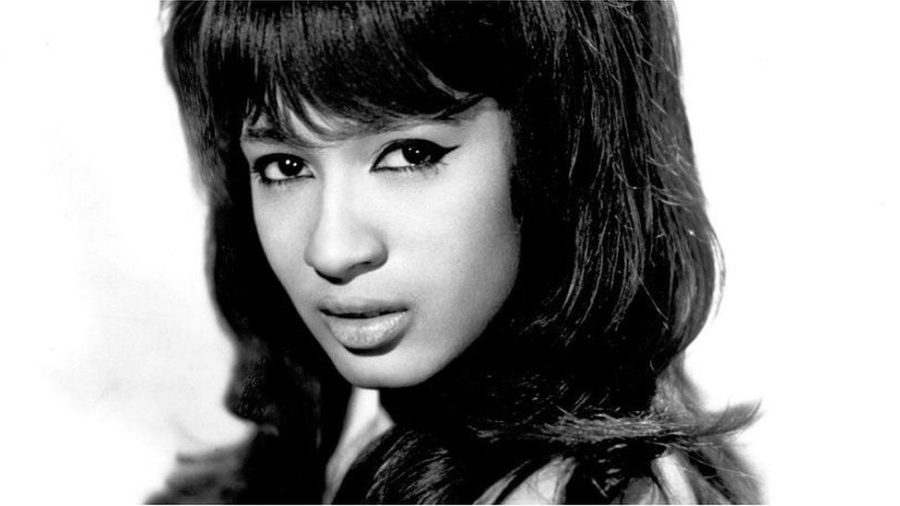 Photo courtesy of James Kriegsmann/Michael Ochs Archives/Getty Images
The 1960's icon and singer of the Ronettes, Ronnie Spector, passed away Jan. 12 at the age of 78. She rose to prominence in the early sixties, especially on the R&B stage. She continued to produce music throughout her life, and released her last album in 2016, nearly six years before her death.
Born as Veronica Bennett in Harlem, New York, she grew up in the 1940's in a large, musical household.  Spector was of mixed race, and according to her autobiography, "Be My Baby", she would face times growing up where she was unsure of her race. Spector and her sister Estelle Bennett would regularly perform songs for their grandmother, creating a passion for singing and music.
Alongside her sister and cousin Nedra Talley, Spector formed a trio called the Darling Sisters, which would later become the group we know today, the Ronettes. Under the Ronettes, Spector would become a star, the face-of-the-group. The trio initially signed to Colpix Records, where they released a few singles to little success. However, the Beatles producer, Phil Spector, took interest in the group, and in 1963, signed them to his label, Phillies Records.
Under Phil Spector's management, the Ronettes achieved great success with the 1964 album "Presenting the Fabulous Ronettes Featuring Veronica," which included hits such as "Baby, I Love You", "Walking In the Rain", and their most popular song to this day, "Be My Baby." The Ronettes are also the voices behind some of America's most popular Christmas songs, with their 1963 rendition of "Sleigh Ride" being the most recognizable on the market.
Throughout the early sixties, the Ronettes continued to increase in popularity, and toured with other hot bands at the time such as the Beatles, the Rolling Stones, and the Beach Boys. However, the group started to lose popularity in the mid-sixties, when hard rock and psychedelic influences replaced the doo-wop sounds from years before. The Ronettes also faced internal issues during these times, as Spector was often credited more than Bennett and Talley.
After leaving a European tour in 1967, the Ronettes split. Talley would go on to live a quiet life out of the spotlight, and Bennett would later record some music of her own over the next decade. But, unbeknownst at the time, Spector's music career was seemingly already at its end.
Since the Ronettes signed to Phillies Records in 1963, Ronnie and Phil Spector became engaged in a four-year-long affair, which would become cemented through their marriage in 1968. The two had three adopted children together, with Phil even adopting a set of twins and 'gifting' them to Ronnie for Christmas, without her prior knowledge.
Throughout their marriage, Ronnie recalled facing physical and emotional abuse, with there being times when Phil forbade her from recording music, locked her in the house, and threatened to kill her if she ever left without his permission. In turn, Ronnie turned to alcohol as a method of emotional escape. She was able to convince Phil to let her attend Alcoholics Anonymous meetings, which she would use as a reason to leave the house.
Ronnie eventually escaped from their house 1972, and did so barefoot, as Phil would hide her shoes to prevent her from running away. She filed for divorce, which would eventually be settled in 1974. Phil would later be arrested and charged with the murder of Lana Clarkson in 2003. He died while incarcerated on Jan. 16, 2021, from complications of COVID-19.
Despite their abusive relationship, Ronnie decided to keep her last name as 'Spector', because according to her, it was the only thing that would keep her name relevant in the music industry that she was previously locked away from. In 1971, she recorded a rendition of George Harrison's track "Try Some Buy Some" which peaked at No. 71 on the Billboard Hot 100. She tried to reform the Ronettes in 1972, but was unsuccessful in bringing back Bennett and Talley, and instead replaced them with Chip Fields Hurd and Diane Linton. The group proved to have little success, and Spector became branded as a solo artist in 1975.
Spector released a few singles and a solo album throughout the 1970s and 1980s, but was often faced with adversary as she was still seen as an 'oldies' artist. She was featured on Eddie Money's 1986 hit "Take Me Home Tonight" which resparked attention to her name. She released an album in 1999 titled "She Talks To Rainbows", and sang backing vocals on Misfits' 2003 album titled "Project 1950".
While simultaneously balancing her career in the early 1990s to early 2000s, Ronnie, alongside former Ronettes Bennett and Talley, sued Phil for withholding royalties. The court ruled that Phil had all rights to their discography, but he ended up having to pay Ronnie $1 million in excess. 
Aside from her music career, Ronnie took part in various adventures. She married Jonathan Greenfield in 1982, and had two sons with him. In 1990, she released her memoir, "Be My Baby", in which she detailed the abuses she faced from Phil. She settled with her family and Connecticut, and passed away from cancer on Jan. 12.
While her death came as a shock, there's no denying that the world will forget the contributions Ronnie gifted to the music industry, as well as the years of torment she suffered away from the limelight. When it comes to doo-wop and R&B, nobody quite does it like Ronnie.