Solana Beach Festivities Ready to Kick-Off Summer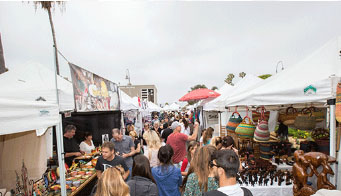 Hang on for a minute...we're trying to find some more stories you might like.
Solana Beach's annual festival, Fiesta del Sol, will welcome in summer this weekend from 9 a.m. to 9 p.m. each day. The festival includes food vendors, local artists and businesses, and lots of live music from local and non-local performers such as Common Sense and Pato Banton. For families, there will also be a children's area with rides, a climbing wall, and other activities. And to top it off, the live music and attendance to the festival is free!
Rubenstein Drive By, composed of mainly SDA students, will play on Saturday at 12:45 p.m. Band member and sophomore Aiko Woody said that the band has played at Fiesta del Sol before and it's a great venue because it's outside, there are a lot of vendors, and there are lots of people walking by during the sets. The band hasn't decided whether they'll play new or old pieces, but either way they plan to have a good time.