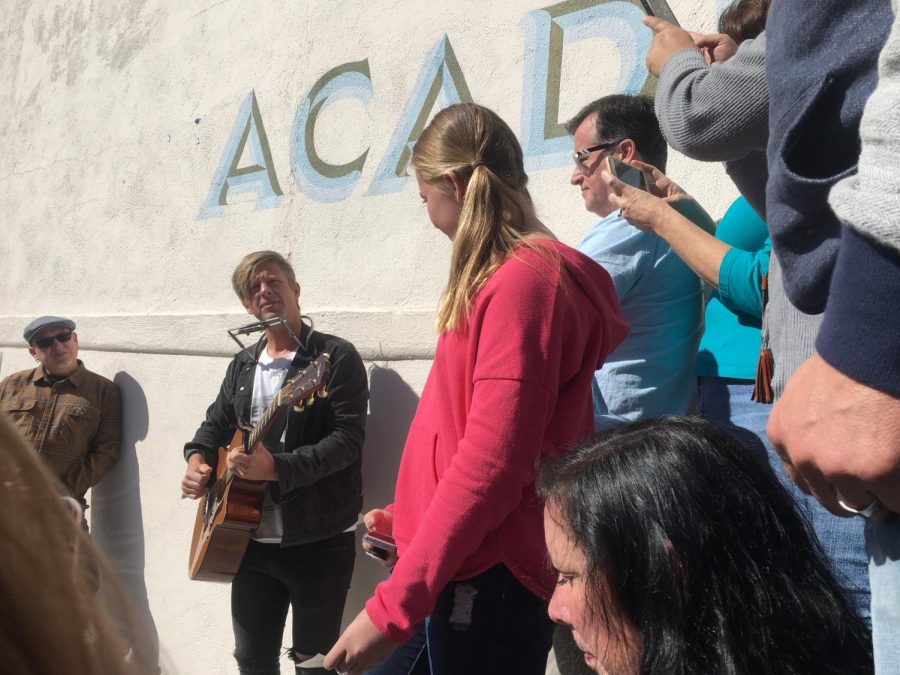 Switchfoot Singer Premieres Film at SDA
February 26, 2018
Switchfoot singer and SDA alumni Jon Foreman's documentary "25 in 24," which chronicled his 2015 experience of playing 25 concerts in 24 hours, was premiered in the Learning Commons last Saturday. While the audience enjoyed the movie, they were particularly delighted when Foreman himself appeared at the end of the event to answer questions, take photos, and play a song.
FM radio station 91X's music director Hilary Chambers hosted the Q&A with Foreman after the movie ended. She asked some questions about his experience in the making of the movie before opening up the floor to questions from the audience. A particularly bright moment was when Foreman's little daughter got the microphone and asked what to do if she likes music but no one else at her school does. Quick witted, Foreman responded, "I think you should ask your dad about that."
Before singing "Caroline," Foreman also sung praise for the school that he grew up at. He said, "This is a special place. It's a great education, but also the culture here, it's incredible. I love being a part of it."
After the Q&A, he mingled with the audience for a short while, taking photos with fans and reconnecting with some fellow alumni.
He then brought the crowd out to the front steps of the school to take a group photo and listen to him play a song on his guitar (featuring a bit of harmonica). Despite the strong winds, Foreman was not deterred in bringing smiles to the audience's faces.
The event was put together by 91X and the SDA Alumni Foundation.