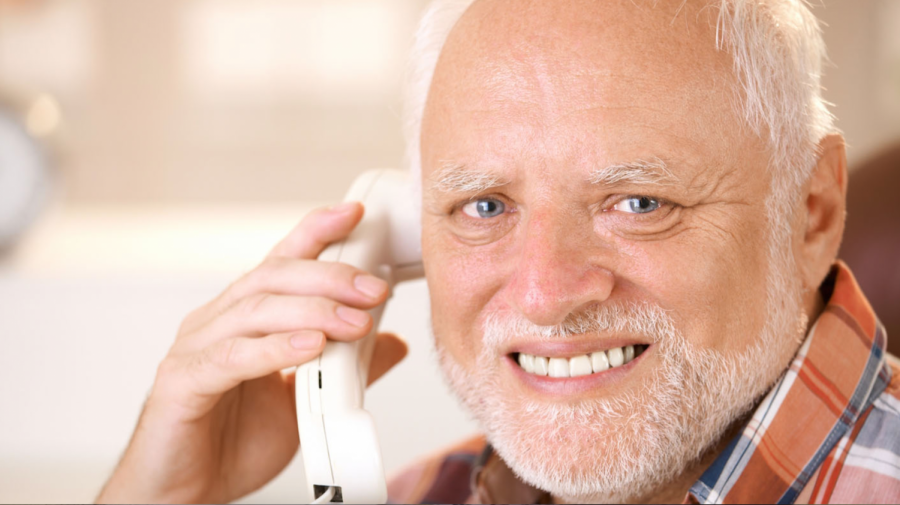 Photo courtesy of Know Your Meme
A Highschooler's Guide Teaching Grandparents Social Media
The catastrophe that accompanies Your grandparents following you on social media...You may need a little help with that
January 16, 2021
If you squeeze your eyes shut, you can almost imagine it. You just posted something you thought was funny, or cute, or sweet. You open your Instagram and see that there are a few comments on it. Happily, you open them, and immediately a pool of discomfort fills your stomach. Your grandparent has just asked you an insanely personal question, for all of your followers to see.
You check to see how many people have liked the post already; oh my god-gosh darn stars. Already 15 people might have seen this comment before you did. You hurriedly erase the comment and call your grandparent, but you can't help but think: how many people have already seen this comment? Will anyone say anything to me? How am I ever supposed to survive high school with this silent, lurking fear in the back of my mind? 
If you're between the ages of 11-25, you probably have related to some piece of what I just said. Oh, if only we could teach our grandparents social media etiquette before we let them sneak into our followers and berate us with constant embarrassing public comments! I created an Instagram account when I was 10. I was a little too early to the game to set any parameters about what grandparents can and cannot post on my comments, but maybe it's not too late. 
My grandparents were invited to join "Kaya's 65+ Guide to Social Media" on Jan. 7. We have quizzes several times a week, and I am really grilling them on the topics. When we are done, I think the number of embarrassing comments will be down 5% on my Instagram, which will be pretty amazing! 
While it would probably be wiser to charge for this course, I will offer you, a highschooler, my social-media etiquette for grandparents for free. I found these tricks work incredibly well, and I am honored to finally share my wisdom with those who would probably need it most. Here are some tips you would be wise to advise your older family members on. 
It is NEVER a good idea to ask questions about a person's hygiene when commenting on their posts—something one should never do. Don't even think about it… Nope. A prime example of no is when I had had a

private

conversation with my grandma on the phone about how I had forgotten to take a shower for a couple of days. Although, I did shower later that day. I was surprised and more than a little humiliated when I found a comment left by my grandma on my latest post, "You look beautiful…Did you shower?" Uh, yeah, I did, Oma. Yup! Thanks for asking!

It is also never a very good idea to ask questions on a highschoolers post about any of their friends who are potentially following them. This can lead to weird discussions or the person who is being talked about wondering why on Earth they are so fascinating.

It is not optimal to continue a conversation from the phone call earlier in the comments of someone's post; while very sweet and well-meaning and not particularly humiliating most of the time, it doesn't exactly always fit with the aesthetic of the post. It also gives the person's couple hundred followers a chance to learn what exactly you discuss on the phone. Best to leave it for DMs or private messages of some kind.

Try not to post comments that are super divisive and political. I mean, in this climate, it is sometimes quite tricky not to. I'm super impressed when my grandparents post things that wake and shed light on the injustices in our world; it makes me gosh-darn proud.

Try to abide by the rule that thousands of teenagers do: PLEASE TRY NOT TO DO MULTIPLE POSTS A DAY! It really is a funny phenomenon. A teenager probably posts, on average, 26 posts a year (not what shows up on their feed after some posts have been carefully archived, but overall), and grandparents post probably 12. So while teens for sure post more, our grandparents do it all in one day. I love you, grandma, but I don't need to see 13 angles of your kitchen while I'm scrolling through it in the morning. Just space them out, maybe?

Just try not to embarrass the person who's post it is!! I mean, come on. Those of us with totally private accounts are giving you the privilege of following us, and we expect that you don't post anything more random or weird than a stranger would if we had public accounts.
I love my grandparents to pieces, and I am so grateful to have relatively online savvy grandparents. I want to avoid comments asking about my hygiene or saying things like, as my other grandma did one time, "And [your outfit] is very attractive."  At the moment, the class average in my course is B, and honestly, that's not that bad. I can't believe how much our grandparents have had to pivot and move everything to this strange, online space. The least we can do is offer them a little assistance.