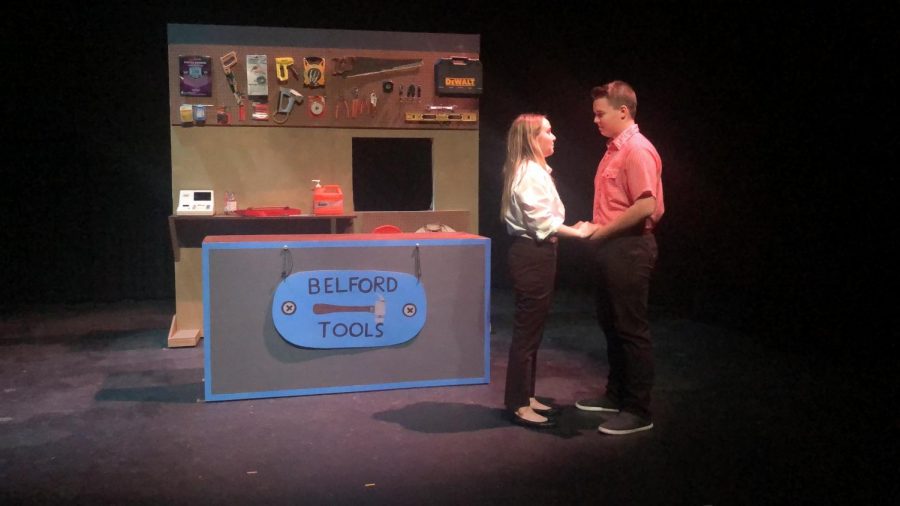 Photo by Linnaea Erisman
Trials is the newest show on the SDA stage and is making its preview as the first entirely student written and directed play.
Showing Thursday, March 14th through the 15th and 16th, Trials is being put on at SDA. The play follows a woman from a small town in Georgia who, at the age of only 18, ambitiously moved to New York to follow her dream of becoming a lawyer. Tragically, she is diagnosed with terminal breast cancer and she decided she must return home to make amends with the family she left behind.
The unique plot, however, is not the only thing that makes Trials stand apart. It is the first show at SDA to be entirely written and directed by students. Everything from the staging to the sound is planned and executed by members of SDA theater.
"It's like a really cool thing to be a part of," Sophomore Erin Kaplan said. As the sound designer, Kaplan says, "The show is completely original so I have a lot of freedom to just do what I want. Mainly it was making sure I was communicating with the directors this year because they were fully making the show as we were going and some things weren't fully set in stone."
Although most of the school is just hearing about it recently, Trials is project that a lot of time and hard work has been put into. Leading the cast are the co-writers and directors of the play, Seniors Sophia Papalia and Colin Gasperoni. Gasperoni said, "We first started writing the show over Thanksgiving break in 2017, Junior year. It's been about a year and a half. We wrote the first draft in four days and since then we've been editing it for a year. We began the actual audition and rehearsal process in January."
"This is the first fully-written student full length show that has ever been put on and directed by students, so the adults have definitely stepped aside and the kids are taking control of everything. We have seen a lot of that during tech week working alongside other students who run the lightboard, who run sound, who are calling the shots," Papalia said describing what sets Trials apart from other shows. "It's really cool to see everybody come together since we are all so young to make something that's so cool."
Gasperoni says what makes this play so special for him is the perspective that comes from creating a script and then bringing it into reality. He said, "My favorite part is definitely being able to direct and have mine and Sophia's vision come full circle from concept to a stage production. We wrote it, so when we were writing it we knew exactly how we wanted each line to be interpreted, so we've been able to have a really hands on directing process. We're usually actors so it was great to be on the other side of the process."
On top of it all, the proceeds for the entire show go to the Shades for Pink Foundation, which gives funds to women with terminal breast cancer. Papalia said, "Someone would want to come see the show because they would get to see the first student-written show ever at SDA. They get to be a part of that just as much as we are. If they come their money is benefiting a great cause and the show is just really fun and the actors are all very dedicated to the cause and we have worked really hard in the past 5 weeks to get the show together."
Come see Trials this weekend, March 14, 15, and 16 at the SDA theater.
Buy your tickets now at: https://search.seatyourself.biz/webstore/accounts/sandieguito/buy-tix?d=0