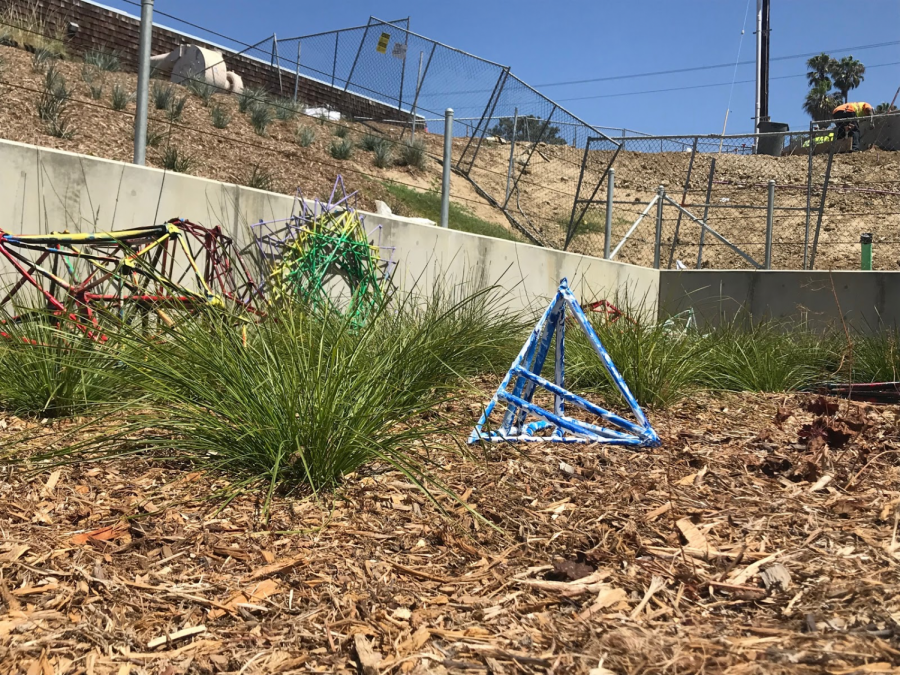 Campus is now sprinkled with new sculptures
September 11, 2019
For a long time, the arts have been an important part of the culture of San Dieguito Academy. One needs only to take a walk through campus to understand how the murals and artistic pieces scattered about contribute to SDA's unique environment.
Zach Ramirez, AP Studio Art and Sculpture teacher wants to maintain this culture that SDA students value so highly. He believes that art is a great way for students to express their feelings and explore their imaginations. "There's something about physically making stuff… it's therapeutic," he ventures. Having this kind of creative outlet  not only proves to be very enjoyable for students, but Ramirez has a unique dedication to giving his students the freedom to create. He hopes to "jumpstart the car but let the students drive it," allowing students to take pride in their own, individual work.
Teaching sculpture for the first time in his career, Ramirez comments on the ways in which sculpture differs from traditional art classes. As the ceramic medium is not as accessible as compared to other mediums of art, most students come to class with only a basic level of ability. This allows students to develop alongside each other without the feeling of being unprepared. Ramirez said he believes that "great work [comes] from creativ[ity] and adapt[ation]," in a classroom with "a good environment" where it is "a lot of fun." 
Eventually, it is possible that works of sculpture will be put up around campus. After all, as Ramirez puts it, "places with strong public art have strong identity."  For this reason, many aspiring artists among SDA's student body are eager to get their hands on the white walls of the new building, with Ramirez noting how we "impose our culture on blank canvases [and] put our stamp on them,"
Unfortunately, the designated classroom for sculpture has been rendered temporarily inaccessible, which has resulted in the sculpture students working with cardboard rather than the traditional ceramic.
Despite all these setbacks, SDA's artistic culture still thrives with fresh input and perspective from students. On September 11th, AP art studio will begin a two month exhibition of the class' talented students at the Encinitas Community Center where everyone is encouraged to visit. 
In the words of Ramirez, "If you like being creative, if you like getting your hands dirty, if you like making things, come take an art class." 
Contributions by Julia Morrow, Ava Deluca, Sydney Randolph, and Kylie Schwartz