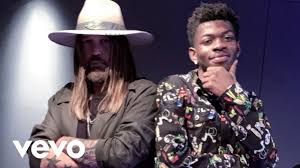 Photo Courtesy of Lil Nas X Youtube
Music
2010: TIK TOK, KE$HA 
After her magnum opus "Praying" and the sexual assault allegations leveled by Kesha at her former producer Dr. Luke, it's incredible how often we forget how Ke$ha started, as well as how simultaneously accessible and despised she was. Her breakout hit "Tik Tok" was the biggest song of the year, riding on the peak of the club boom, and one that would help her amass several hits in the early 2010s and beyond. And with it's pounding, infectious chorus and memorable, albeit absolutely ridiculous verses where she talks about brushing her teeth with a bottle of jack and kicking guys to the curb unless they looked like Rolling Stones frontman Mick Jagger, it's not hard to see why.
2011: ROLLING IN THE DEEP, ADELE 
With the tragic death of Amy Winehouse in 2011, many wondered if there would be another figure to take her place in music. And just as they were wondering, another London-born soul singer took the call, as one Mrs. Adele Laurie Blue Atkins fulfilled the role with her smash album 21, which gave her four huge hit singles and the biggest song of the year in the US. And, yeah, she deserved it. "Rolling In The Deep" is an angry, cathartic, and powerful breakup song, one that was willing to tear what we still had of the club boom into shreds and rejuvenate popular music into something more thoughtful, engaging, and aggressive. Enough so that the School Of Rock I am a part of was willing to play it in their 2010's showcase without a shred of shame.
2012: CALL ME MAYBE, CARLY RAE JEPSEN 
But, to paraphrase Fallout, pop music never changes, it just stays the same. 2012 was a big year for pop music. While this song wasn't quite as impressive as "Somebody That I Used To Know" (a song I'll be talking about in the rock section of this retrospective), it was nonetheless a juggernaut, becoming a significant inspiration for the only thing that matters anymore… internet memes! Mrs. Jepsen has made far superior songs to this (if you haven't heard her follow up album, Emotion, I would recommend it, especially "Run Away With Me" and "Let's Get Lost," two of the best pop songs of the decade.) But still, it does have a catchy, memorable chorus that got stuck in enough people's heads for it to stay at number one for nine weeks straight.
and SOMEBODY THAT I USED TO KNOW, GOTYE FT. KIMBRA 
While Adele may have opened the floodgates for the end of the club boom, no song demonstrated more that the club boom was over then this song, a strange, indie rock ballad by a New Zealand singer that seems like it should have stuck to the indie scene and the indie scene exclusively. And yet, thanks to Glee, a trend of indie rock bands getting popular in the mainstream, this song stayed at #1 on the charts for eight weeks, becoming the biggest hit of the entire year. And with its emotionally complicated narrative outlining the complicated feelings of a messy breakup, matched with weird and unusual instrumentation, it deserved it. "Somebody That I Used To Know" is a modern classic, albeit not the best song Gotye has put out (if you haven't yet- listen to "Bronte," you won't regret it.)
2013: ROYALS, LORDE
The early 2010s was a time when pop music was a never-ending party, a constant stream of luxuries, alcohol, and beautiful women. But eventually, that gets old. People got sick of it. And one of those people was a 16 year old from New Zealand who went by the name of Lorde.  And with this lead single established herself as one of the artists of the decade, winning over pop fans and alternative fans alike with her populist and laid-back anthem for those of us who will never be royals. It became an anthem for a new era of music, and while overplay has kind of killed my enthusiasm to ever actually listen to it again willingly, even six years later, there's no denying it had an impact. It struck a chord with a lot of people. It deserves to be as big as it was and ushered in a new era of music.
2014: UPTOWN FUNK, MARK RONSON AND BRUNO MARS
Having seen significant success with his 2012 album Unorthodox Jukebox, which included several homages of artists of the past, Bruno Mars was eager for another retro hit.  He did so by collaborating with Mark Ronson, the man most famous previously for producing the late Amy Winehouse's Back To Black. Together, they decided to make a throwback to the funk of the likes of James Brown and Morris Day. What they got out of it included a Grammy, 3.7 billion views on YouTube, a #1 hit that would go on to be the biggest hit of the year and one of the biggest hits of all time, and an absolute world phenomenon. And frankly, it deserved it, with killer production courtesy of Ronson, an infectious and soulful charm, a fantastic performance from Bruno, and one of the best hooks you would have heard on the radio. Out of all of the songs on this list, this is the one that I imagine people will love and cherish the most 30 years from now, and it deserves it.
2015: SHUT UP AND DANCE, WALK THE MOON
One of the biggest indie rock hits of the past few years, from probably the last "Killers-lite" band out there, "Shut Up And Dance" is perhaps my favorite of all the songs I'm talking about here. Some may still be weary from it's admittedly incessant overplay but trust me, it's a song that deserved to get played over and over. From it's crunching guitars, epic synth solo, and powerhouse chorus, this song perfectly captures the emotions of a night of perfection on the dancefloor. Like "Uptown Funk," I get the feeling this will be a song people will look back on and cherish 30 years from now, and like that song, it deserves every bit of praise it gets.
2016: STRESSED OUT, TWENTY-ONE PILOTS
Twenty-One Pilots were probably the most successful and controversial, of the big rock bands of the 2010s. They had a devout, cultish fanbase, and loyal, cultish opposition, the former of which includes most of my family. And while "Stressed Out" isn't the bands best song (that distinction would go to "Not Today," one of my favorite songs of the decade), it's still a song that taps into millennial anxiety about growing up in today's age better than likely any song this decade. Given the climate we're in, I imagine it will continue to be relevant for quite a long while.
2017: DESPACITO, LUIS FONSI FT. DADDY YANKEE
Whatever your thoughts on immigration, there is no denying that the 2010s were a decade in which Latinos had a much more sizeable impact on American culture. And this came through in 2017, when a song entirely in Spanish tied Mariah Carrey's record for the longest-running #1 hit of all time, partly through the help of a remix by Justin Bieber, becoming the most-watched video on YouTube and the first song almost entirely in Spanish to hit #1 since the "Macarena." And with Fonsi and Yankee both giving charismatic performance paired with upbeat Latin instrumentation, its easy to see why this was the song of the summer in 2017.
2018: SICKO MODE, TRAVIS SCOTT FT. DRAKE
2018 was the year when trap rap was on top of the world to diminishing returns. But while I may not be a massive fan of the genre, Travis Scott is one of the few people within it, making consistently exciting music (although not all of it is great.) And "SICKO MODE" is his magnum opus: a three-part prog-rock style trap song with several beat switch-ups, and Drake. Because it wouldn't be a 2018 rap song without him, I guess. And while I wish they played "Sweet Victory" instead of this at the Super Bowl, and think the first half is stronger than the second half, there is no denying the creativity and energy this song has. It's a song I expect to last quite a long time after the Lil Pump's and XXXTentacion's of the world fade into irrelevance.
2019: OLD TOWN ROAD, LIL NAS X FT. BILLY RAY CYRUS
And finally, we end off the decade with one of the strangest #1 hits of all time. I mean, a country rap song built of a Nine Inch Nails sample by a gay underground rapper featuring a one-hit-wonder country artist from 20 years ago mostly relegated to being a walking punchline (as well as Miley Cyrus's dad so, you know, walking punchline.) One that got popular off of TikTok memes and started a controversy surrounding Billboard's decision not to count it as a country song. To put it in another way, this song being the biggest hit of the year, makes both no sense and also way too much sense. And yet, it does deserve it. After so many pathetic and embarrassing failures at making country and rap fuse together (looking at you Sam Hunt, Thomas Rhett, and Florida Georgia Line), Lil Nas X finally made a song that's the best of both worlds. While he does very well, Billy Ray Cyrus steals the show, giving the song both grit and dignity, two things you wouldn't think to say about the guy who made "Achy Breaky Heart." What can I say? You may hate it, you may love it, but no one can deny it defined the year.