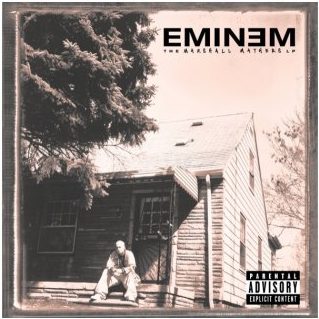 20 Years Onward: "The Marshall Mathers LP"
March 10, 2020
For some decades, picking a definite musical artist is very easy. The 60's had The Beatles. The 90's had Nirvana. Others are a bit more difficult, and one of those was the 2000's, but if I were to pick a definitive artist of the decade who defined the era of music that would come to be, it would probably be Marshall Bruce Mathers III, best known as Eminem. 
Eminem is frankly a character who needs no introduction. Born to a working class single mom near the Detroit 8-Mile, he has gone on to become one of the best selling musical-artists of all time, still making popular music to this very day. And all of this was solidified twenty years ago, when in 2000, when he released his by far most popular album, "The Marshall Mathers LP." The album was influenced by his drastic and sudden rise to fame, the backlash to his music following the Columbine High School Massacre (an event frequently mentioned on this album) and produced by Dr. Dre. It went on to go Diamond in the States, and sent Eminem on track to where he is today. Now, I'm a huge Eminem fan, and I have been since I was in middle school. But, with the anniversary of the album, this does beg the question. How does "The Marshall Mathers LP" hold up? Is it as potent as it was 20 years onward?
Yes. By all intents and purposes, "The Marshall Mathers LP" is 100% deserving of its status as a classic album, and some of Eminem's best ever material is on it. The album's opener, "Kill You," is both disturbing and genuinely funny at the same time, with some of the strongest wordplay of Eminem's entire career. "Stan" is a modern classic, one that was far ahead of its time in terms of talking about the dangers of obsessive fandoms. "The Real Slim Shady" is one of the few rap songs that I could probably recite by heart, and probably my favorite of what I like to call "The Lead Single Trilogy" (consisting of "My Name Is" from "Slim Shady LP," this song, and "Without Me" from "The Eminem Show"). "The Way I Am" is a fascinating exploration of Eminem's insecurity over both his own fame and his perceived inability to follow up his first album, and "Kim" is one of the most genuinely gut wrenching songs I've ever heard. It's a pure, unfiltered expression of anger and violence that, if made by a lesser artist, would be utterly unlistenable. But Eminem makes it work, for what it is, and creates something that's not easy on the ears, but beyond admirable all the same.
That's just the stuff people remember the album for. "Who Knew," "Criminal," and "I'm Back" are great deconstructions of the cultural backlash to Eminem's music, "Marshall Mathers" is another great analysis of his success, "Bitch Please II" is a very good leftover from "2001" that managed to end up on this album, and "Drug Ballad" features some very welcome vocals from Dina Rae, who would go on to sing the hook on the more well known Eminem's song "Superman." And while Eminem's wordplay is immaculate, credit also has to go to Dr. Dre's production, which is slick, grimy, textured, and fits Eminem's bars perfectly.
The album isn't perfect, however. "Amityville" is a pretty boring tribute to Bizzare, one of the weaker members of Eminem's supergroup D12, and the Ken Kaniff skit is just gross, and frankly, the less I say about it, the better. 
Speaking of Ken Kaniff though, one thing that may come up in a retrospective of Eminem's music is his use of language that many would consider homophobic or mysognoistic, garerning outrage from both the right and the left.
But even with that baggage, "The Marshall Mathers LP" is just as harrowing and haunting of a listen as it was in 2000. If I were to give it a score, it would be a solid 9/10, only prevented from being a 10 by "Amityville" and the Ken Kaniff skit. Even 20 Years Onward, I think we all know who the Real Slim Shady really is.