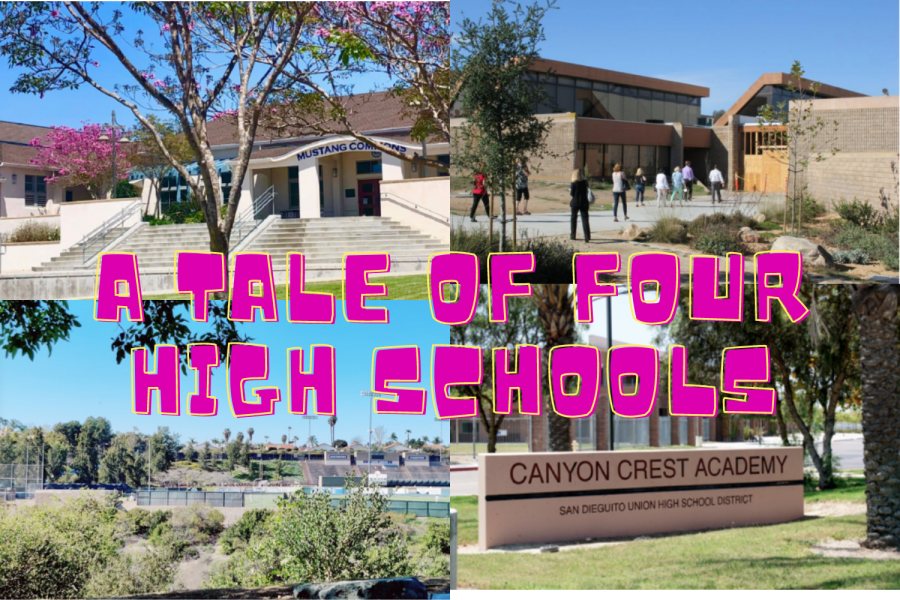 A Tale of Four High Schools
What it's like to be at four of the high schools in the SDUHSD, and what incoming students want to know
April 29, 2021
When choosing a high school, it can be difficult because there are so many options and things to learn. Incoming SDUHSD students might wish they had more information about all of the schools, especially first-hand information via people who went there.
Senior Carrie Su, Junior Ethan Fitzgerald, Senior Frances Chai, Senior Jake Noble, Junior Maxine Mah, and Senior Sarah Williams, all students or ASB executives at their schools, were interviewed for this article. This is their perspective, which does not necessarily represent the entire school. 
What is your high school like in one word?
Torrey Pines High School: "Crazy. Not in a bad way…it's just a million moving pieces all at once." – Noble, ASB president of Torrey Pines High School
La Costa Canyon High School: "Spirited. We're spirited with sports but academics as well." – Williams, the school-board representative at La Costa Canyon High School
Canyon Crest Academy: "Accepting. I feel like coming onto campus, the main thing you feel is that…you're just accepted there." – Mah, journalism staff-writer at Canyon Crest Academy
San Dieguito Academy: "Either caring or empathetic. I've genuinely never met a mean person at SDA." – Fitzgerald, ASB president at San Dieguito Academy
Canyon Crest Academy: "Passionate. Students are passionate about the social aspect of high school and maintaining those relationships; passionate about learning and passionate about their own respective interests." – Su, ASB president of Canyon Crest Academy 
Canyon Crest Academy: "Accepting. There's that saying, 'it's hard to make a small school feel bigger, but you can make a big school feel smaller,' and I feel like CCA does have that. It's easy to find your own pocket of people- people who will wholeheartedly accept you." – Chai, journalism staff-writer at Canyon Crest Academy 
What was a normal day on campus like before COVID?
Torrey Pines High School: "Students would hang out outside or in our learning commons area; talk and hang out a little bit, maybe finish up some last-second homework. Then, they'd go to class. We used to have 10 minutes in between classes; now we have 20. You used to be going quickly to the restroom, hang out with your friends real quick, grab a snack." – Noble
La Costa Canyon High School: "In the mornings there's always music playing at our student square, and obviously you have to go to your classes, and then break it's like everyone's everywhere. Sometimes it's even hard to walk because there are just so many kids everywhere. Many kids are in our media center- like our library- where all the computers are, and textbooks are in case you need them and resources. That's a break, and then probably just go to your next class and then we have lunch- and lunch is even more fun; a lot more music and the same thing; there's just so many kids on campus, and so many kids are just talking to one another." – Williams
San Dieguito Academy: "I wouldn't always get to school early, personally, so I don't have that experience; I remember freshman year my friend's mom would drive me so I would run to class- I'd be that kid. I stopped doing that after freshman year. When I did get there early, it was always cool to see people; some friends would show up fifteen minutes early, so if I ever needed to, I could talk with them." – Fitzgerald 
Canyon Crest Academy: "Before school starts, everyone would gather around in our upper quad or lower quad, sometimes in the student parking lot, and it was really fun to see your friends as you walked into school together and getting to catch up with them. Then you went to first, and after the first period, it was the passing period. It was always fun to see people when you're walking around; our principal and assistant principals are always wandering during the passing period, so you can always say hi to them. Lunch is also a super fun time because ASB and [Peer Assistant Listeners] put on many fun events. In-between third period and fourth period, it's kinda the same with passing; classes on a four-by-four are obviously faster than others, but our teachers make it work and make learning fun by doing engaging activities too." – Su
What should, in your personal opinion, be improved about your school?
Torrey Pines High School: "I think the parking lot is a little rough. That might sound weird but, the spaces are weird, the bumps are weird, and there are cracks in the road. Our main student parking lot is the main complaint from many students." – Noble
La Costa Canyon High School: "I would say maybe just more kids talking to kids outside of their friend-group—I mean, it's kinda hard as a high school student to do that because you're not super comfortable with yourself sometimes, so you feel comfortable with your friends. I feel like, since my freshman year, I feel like it's already gotten better…I mean, that's just something that could just always improve." – Williams
Canyon Crest Academy: "I feel like CCA is very diverse…we have a lot of student unions on our campus like ASU (Asian Student Union) and BSU (Black Student Union). However, I feel like our district could be better at addressing things that happen culturally. I have a friend who's Jewish [and she wondered why the school's administration didn't put out a statement about the Poway synagogue shooting, but they mostly ignored her.] I think it would be great if all SDUHSD schools could be better at voicing concerns and being adamant on being aware of these things that happen culturally." – Mah
San Dieguito Academy: "I hope that when all of us get back to campus, we have that same sense of community and connectedness; that's kinda what makes SDA so great and unique. If anything, we could improve connectedness…I would say emphasizing that: we've all been apart for a certain amount of time, so at first, it's going to be awkward…but when we're back on campus, just making sure we're checking in on each other. Making sure people are genuinely doing okay. When you ask someone, 'how are you doing?' I want to genuinely hear how you're doing." – Fitzgerald
Share about a teacher who impacted your life; who was it, and why?
Torrey Pines High School: "The person I think of would be Matt Livingston- he was a football coach of mine, an ASB director of mine, and also a science teacher. He is also a Torrey Pines alumni, so he did graduate here. He's very involved too- I look at him, and I've kind of taken that on too. He's super involved, so I just take off of that, and I get super involved as well." – Noble
La Costa Canyon High School: "I would say, Ms. Belitz, my ASB teacher because I've known her the longest I've taken ASB all four years of high school, and she's someone I can always go to because I know her so well." – Williams
San Dieguito Academy: "I would say, Mr. Keillor. He is the ASB teacher and a science teacher, and it's nice to have a staff relationship like that. But I don't really even see him as staff; I see him as a good friend who I can go and talk to to have honest conversations and give each other feedback. It's nice to have that kind of relationship because you feel comfortable at school when you have that connection with teachers. Also, math teacher Jacqueline Parks and AP World Eli Cameron I can kinda nerd out with him." – Fitzgerald
Canyon Crest Academy: "I would have to say my AP Government teacher, Ms. Lamotte. Among all the uncertainty, she said something simple, but she was one of the earliest of my teachers to say it: which was, 'I know this is hard for you and I get it, I understand that this is very hard [to miss out on a normal senior year."] A lot of my teachers have said similar things, but hers made the biggest impact on me because it came early, and I truly felt like she believed it." – Chai
Lastly, I wanted to know their advice for students who are new to this district 
Torrey Pines High School: "I think the big thing is if you're picking a school, or you're someone new… whatever you find yourself into, join. There are so many special things within that group. If you mount up your courage…you'll grow in that program. " – Noble
La Costa Canyon High School: "I would say schedules are a big part. SDA and CCA are on the four-by-four, and LCC and Torrey Pines are on the block schedule. So choosing a schedule that [works for you.] See and try to research what classes are available you want to take. I am biased, but I would always say to go to LCC. I've had a great four years." – Williams
San Dieguito Academy: "I would obviously say choose what works best for you. When I got a tour at SDA- it felt like home when I got there. I thought it was the coolest thing that one of my classes had an ocean view. I would encourage everyone to go to SDA. It depends on what you're willing to immerse yourself in—if you're willing to immerse yourself, SDA is totally the school for you." – Fitzgerald
Canyon Crest Academy: "I think when you're going into a high school, such as CCA, you're definitely going to be nervous but what you need to realize is that everyone around you is going through the same things that you are, and our teachers and staff members are so supportive; you just need to reach out. You need to let people know if you need anything academically or mentally. Make sure to enjoy it- a school that is so accepting and diverse… You're all going to be amazing leaders and people at CCA." – Su
Canyon Crest Academy: "I want to tell you that when I was a freshman, I was so so anxious about everything about high school- I didn't want to set myself off for failure. I want to tell [incoming students] that there's no wrong way to do it. Instead of worrying about getting ahead, enjoy freshman year- instead of worrying, focus on having a lot of fun and making the most of your freshman year. I also think during freshman year, get know your school and get to be a part of things." – Chai
These schools all present unique and amazing challenges and vast opportunities; there is no wrong way to go. When choosing a school, look into what clubs and activities you can take part in, how far it is from your home, and what schedule fits your life best. No matter what, all four of these are great places to go to school, and you'll grow as a person and sometimes find your path while you're there.
Every high school in the San Dieguito High Union School District was reached out to for student input.
View Comments (1)
About the Contributor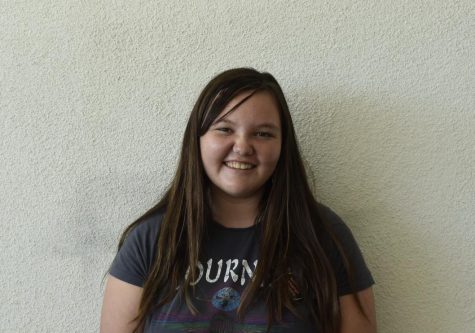 Kaya Simcoe, Staff Writer
Supplying trees with CO₂ faithfully since 2005™️