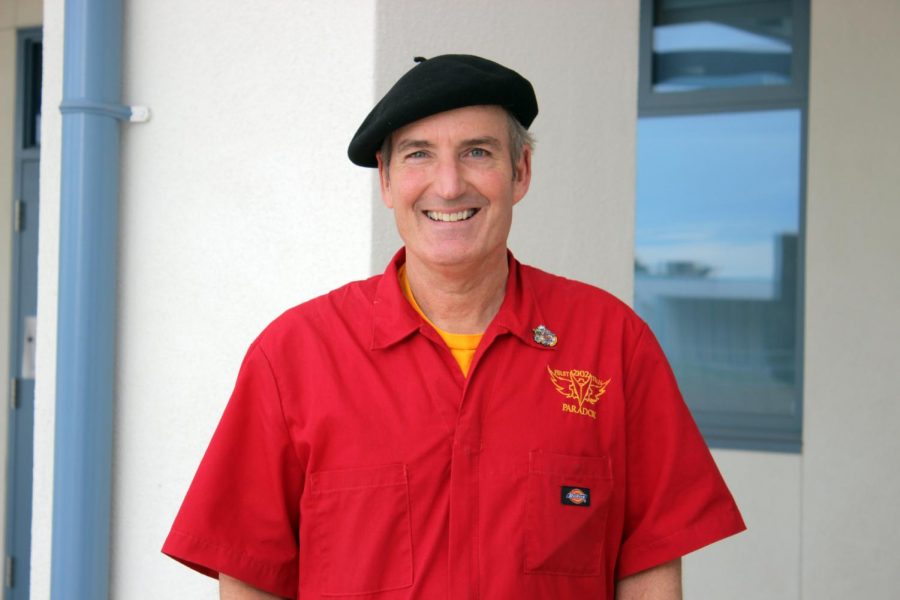 George Stimson, Teacher of the Year: 'Genuine, Passionate, Loving, Dedicated'
March 7, 2018
Senior Connor Still remembers his first robotics competition freshman year: "I was controlling the robot for one match and I was having a really bad match. It was horrible and I felt awful, but then Stimson was there to comfort me, even though everyone was giving me really mean looks. And that was the moment when I was like, 'Wow, this guy is one of the most genuine people I have ever met.'"
That kind of compassion for students was one of the reasons physics teacher and robotics mentor George Stimson was named SDA's teacher of the year Friday. Stimson, who has been at the Academy since its inception in 1996, and before that at old San Dieguito High School, is capping off his final year of teaching with the honor.
"I am very honored, seriously," Stimson said. "One, [I'm] very grateful. Two, in a school like this where there are so many amazing teachers…I'm so impressed with everyone else that I can't imagine someone picking me."
Stimson has only words of praise for the students that attend San Dieguito Academy. He couldn't put his finger on one moment, but recounted the aspects of SDA that inspired his love and admiration for the school. "Watching kids do great stuff is the coolest," he said.
"When you see our teams winning.
"When you see the plays and the acting that goes on.
"When you listen to the music.
" When you listen to Battle of the Bands.
" When you're at prom, watching everyone getting all duded up and decked out and having fun.
"When you're watching the robotics guys busting ass trying to make what is, to them, the greatest robot that they could ever make.
" When you're seeing kids at Exhibition Day demonstrating the stuff they do and the t-shirts that are made in screen printing and the art that comes out of the art department… That's why I am very grateful to be here."
Many of Stimson's students support the teacher of the year designation. Still said, "[Stimson] deserves [the award] out of everyone. More than anyone at this school, him."
Another robotics team member and physics student, senior Wayde Gilliam, said, "Honestly [Stimson] is just insanely passionate about physics and anything that he is into, especially robotics. I have never met or had another teacher that has ever been so into what he loves to do."
Stimson's fellow teachers have high praise for Stimson as well. Physics teacher Ryan Cardenas had Stimson as his physics teacher when he, Cardenas, went to SDA. "Stimson is the reason I became a physicist," Cardenas said. "I owe a big part of who I am as a teacher to his example. He's taught me that the individuals in our classrooms are people first, then students. He's shown me that we teach the person, not the subject….He's taught me that when kids feel like school is for them, they will be for school."
Recalling a favorite memory, Cardenas said, "I remember Stimson tying a string around each kid's wrist at the end of my senior year as a reminder that we are loved, that there are people in the world who care about us, and that we will always have a home at SDA. I will never forget this."
Stimson is an integral part of SDA, and can be seen around campus driving his golf cart, wearing his signature suspenders and beret or his bright red and yellow Team Paradox uniform. Stimson seems like he's everywhere on campus, capturing student life with his camera that is always around his neck. Lucky students might also catch a glimpse of him in his Scottish kilt. Every year he has his classes build balsa wood bridges, human-size cardboard boats, and huge, often quite impressive homemade trebuchets.
His love for SDA and the students sets him apart from the other teachers, students and teachers said. Cardenas said, "Stimson is the heart of SDA…He always advocates for things that make SDA feel more like a home for kids — things like homeroom, Exhibition Day, and the Forum. He takes copious photos of everything that goes on at SDA, a testament to his unrivaled dedication and love for this school's inhabitants."
Senior Brian Turner, describing Stimson's love for his students, said, "I'm in [Stimson's classroom] sometimes for lunch and somebody will just come in, alumni or whatever, and he will know them by name and everything about them."
"[Stimson] is excited to be alongside students just to help them learn the subject, and that's what he looks forward to every single day," Gilliam said. "You can see it in his class – that this is what gets him motivated to teach for 30-plus years."
"Stimson has inspired more people to love physics, to love learning, and to love life than will ever be counted," Cardenas said. "He leaves behind the legacy of a generation who, when asked why they still return to visit years after they left high school, reply 'Because SDA belongs to me like a second home… and I belong to SDA.'"
Update: Stimson was named the San Dieguito Union High School District 2018 Teacher of the Year. He will advance and compete with winners from other school districts for the title of San Diego County Teacher of the Year.