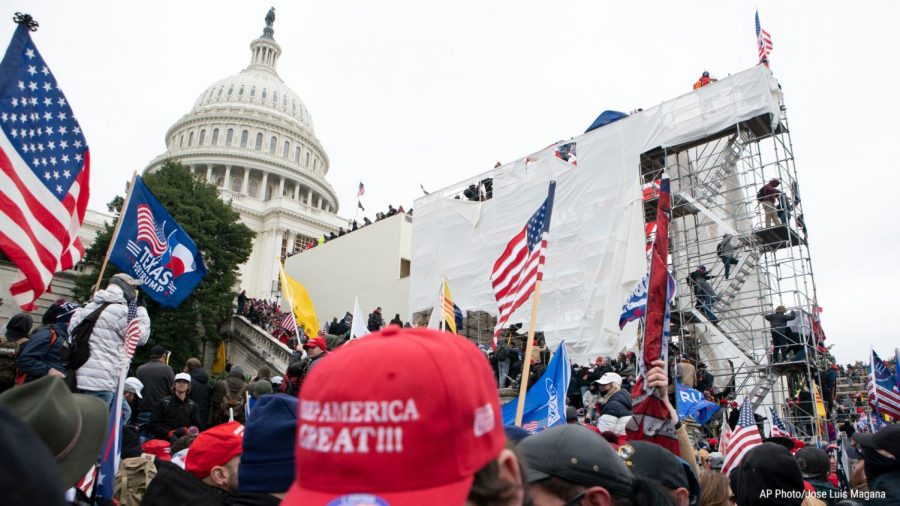 Photo courtesy of Jose Luis Magana via AP Photo
Trump supporters and other rioters attracted national coverage and scrutiny about the election when they illegally entered the United States Capitol in Washington D.C. on Jan. 6. The breach of security brought many questions. How did this happen? Why were the police unprepared? What will happen next? On top of these troubling questions, the riot also reintroduced a topic debated since the election in November: was there election fraud in the 2020 presidential election? 
It's a fundamental question that determines the sanctity of the electoral process, and, like most things in American politics, many Democrats and Republicans hold strong opinions on its prevalence. Election fraud is an issue that should be closely examined to uphold the system brought by the Founding Fathers and honor the will of the American people. 
To start, election fraud as a whole can essentially be described as an attempt to influence or fix an election in favor of one candidate or "illegal interference with the process of an election," according to ballotpedia.org. In the 2020 election, many people, specifically conservative President Trump supporters, believe that foreign and domestic groups interfered with the election to secure a Biden victory. 
This has been the root cause of the famous "Stop the Steal" movement, which has spawned hundreds of protests and gatherings across the country protesting supposed election fraud. Following the Capitol invasion, it's evident that people on both sides of the issue feel very strongly about it. The carnage has ensued on television and online in the wake of such a divisive and prominent event. So, let's delve into election fraud and examine whether it is as widespread as protesters claim. 
There have been a variety of rumors and claims that have circulated recently, specifically after the election. One of the most prominent of these voter fraud claims is that the voting machines were somehow rigged in favor of then-candidate Joe Biden. According to the claim, Dominion Voting Systems machines switched some Trump votes to Biden ones on Election Night. This, in turn, led to Trump's losses in key states like Wisconsin, Arizona, Pennsylvania, and Georgia. 
However, the systems were also used in states that Trump won, including Missouri and Ohio, according to Reuters. If they were rigged, they likely would have produced similar losses in all states. Much of the evidence used to support this claim has also been proven inaccurate. For instance, an incorrect tally in Antrim County, Georgia, mistakenly showed Biden in the lead on election night, but this was due to an alignment error in the vote-counting machine that was quickly corrected, giving the information back to Trump, according to the New York Times. 
Former Trump attorney Sidney Powell also filed cases against Michigan and Georgia in early December to contest the election. She claimed that machines from Dominion Voting Systems discreetly changed votes to influence the election. In response to the claim, U.S. District Judge Linda Parker, presiding over Eastern Michigan, called the allegations "an amalgamation of theories, conjecture, and speculation," ultimately dismissing the case. The Trump legal team had previously distanced themselves from Powell in late November after she claimed to have exposed a web of conspiracies involving communist money, Iranian and Chinese spies, and deceased Venezuelan president Hugo Chavez, among other things, bringing into question the validity of election fraud claims made by Powell. 
Another prominent claim of election meddling purported that specific counties had modified votes to boost Biden in the race. One rumor stated that Fulton County, Georgia, had mysteriously added 250-300 thousand ballots to the count, many of which were for Biden. Another alleged that Michigan had awarded 138,000 of its most recent ballots to Biden and included a viral Twitter photo of an election map showing 100% of new votes cast for the Democratic candidate. 
However, these claims were proven to be inaccurate or outright false. While 250,000 votes were counted in Fulton County, there's "nothing mysterious or suspect about it," according to Associated Press. "The arrival of those votes was not mysterious, but expected because many of Georgia's 159 counties had large stacks of mail-in ballots."
Because mail-in ballots take longer to sort and count, it makes sense that they would be the final votes added. This fact, coupled with Trump's push to get his voter base to vote in-person, suggests that a large majority of the mail-in ballots would be for Biden. Furthermore, in Michigan, Shiawassee County's typo marked 153,710 votes for Biden instead of 15,371, according to Reuters. The mix up was quickly corrected, and the original poster of the photo deleted his Twitter post soon after.
Despite the myriad of election fraud claims, the vast majority of them seem to be assumptions or conjecture. Many of the claims come from Twitter or other social media without concrete evidence to support them. As such, it seems unlikely that the election was tampered with in any significant way, at least considering our current knowledge. While it's important to be concerned about our US elections, it's also important to carefully consider sources and evidence. This allows us to make informed decisions of what is accurate and what might be a rumor.