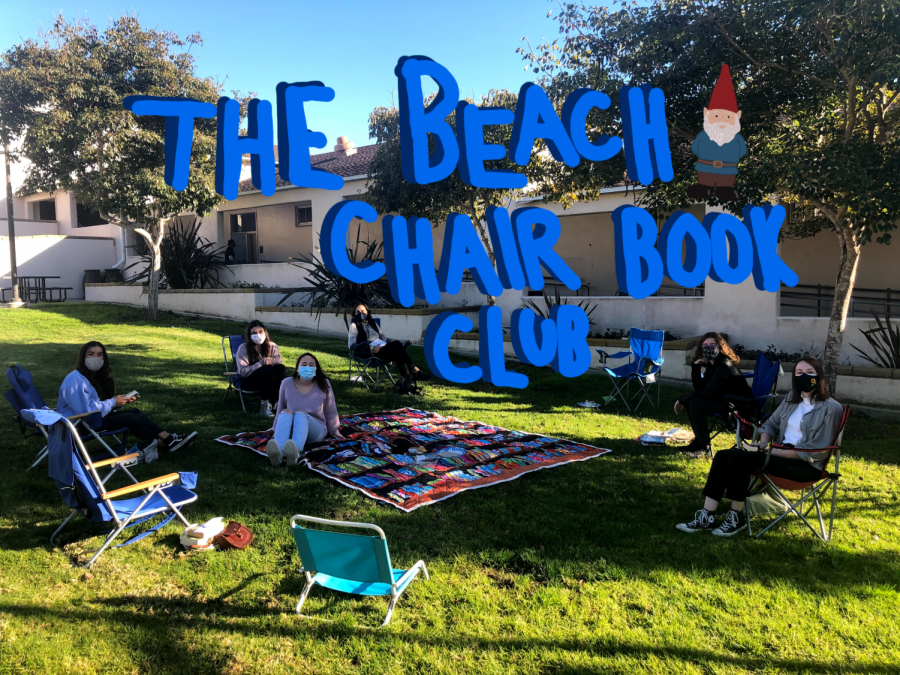 The Beach Chair Book Club: Gnomes, friends, and book galore
February 9, 2021
San Dieguito Academy's Beach Chair Book Club started in late 2020, but it has since taken off, starting at four members and now grown to around 12 flexible members. This is an impressive number for a club that began in the middle of distance learning when only a few students were allowed on campus. 
The book club, which Sue Foote started, SDA's new Mustang Commons Media Technician, is one of the first clubs to have met on campus this school year. The name was inspired by Foote bringing 4 blue beach chairs from home because she "didn't want students to have to sit on the ground or in uncomfortable folding chairs," said Foote, adding that "the day before the book club met for the first time, Jean Gillette, the librarian from La Costa Heights, gave me a colorful bookshelf quilt that I knew would be perfect." 
Finola Perry, a senior, the president of the club, said, "I love being able to get out of the house and talk to people, especially ones that love books." Perry invited her friend Brenna Sullivan, senior, to the book club last week. "I had a lot of fun," Sullivan said. "Everybody was super chill, and I really liked the quote game we played with our books. The snacks were also a huge bonus. I'm excited to start reading the book we chose for next week!"
Gweneth Huber, the treasurer, and Isabella Villamizar, the secretary, both freshmen, enjoy getting to know upperclassmen and be on SDA's campus. "After being cooped up inside, it's very refreshing to sit in the shade, talk with friends, eat snacks, and discuss books. Book club is always the highlight of my week," Huber said. Villamizar agrees, saying that "I am very glad that this club is on campus because it allows me to be on the school and get to know it better! I also like how we are meeting in person and not on a Google Meet."
A book club day usually starts around 2:30 after school on Friday. Mrs. Foote gets ready for the meeting by laying out a quilt decorated with books on the grass outside the Mustang Commons and sets up blue beach chairs- six feet apart, of course. Members start arriving as early as 2 to talk to Mrs. Foote and check out books in the Mustang Commons. Snacks, sometimes provided by members or brought by Foote, are set out and enjoyed safely by all. Foote usually brings out a game called Bring Your Own Book, a game where someone reads a prompt such as something to put on your resume, a saying that would be good on a shirt, and an interesting thing to find in a coat pocket.
Members choose a phrase or word from their book, with past highlights including Not A Fish, I'm looking for the killer, and a human hand. After playing the game, the book, which is currently "When the Sea Turned to Silver" by Grace Lin, chosen by Huber, is discussed. "Everyone in the group is so capable of coming up with great ideas, contributing, making sure everyone's opinions are valued," said Foote. "I look forward to Fridays every week!"
Of course, not everyone can attend at once. Members in the past have joined through Google Meet or on Netflix Party if the club wants to watch a movie that goes with the book they've read. 
The club has read "The Guernsey Literary and Potato Peel Pie Society" by Annie Barrows and Mary Ann Shaffer, and "Queen of the Sea," a graphic novel by Dylan Meconis. Athena Ballensky, sophomore and a member of the club reflects on her experience at the book club.
"Beach Chair Book Club has done a really good job of expanding my reading horizons by enforcing deadlines on my reading and introducing me to content I wouldn't have normally sought out on my own," Ballensky said. 
The Beach Chair Book Club also enjoys making crafts and treats that correspond to the book they read. For "Queen of the Sea," the club embroidered fish onto fabric, and for "The Guernsey Literary and Potato Peel Pie Society," a member made a potato peel pie. 
The club doesn't only make crafts inspired by the books they're reading. They also have made gnome jars that they sold at the club fair to raise money for books to read, and sometimes Foote brings crafting supplies to club meetings just for fun. 
"I think the book club has been successful because everyone keeps coming back every week! Everyone is so happy to see each other, and I love that our group is growing and inclusive," said Foote. "There is such a kind, supportive energy in the group, and the dynamics grow and change as new people come."
If you are interested in joining the club, they are always open to new members. The Beach Chair Book Club's Google Classroom code is diw7zww. 
View Comments (1)
About the Contributor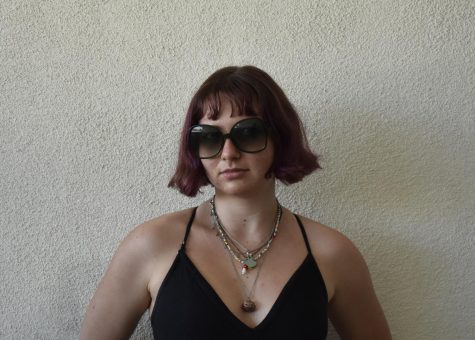 Skyler Martin, Arts Editor