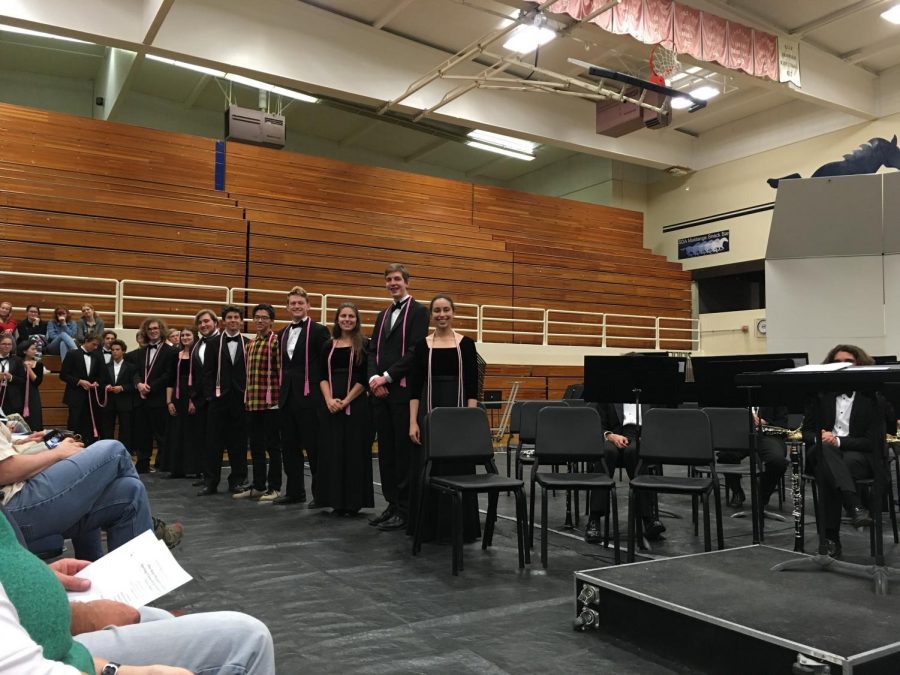 Courtesy of Mallika Seshadri
Band Spring Concert
May 25, 2018
Dozens of students congregated in the gym under the watchful gaze of band director Jeremy Wuertz, clad in black suits and dresses, instruments in hand. Upon taking their seats in the semicircular arrangement of posture chairs, following an introduction from Wuertz, the band began to play.
Wednesday was a somewhat emotional night – for many seniors, this was their last main concert (minus an in-class Farewell concert) after years in the band, and for others, it was yet another culmination of weeks of practice and hard work.
The theme of the night was "Just Dance," with selections ranging from Robert Russell Bennett's "The Suite of old American Dances," to "Armenian Dances Part 1" by Alfred Reed.
"Being in band has really exposed me to a lot of interesting and beautiful music and styles that I in no way would have ever taken the time to learn about," said senior Sam Goldsmith. "The musical breadth I've learned from my nine years of band has really affected my perception for art in ways I'm really grateful for."
In addition to the performance itself, seniors that had given six or more semesters in the band were given honor chords. Also notably, the concert featured a slideshow comprised of pictures of seniors, both as toddlers and present day, as well as awards given to band members. Most notable were the John Philip Sousa band award, given to senior Dashiell Gregory, as well as the Director's Award, presented to seniors Parker Smith and Mallika Seshadri.