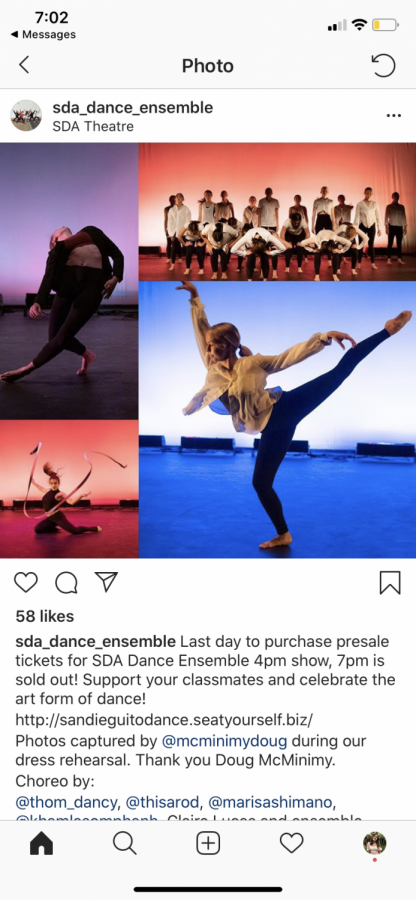 SDA Dance Ensemble students performing dPhotos by Doug McMinimy, Courtesy of SDA Dance Ensemble Instagram
SDAs first dance ensemble performs
February 11, 2020
On Friday Feb. 7, San Dieguito Academy's first dance ensemble performed two contemporary shows at 4:00 p.m. and 7:00 p.m. in the Clayton E. Liggett Theatre to showcase a blend of dance styles, celebrate graduating seniors, and raise money for their growing club.
During this 35 minute show, students performed a collection of twelve pieces, including three group performances. With assistance from choreographers Thom Dancy, Anthony Rodriguez, Marissa Shimano, Claire Lucas, Khamla Somphanh, and ensemble seniors, as well as technical help from David Atchison and a handful of thespians backstage, the show was filled with dramatic lights and lively movement.  
Senior Lucie Shamlou, who had performed a contemporary solo to the music of Mac Miller, and the ensemble have been working on their pieces since the second month of school. "We got to meet new choreographers significant to [our] area [of dance]," said Shamlou. "I really enjoyed forming a concept for my own solo and building off of that."
The production process was largely dependent on major time commitments from the dancers. "[We] take meetings and rehearsals very seriously," said Shamlou. "You are constantly relied on by the other members and every person is responsible." The club advisor and artistic lead, Khamla Somphanh, spent countless hours alongside the dancers to choreograph and fine tune both the dancer's movements and her technical vision.
For those interested in joining this club, this year's rehearsals are held on Mondays and Thursdays from 3:30 p.m. to 5:00 p.m. However, prior experience is necessary to take part in shows and meetings. 
While this is likely the last show the ensemble will be doing this year, stay tuned for the possibility of another sneak peak at the upcoming spring assembly. "I loved working on this show," said Shamlou. "I hope [the audience] was inspired to create art in whatever form!"