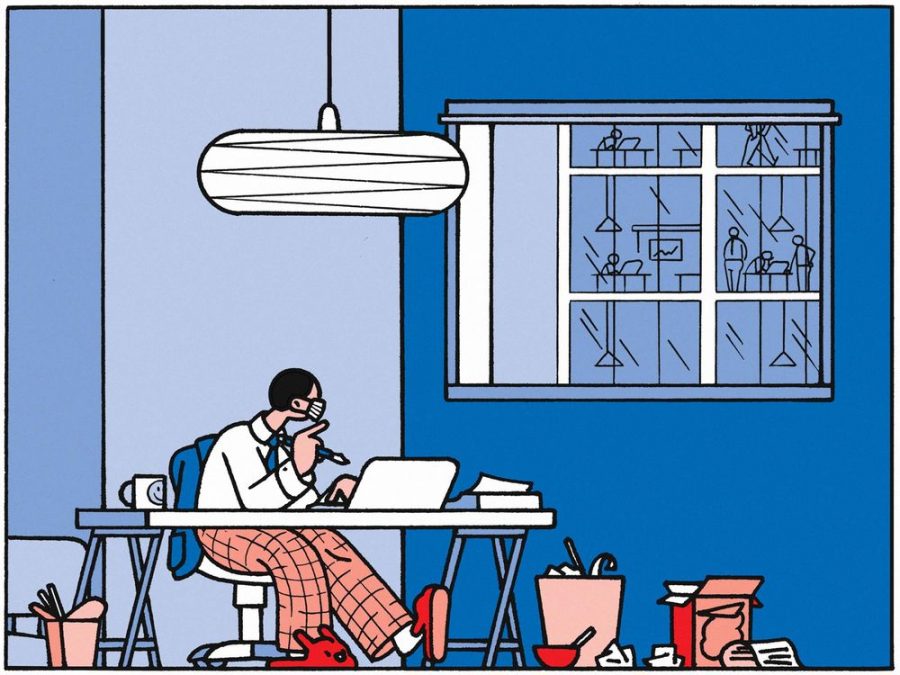 Photo Credit: Charlotte Pollet, Bloomberg Businessweek
Staying motivated while working from home
May 18, 2020
If you're anything like me, you're all too familiar with the scene of sitting down at your laptop to do your homework and quickly becoming swept away by Instagram notifications, that one video YouTube has been suggesting to you for weeks, a recipe for soft pretzels (who ever is finding yeast these days, please let me know and I will buy a few grams off of you, I'm desperate), or–Hey, is my brother watching The Office for the eighth time without me? Be right back.
And by right back I mean a few hours. Before you know it, the day is over and all you've done is eat, sleep, and sell your soul to the T.V. 
With these stay at home orders and school closures, a healthy daily routine looks a bit different right now. In the middle of all of this, it can be hard to stay motivated or feel that school work is even relevant anymore.
I'm sure I'm not alone when I say that I'm missing out on clubs, competitions and even the rare socratic seminar that gets my brain going and excited for new ideas and challenges. So my first tip is to do your best to remain an active learner. Look into online college classes, watch documentaries or even keep your eyes and ears open during your evening walk until something catches your interest. Then, take to the internet and satisfy your curiosity by getting lost in YouTube rabbit holes and involving your friends in your little debate or existential crisis. Maybe you want to know how prisons are coping with the virus or the difference between baking powder and baking soda?
The best part of staying curious and engaged simply because you want to is that it doesn't have to be a formal assignment or even give you information you'd realistically use in the next five years. In other words, learning through our own motivation rarely ever feels like a chore. Now is the perfect time to take ownership of your own time, resources and education and keep your mind active.
Of course, I would recommend breaking free of your monotonous daily routine by doing some of your work off of your computer and turning to those textbooks collecting dust under your bed or handwriting your notes with colorful pens.
My second tip is to create a proper workspace if you haven't already. While school was still in session, I didn't even have a desk in my house. After bouncing around from my after school extracurriculars, I would just sit at my kitchen table and type into the night. However, now that I am constantly surrounded by my family and their particularly disruptive habits, including running the blender at ungodly hours, I wasted no time in setting up a folding table in the home office. Make sure you set up some rules for yourself regarding your "office" like silencing your phone and keeping out non-school related activities to preserve the mindset that your office is a place to be productive. In the case that you don't have an office, try sitting in a different direction on your bed when it's time to work or maintaining cleanliness in a quiet, well-lit corner of the house.  
Last but not least, try introducing some of your old routine back into your life to stay motivated. I would suggest getting dressed up in the morning and maybe doing your makeup, as silly as that sounds, just to restore a bit of confidence and cleanliness. The best part about working from home is that you can take controlled breaks whenever you feel overwhelmed, so just remember to be easy on yourself and maintain a positive relationship with work and learning.