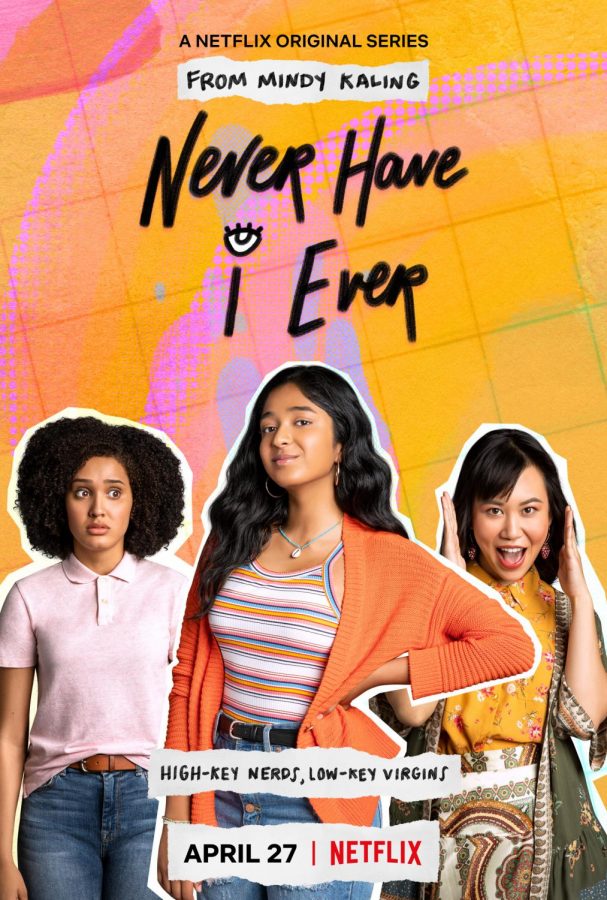 Photo Courtesy of IMdb
Never Have I Ever review
May 22, 2020
Netflix recently released season one of it's new series, Never Have I Ever. The story follows highschool sophomore Devi Vishwakumar and her friends, Fabiola and Elanor. At the beginning of the season, Devi puts together a plan for her and her friends to become more popular. The first step: get boyfriends. Later in the series, we learn that Fabiola is a part of the LGBTQ community. But in the meantime, Devi is trying to restore her name to her school, after her dad had passed away during one of her choir concerts, as well as her becoming paralyzed for 3 months. While Devi is struggling with issues regarding her relationship status, she decides that she wants to date Paxton Hall-Yoshida, the most popular boy at Sherman Oaks High. And while rumors surround the school about their status, Devi and Ben Gross, her nemesis and later turned friend, continue to go cdg to be more accomplished in school. 
I personally enjoyed watching this series. Although more efforts could have been made to make the "High school setting" more accurate, I loved the accuracy of certain elements, such as the blatant awkwardness as well as the conflict between Devi and her Mother Nalini, a dermatologist, as well her cousin Kamala who is currently studying at CalTech. 
One thing that bugged me about this series was the fact that some of the actors playing high schoolers were much older than their characters. Darren Barnet, who played Paxton Hall-Yoshida, is 29 years old and playing a high school senior. I understand that not all teen actors would be easy to hire, I just found it unsettling how people 20 and over would play high schoolers. 
However, I did enjoy many other aspects of the series. I thought it was hilarious how John McEnroe and Andy Samberg were the narrators, I found it very fitting and a little bit random. I would have to say that I loved Ben the most, even though at first I found him incredibly annoying. I thought that he had a great character development, and I definitely hope to see more of him in season two. I also appreciated the character development of Devi's mom, seeing how she went from an intimidating appearance to a mom who is trying to do what she thinks is best for her daughter. I loved Kamala's character as well, specifically how she dealt with the drama and chaos of her family and love life, such as her arranged marriage. Kamala seemed to always be supportive of Devi no matter what, and I adored that about her. Towards the end of the season, it was clear that she was very willing to fix her relationship with Devi. On the other hand, I really disliked Paxton. From the start, I could see that even if he and Devi were to date each other, he would be way too focused on appearances. I disliked the way that he kept changing his mind when it came to their relationship, and it was clear to me that he was not good enough for Devi. Yet, I loved Paxton's sister, Rebecca. Although she didn't make very many appearances, I realized that her character was written well when she confronted Paxton about why he didn't want to date Devi. Rebecca was brutally honest, and I adored that about her. 
All in all, I loved this series. I thought the writing was great, as well as the characters and the representation. I appreciated the fact that the series also focused on the importance of mental-health and well being, for everyone, including parents. I loved the messages about how you don't need to change who you are for others. I hope that season two includes more character development for Kamala, as well as more regarding Devi and Ben's relationship. Although some lines can appear to be a little cliche, don't let that distract you from the otherwise great new netflix series.