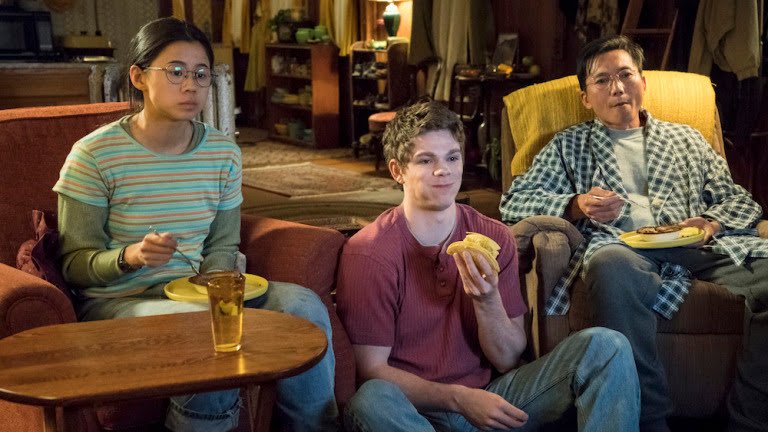 Photo Credit to Netflix
Where's The Other Half?
May 26, 2020
Yes, I'm back for yet another romantic comedy, but I'll happily oblige. The newest addition to Netflix, The Half Of It, depicts the lives of Ellie Chu and her father in a small fictional Washington town called Squahamish. Ellie is a high school senior who earns money by writing her classmates' essays in order to support her father, and her duties get a tad more exciting when she is hired by Paul, a hopeless romantic, to write a love letter for his crush Aster.
What he doesn't know is that Ellie is also fond of Aster, and this is the basis of the plotline. Paul is seriously lacking in the romance department, so Ellie takes over and continues writing letters and sending text messages to Aster, even when she agreed to only write one letter. The downfall to this situation, which leaves all three of them hurt, is that Aster is falling for Ellie's personality rather than Paul's, but Paul himself has to entertain Aster with his dorkiness when they hang out together. Since Paul has nothing in common with Aster, Ellie agrees to teach him about literature and art, both subjects Aster enjoys, and as a result Paul and Ellie become close friends. 
Up to this point, I was hooked and ready to see what happened next, but the movie could have ended here and you wouldn't have missed much. To sum it up, Paul finds out about Ellie's crush on Aster, Aster knows Ellie is the person sending her messages, there is an argument in a church between the three of them, and then Ellie leaves for college with no girlfriend. That's it. I can appreciate the overall message, the struggle of finding your other half, but apparently the movie was missing its other half as well. 
Every time I opened Netflix, and trust me it was quite often, I saw the trailer for this movie and couldn't wait to see romance, but I don't think three and half kisses and one fully-clothed hot springs session make this movie qualify as traditionally romantic. The relationship between Aster and Ellie is simply emotional, which let me down since the film appeared to be about an intense love triangle, and in reality, was nearly two hours of conversation. 
This movie had so much potential, ranging from the representation of Asian-American immigrants and their struggles to a lesbian relationship, but the movie missed its mark in terms of a romantic comedy and left me wondering "Is that it?". While searching for other opinions and ratings online, I found that other viewers wanted a sequel. Apparently all of us are yearning for more story between Aster and Ellie, considering the film didn't have much screen time for the two of them together. 
I was honestly disappointed by the ending of this movie, and this bad feeling leads me to believe I won't return to watch the sequel if there is one, simply because I would have been much happier with a relationship finalized in this movie. During our Netflix Party, my friends and I found ourselves rooting for Paul, who is such a sweetie. However, being an expert in the field of romantic comedies, I can't recommend this movie to anyone looking for a cute and simple love story. Me and the rest of the world are still waiting for an adorable high school rom-com between two girls, and I'm very excited for when that day comes.