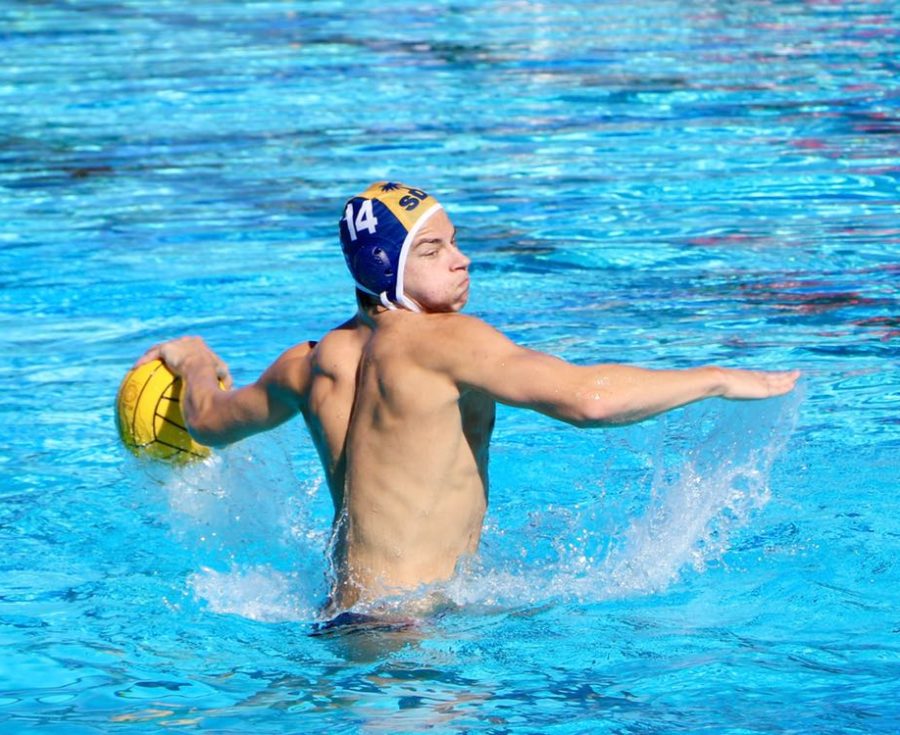 Photo courtesy of Tom Grady
San Dieguito Academy boys water polo's incredible season came to an end Nov. 18 at the Division III SoCal semi-final game against Santa Barbara's Carpinteria High School, the #1 seed. The Mustangs went undefeated in league play going 5-0 and for the total season went 21 (W) – 7 (L). During the season, the team had great moments such as beating La Costa Canyon 12-11 and destroying Santa Fe Christian 30-5. 
Team captain and junior Duke Grady spoke on his thoughts about the season: "I feel like the team has come a very far way than where we were at the beginning of this season and many people stepped up and played crucial roles."  A memory from the season that many people heard about was "the flying salmon in our last game," a move where a player throws their teammate out of the water, mimicking a salmon. 
Team member and junior Trevor Elliot also spoke on his experience this season. "I feel really proud about the season and the team. We worked really hard all season long and to see the work pay off in CIF and throughout the entire season is really cool." As a junior, he said he's going to miss "all the seniors who are leaving who are a huge part of our team." "Also," he said, "I'm going to miss the bond we had, because we had basically the same varsity team for two years so we knew how to play with each other."
 Team Captain and senior Chase McGarity talked about his experiences this season as a senior. "I am so proud of our team for pulling it together this season. Over the years I have definitely seen us grow closer as a brotherhood and team. We had a bad season last year, but we used that as motivation and we all just grinded super hard wanting to win and it paid off." A specific memory from the team that McGarity will miss was, "we all sang a sea shanty before every game called 'Wellerman'. All the other teams definitely saw us as weird and different but we liked it that way. It would give us great energy for the game and definitely made us feel like a unit."
The boys water polo team really bonded over their accomplishments this season, and it'll be entertaining to see how the team grows and performs as they move up to Division II. In the words of Grady, "Next year's goal is to win the Division 2 CIF Championship and to leave a mark on SDA Water Polo."