By Olivia Olander, Editor in Chief

January 26, 2018
An announcement over the loudspeaker in third period Friday, which asked teachers to hold their students in their classes until further notice, was the result of a student who had written an assignment with "threatening implications," according to a written statement by Principal Adam Camacho se...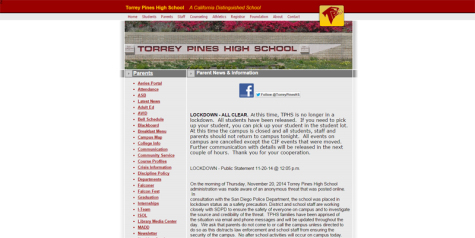 By Elise Echeverria, Editor in Chief/News Editor

November 20, 2014
As of 2:45 p.m. today, Torrey Pines High School reported that they lockdown were no longer in lockdown. Torrey Pines High School was placed in lockdown at 10:30 this morning after receiving an anonymous threat through the social media app Yik Yak, according to the to the Torrey Pine High School website. After...