The True Shape of Water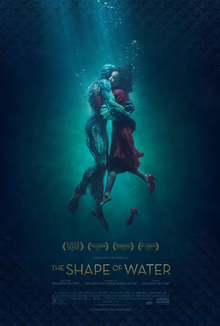 Hang on for a minute...we're trying to find some more stories you might like.
The film "The Shape of Water" directed by Guillermo del Toro has proven itself to be a discombobulated jewel that manages to be so unique, yet immensely clichéd. The film follows the iconic fairy tale styled. It is completely extraneous in comparison to the average media; "The Shape of Water" is a border line indie film and proves itself to be a great gateway to many infamous titles that follow in its shadow.
"The Shape of Water" is not a movie to watch with parental units though; there is an R rating for strong sexual content, violence, and nudity for a reason. The film alternates between gruesome, comical, and romantic themes, and is often uncertain on what it actually is; one theme that remains consistent is its romance, but don't avoid it due to that aspect because it contains a lot more than just a romantic atmosphere.
The story, however, lacks in creativity, and falls flat in predictability. Do not come for a normal film experience because the film is long, and queer. In fact, the average movie watcher should steer away from this two hour jewel because it leaves an insipid taste in your mouth. It is one of those movies in which the movie watcher either dislikes or likes it. It contains a multitude of unsettling imagery, and themes that are enough to make critics dislike it. That is because it is not afraid to go into controversial topics, but keeps it tasteful and gives an explanation on why said scene is occurring.
The acting is nothing short of amazing. Sally Hawkins as the lead was no mistake. She fits the role perfectly, and so did the many others including Richard Jenkins and Doug Jones. The character design is amazing, yet oddly unique with the characters having their own quirks.
The Cold War timeframe sets the scene for "The Shape of Water," and it uses this period to the full extent. The set design, costumes, historical references are all aspects integrated seamlessly into the movie. The film itself has a euphonious soundtrack featuring tracks that are a concoction of oldies, and symphonies.
If you are into weird indie films that are shot exceptionally well, and have a wonderful tone, then this movie would be right up your alley. It is a highly acclaimed film for a reason and will definitely keep its memorable title, even if it falls down the cliché route. It cannot get enough praise from me, and will always be a strong recommendation as a result.