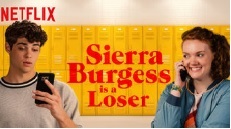 Courtesy of Netflix
"Sierra Burgess is a Loser," the rom-com that lacks romance
September 13, 2018
As Netflix continues to release several new movies, it introduces "Sierra Burgess is a Loser," the newest addition to the rom-com genre. "Sierra Burgess is a Loser" is a modern take on the play "Cyrano de Bergerac" written in 1897, both versions contain intelligent characters who are insecure about their physical appearances.
Sierra Burgess (Shannon Purser from "Stranger Things") is a bright, witty, and passionate high schooler who although seems to be comfortable with who she is, has insecurities about her physical appearance because her body isn't considered conventionally attractive. When Sierra's phone number ends up getting in the hands of a sensitive jock, Jamey (Noah Centineo from "To All the Boys I've Loved Before") because of a prank done by the mean girl, Veronica (Kristine Froseth), Sierra develops a deep connection with Jamey through phone calls and text messages, without him actually knowing who she is.
Throughout the movie, Sierra continues to catfish Jamey by convincing Veronica to help her trick him into thinking that she is Veronica. Because they are both involved in this catfishing scheme, an unlikely friendship evolves between both Veronica and Sierra. Despite being a rom-com, "Sierra Burgess is a Loser" focuses on the friendship of the two girls. Although Veronica used to bully Sierra, Sierra realizes that she is a decent person after getting a better look into her personal life. The movie seems to have a bigger focus on their friendship than the actual romance between Sierra and Jamey.
Because "Sierra Burgess is a Loser" is a rom-com, the romance between Sierra and Jamey was expected to be deep and intimate, however when watching the movie the romance comes across as generic and unauthentic. Their relationship started on the phone, through exchanges of text messages and phone calls. They built a connection by asking each other questions and sending funny pictures through texts and the occasional four hour phone calls. However, they never did anything to further the development of their relationship, which made it feel artificial. And because they couldn't actually meet in person, it was difficult to see the chemistry between the two characters. The romance was also based off of a lie, which made it even harder to imagine a happy ending for the characters. If the romance was more authentic, the movie would be more intriguing to watch.
Towards the end of the movie, Sierra manages to mess up her relationship, with both Jamey and Veronica. Because of this she ends up writing a song about her insecurities which leads to everything somehow getting fixed. This makes for a rushed ending and causes the resolution to have a small impact on the overall movie.
Although "Sierra Burgess is a Loser" is Purser's first lead role, she does a great job in depicting a confident normal modern-day high schooler. It is refreshing to see a lead character who is body positive and embraces the idea of self-love, despite having nontraditional beauty. Overall "Sierra Burgess is a Loser" successfully displays important and relatable themes about beauty and self-worth to its viewers.