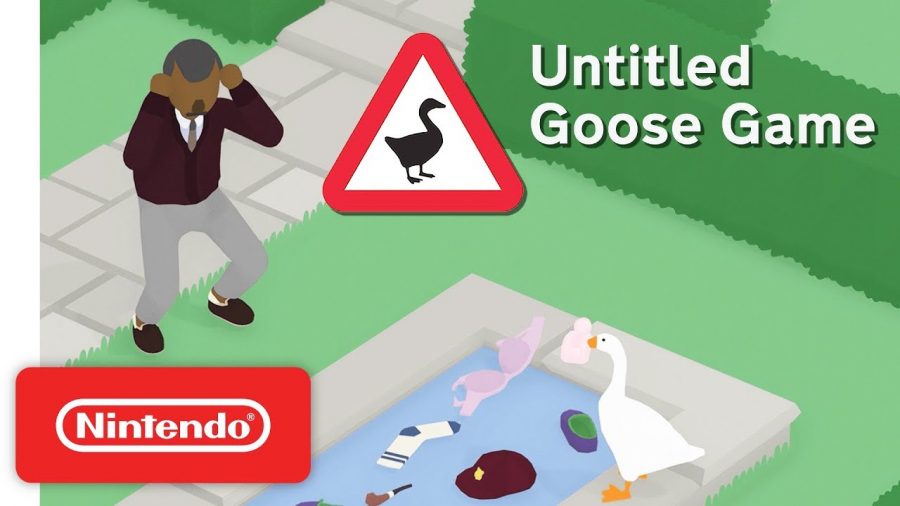 Photo Courtesy of Nintendo's Youtube Channel
Press Y to honk
October 29, 2019
Untitled Goose Game, a goose-themed stealth game by House House, is exactly what it sounds like. 
You play as a goose; you can walk, flap your wings, pick things up, and honk. The only objective of the game is to be as much of a public menace as humanly (goosely) possible by completing a To-Do list of tasks such as trapping people in their garages, breaking and entering private property, and stealing a miniature town bell. 
Now, I'm the sort of person who likes narrative heavy puzzle games and only played the pacifist route of Undertale. Clearly, I would hate a dialogue-less stealth game based solely on being an avian hooligan and general jerk to the residents of a lovely English town, right? 
Unfortunately, no. I have to admit, there is a part of me that enjoys running circles around a bunch of people who hate me; and despite its simple, elevator-pitch concept, Untitled Goose Game has a very distinct visual style and the gameplay is surprisingly ingenious. For example, the honking mechanic is used to do things like startle the groundskeeper into hammering his thumb or chase a boy into a telephone box. The mild piano background music accelerates and slows based on if the goose is being chased. The game finds interesting ways to integrate the player; and it uses simple movement and sound mechanics to create comedic solutions to puzzles and contribute to the overall tone of mild lawlessness. 
While Untitled Goose Game is certainly charming, I feel it's a bit overpriced for the amount of content it contains. It is currently priced at $15, next to games like Undertale and Hollow Knight. However, while the Untitled Goose Game contains at most two to three hours of content, Undertale is at least eight hours long and has three endings, and Hollow Knight is 21 hours at minimum –- 42 hours if you're a completionist. 
While there's a devious sort of pleasure in eliciting increasingly infuriated reactions from the residents of the village, there's not much of the game left to explore once you complete all the to-do lists.
All in all, Untitled Goose Game is a short, silly adventure, full of laughs and goose-related antics from end to end. Even if you're not willing to drop $15 dollars to play it, there are plenty of gameplay videos online; it's definitely worth the watch. 
If you do end up playing it, go wild. You are a horrible bastard goose, and there are no laws that can stop you.