Save Me- NBC's Last Hope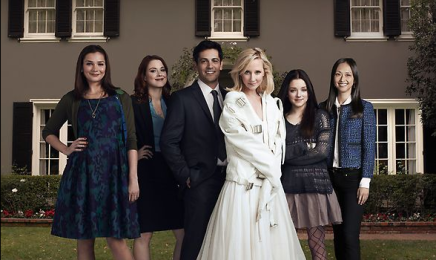 Hang on for a minute...we're trying to find some more stories you might like.
At the start of every new television season, a seemingly endless run of promos fill our screens imploring us to watch "THE NEXT BIG THING IN TELEVISION." During these bombarding ad campaigns I silently predict how many of these highly touted shows will flop.  Much to the chagrin of network execs everywhere, more than a few shows a year are canceled after just a few episodes due to low ratings, negative reviews, or both.
The network perhaps most notorious for this slash and burn broadcasting is NBC. Currently, the network doesn't have two decent original programs to rub together.  Things have been so bad for NBC of late that in the last six months alone the network cancelled nine shows during their first season.
But fear not NBC diehards, because the network has a plan to fix their current ratings conundrum and, by the looks of their ad campaign of late, they seem to be betting everything on the new comedy "Save Me." Perhaps the title is a hidden distress signal sent out by the last few sane people at the network, a desperate final plea for help.
The show follows a middle-aged housewife who, after a near death experience of choking on a sandwich, believes she can communicate directly with god. Maybe she should have asphyxiated on her meal so that we might all be spared of this ridiculously bizarre "show."
But again fear not, because the show's producers managed to land perennial A-Lister Anne Heche to play the lead role. Don't feel bad that the name doesn't ring a bell. I admit I had to put this one in the Googs to reveal her identity.
Once there, however, I discovered an impressive filmography to rival Robert De Niro or Meryl Streep. Her past roles include, but are not limited to, supporting gigs in the ever underrated "Six Days Seven Nights" and 1997's fifth best disaster movie "Volcano."
At first I must admit that I thought the two-minute sneak peek provided by NBC was actually some sort of parody created by a late night show to make fun of the network. But unfortunately for humanity this is actually going to air, however short the run might be. Normally when networks provide previews they add the best moments from the show, and to say that the preview was devoid of laughs would be an understatement. By the looks of things you'll get more laughs out of a trip to the morgue then you would by tuning into NBC on Thursday nights at eight.
In the hopes of having it carry on the legacy of their once great comedies including "Seinfeld," "The Office," and "Parks and Recreation," NBC has ordered 13 episodes of "Save Me." I don't think it will last five.
I hate to be the bearer of bad news, but somebody has to tell NBC that they can't expect to pull themselves out of a ratings slump with an absurd "comedy" whose star is most famous for once having dated Ellen DeGeneres and whose supporting actors couldn't be recognized out of a lineup by even the most seasoned of Hollywood critics.
I could be drastically underestimating "Save Me" and the popularity of the lady chokes on sandwich then becomes god genre. In that case I will write a heartfelt and sincere apology to the show's creator John Scott Sheppard for having the nerve to doubt this incredibly well-conceived and socially significant "show." But don't count on it.