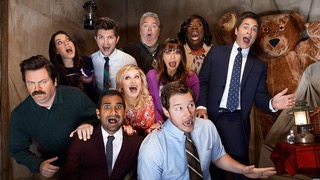 Photo Courtesy of Flickr
Parks and Recreation special addresses current issues
May 14, 2020
So if you haven't heard of it, Parks and Recreation is a great show. You can watch all 7 seasons on Netflix and Hulu. The show came out in 2015 and has grown in popularity over the years. Recently, on May 1, a new special was released on Youtube. 
The cast came together virtually to make this episode. This episode was made to help raise money for people affected by the coronavirus. The episode really captures how people are having to connect during this pandemic. 
Leslie Knope, the main character, virtually calls her husband, her boss, and her other friends. It's nice that the show is able to maintain all the same humor and structure even the actors aren't able to actually be together. It shows you that your attitude certainly doesn't have to change too much while this pandemic is happening. They still highlight the importance of checking in on your mental/emotional health during this time and continuing social distancing, washing your hands, and wearing masks. It is great that they are incorporating the ways to stay safe during this virus. 
Overall this episode was pretty simple but still captures everything the show is about. I definitely recommend watching Parks and Recreation, as well as this new special.