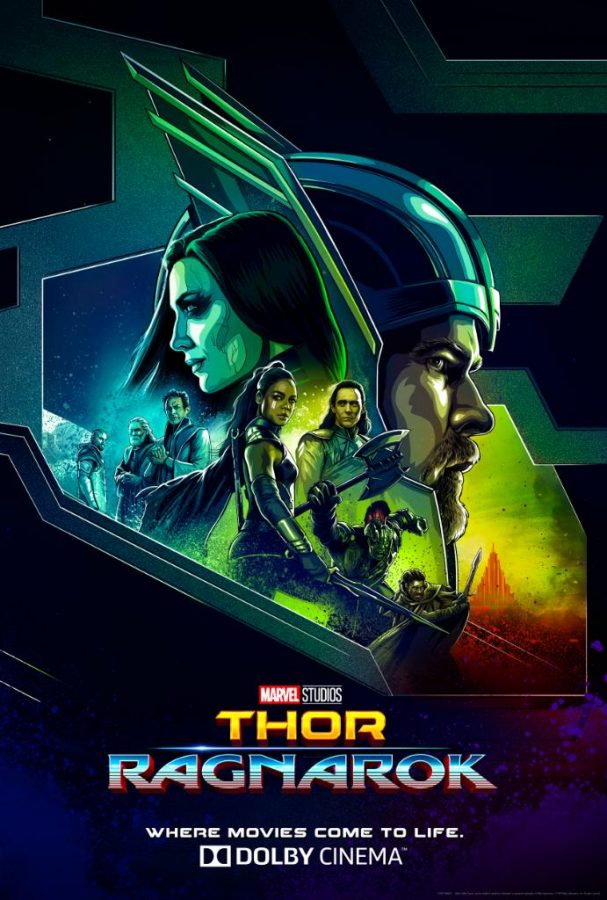 Photo Courtesy of Thor Official Twitter
"Thor: Ragnarok" Electrifies the Big Screen
November 27, 2017
Finally getting his third stand-alone movie, Thor (Chris Hemsworth) steals my heart and the hearts of many fans alike in "Thor: Ragnarok". Released on Nov. 3, the film continues to succeed weeks after opening.
In Thor's first and second movie, "Thor" and "Thor: The Dark World" respectively, the plot was jam-packed with trauma, high stakes, and action. The typical superhero movies made me believe this one would not be any different. To my surprise, I was wrong.
Director Taika Waititi created a fast-moving and funny space opera with much to love. The eye-popping visuals and the intriguing plot brought the comics to life in an exceedingly entertaining way.
The film starts with Thor imprisoned by Surtur, a fire demon intent on starting Ragnarok, the destruction of Asgard. Thor escapes and returns home to find Loki (Tom Hiddleston) taking their father's place, Odin, on the throne.
The Goddess of Death, Hela (Cate Blanchett), makes her way to Asgard with an agenda of her own. Meanwhile, Thor is exiled to a galactic garbage planet known as Sakaar. Valkyrie (Tessa Thompson), a scavenger originally from Asgard, captures Thor and presents him to the Grandmaster (Jeff Goldblum), who stages gladiatorial battles for entertainment. To escape, Thor must face the Grandmaster's undefeated champion the Hulk (Mark Ruffalo).
Even though Asgard is collapsing, Thor acts in a hilarious fashion and makes the audience laugh. On the other hand, Loki's return made me squeal in my seat as he is, in my opinion, the most interesting villain. But, he gets a run for his money when Hela takes center stage. Her need for attention and her anger brings the suspense back into the film. Above all, Valkyrie is the command of attention when she is on the screen. Her fighting presence and high nobility makes her a strong female figure I would not want to be in a fight against.
Without knowing Thor's past, the movie is amazing for anyone to watch. The multiple genres are nicely weaved throughout the movie to put everyone on the edge of their seats.