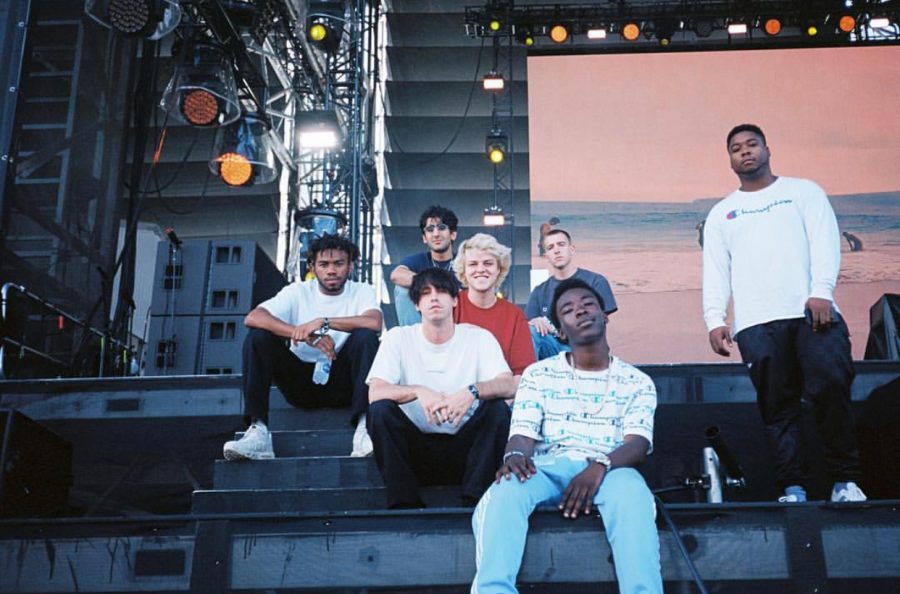 Brockhampton brings a new kind of color into the rap game with "Iridescence"
Photo courtesy of the Brockhampton Instagram
Brockhampton brings a new kind of color into the rap game with "Iridescence"
September 26, 2018
The LA-based rap group of 20 year olds who make up the "boyband" Brockhampton have
overcome dealing with hate and controversy and have used those skeletons to create their
newest and most vulnerable album, Iridescence.
It's no surprise to say that Brockhampton has come a long way in the past two years: from broke
teenagers meeting on a Kanye West fan form to making an album in ten days at Abbey Road
Studios, the wonderfully produced Iridescence gives us a reason to understand their quick rise
to fame. In the past 5 months the "boyband" has undergone signing to major label, RCA, kicking
out member Ameer Vann for sexual assault allegations against him, and publicly reinventing
their album four times. But in the essense of this all, the band has proven to stay true to who
they are: a group of guys making music.
When Iridescence was released Thursday night, at first it seemed like this 15 track album was
kind of all over the place. Then listening through the album again, I realized the album was
disorganized, but their disarranged-diversity in sound is what makes this album, and their four
previous albums, interesting. I would have never thought I would actually like a song like
"WHERE THE CASH AT," in which member Merlyn Woods basically screams just that, but it
ended up being one of my favorites because of how unusual it was. The way in which
Brockhampton doesn't follow any specific line or genre opens people up to a new kind of music,
and has made me appreciate a new kinds of sounds that I would have never liked previously.
As well as engaging, Iridescence is an album that is true to who and what Brockhampton is. On
one of the most emotional tracks, "WEIGHT," group founder Kevin Abstract (aka Ian Simpson) is
honest in what he says while delivering "…one of the best verses of the year," according to
Rolling Stone. The track opens, "I split my world into pieces/ I ain't heard from my nieces/ I've
been feeling defeated/ like I'm the worst in the boyband." As well as touching on missing the old
days before fame, Kevin opens up about insecurity and change in a way that the rap community
barely touches on.
Pre-released tracks included "NEW ORLEANS" featuring Jaden Smith and "TONYA" featuring
Serpentwithfeet, Ryan Beatty and Jazmine Sullivan, which first premiered on The Tonight Show
last June. While the two tracks are some of the most popular on the album they are vastly
different. "TONYA" delivers a piano solo performed by Joba and heartfelt verses by Dom
Mclennon and Kevin Abstract, while "NEW ORLEANS" fits that typical
Brockhampton-rap-bounce category along with other popular songs such as "THUG LIFE" and
"BERLIN."
Touching on dealing with new fame, internal problems, and remembering their origins,
Iridescence is a necessary album to hear, especially for teenagers. The members of
Brockhampton consistently put emotion into everything they do, using the things that are
weighing them down into their music for everyone to hear This sends a message that honesty
isn't something to be embarrassed of or hide.
You can buy Iridescence from brkhmptn.com or stream on Apple Music or Spotify.