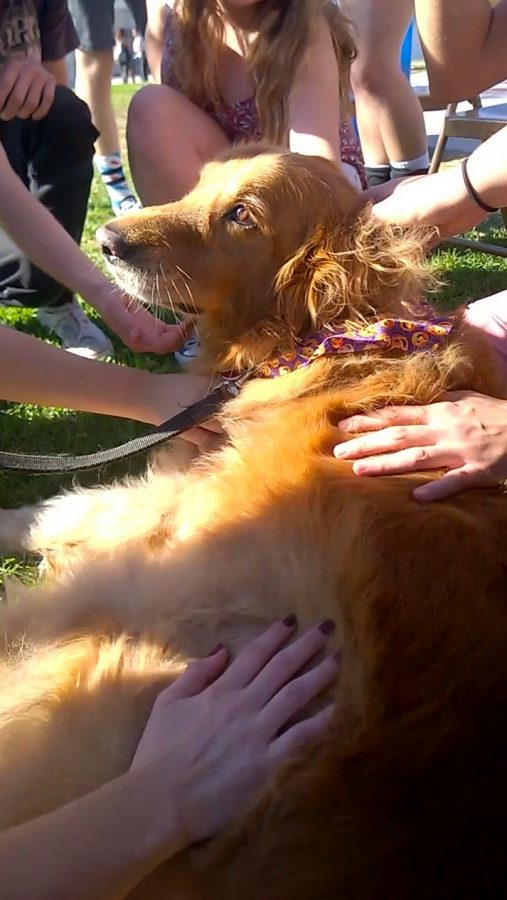 Photo by Rithika Vighne
Calling all Dog Lovers
October 26, 2018
"THERE'S DOGS!" a girl yelled excitedly into her phone, while throwing her backpack down near the PAC and sprinting towards the bell tower, unafraid of getting her black shirt completely covered in fur. In the grassy area surrounding the bell tower, about a dozen owners introduced their therapy dogs to the students coming by to visit after school on Wednesday.
Canine Unwind is an event where students can interact with trained therapy dogs and relieve their stress for the upcoming end-of-quarter midterms and projects. Dog owners enjoy describing their dogs and having conversations with the students about their lives and hobbies.
An impressive range of small and large dogs populated the area, doing tricks like rolling over and giving handshakes to draw laughter from the students. A few students had begun crying out of sheer joy at the overwhelming presence of cute dogs. Smiling faces from both dogs and kids glowed in the sunlight.
Among the dogs were Stella the golden retriever (who is described as "always happy"), Max the golden retriever (who is 9 ½ years old and sporting a lions mane costume), Piper the siberian husky (who served as a show dog and had a pair of beautiful bi-color blue and brown eyes), Bosley the giant, 155 lb English Mastiff (who slobbered everywhere and had an obsession with eating grass), and a pair of Collies named Blessing and Anabel (who were originally trained for blind impairment but they were too friendly to pass the final screening).
Students were overall excited to get the opportunity to play with dogs after a long day. "It was a nice distraction from all the homework and midterm studying I've been doing this week," said senior Charis Hagen. "But now it's over and I have to go back to all my stress."
One student wasn't too excited to be standing in the middle of a bunch of dogs. "I like cats," commented sophomore Finola Perry, waiting for her carpool to release her death grip on a corgi.