"Good People" review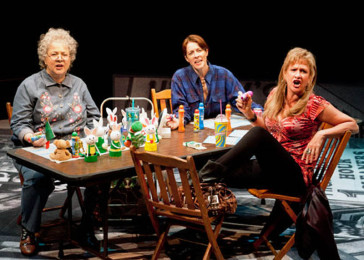 By Joleyne Lambert, staff writer
October 15, 2012
                "Good People," a play performed at the Old Globe in Balboa Park, follows the struggle of a poor mother from South Boston, Margie Walsh, who scrapes up barely enough money each month to pay for her mentally handicapped daughter as well as the rent. After being fired from the local Dollar Store, Margie is on a hopeless mission to find work.
In her quest to find a job, Margie sacrifices her pride to ask help of an old high school friend, entangling secrets from the past in with her present problems. As Margie questions the integrity of others she crosses boundaries and exposes truths that leave her questioning her own integrity.
The cast did a fantastic job of pouring this story in to the hearts of the audience. They included Eva Kaminsky, who played Margie Walsh. She has appeared in the Broadway Company of "The Lyons", as well as Off Broadway in "The Language Archive," and "Made in Poland." R. Ward Duffy, Margie's old high-school flame, appeared in the world premiere adaption of "Anna Karenin." Robin Pearson Rose plays the hilarious, elderly land lord, who can't keep her mouth shut, along with Carol Halstead, Nedra McClyde and James McMenamin.
"Good People" combines comedy and drama into a story about morality and finding the good in yourself. The story grabs at the hearts of the audience; it will have you laughing as you also sincerely feel sympathy and pity for Margie, as well as the rest of the characters. "Good People" has its audience considering and reconsidering what truly makes a person "good people."
The Play runs until Oct. 28th. Tickets start at $29. It is a play well worth the price, if you're looking to hear an inspiring story, and get a few laughs at the same time.