Dollhouse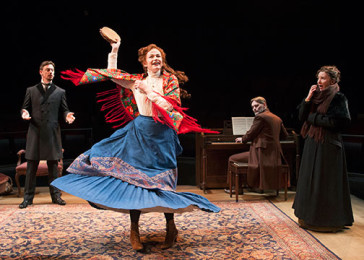 By Molly Kovacs, Opinions Editor
April 22, 2013
While Henrik Ibsen's "A Doll's House" is perhaps best known for its strong feminist message, it is a play that speaks to a diverse audience of all genders and backgrounds. The members of the cast create characters that are remarkably relatable, making up for their small numbers in the depth and complexity of the people they portray.
The plot follows female protagonist Nora, a seemingly naive and shallow housewife, as she frantically tries to protect her husband from the financial mess she has gotten herself into. However, the Nora that demurely obeys her husband is much different from both the Nora that is overcome with concern for her widowed friend and the Nora that frantically evades the man to whom she owes money.
Nora becomes progressively more high-strung as all of her problems escalate, but like all the people she meets, she has more depth to her than meets the eye.
The way she passionately tries to protect her family and cleverly finds ways to get what she wants makes her character come to life. All of the characters are people we can identify in our own lives—the banker, a good man driven to crime by poor circumstance; Nora's arrogant husband, a man who played society's game and made his way to the top; the doctor, a selfless man who was too busy focusing on other people to make himself happy.
The end, however, provides a shocking plot twist: a blaring feminist fanfare. It is sure to make you re-evaluate the way you feel about the play and the society it portrays.
The all-star cast, includes Gretchen Hall, Fred Arsenault, Richard Baird, Jack Koenig, Amanda Naughton, Nisi Sturgis, and Katie Whalley. With a collective resume that includes appearances on Broadway, countless Shakespeare productions nationwide, and even parts in popular TV shows like "Gossip Girl," "Law and Order," it is no wonder they performed so excellently, bringing to life the captivating twists and turns of Nora's life.
Head on over to the Old Globe before April 21 to see this thought-provoking criticism of sexism and society in the 1800s. The Globe presents a delightful exploration of human nature with a plot that captures even the most reluctant audience member's attention.