"Bankrupt!"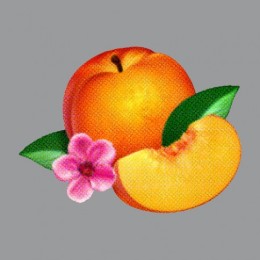 In the four years since the release of their bestselling album "Wolfgang Amadeus Phoenix," which included the song "1901" (trust me, you know it), the French indie band Phoenix has been busy in the studio making their comeback album "Bankrupt!" which released last month.
I've been a fan of Phoenix for a good number of years, and I've been waiting with a lot of anticipation for them to release a new album. They've been relatively quiet until earlier this year when they released the name of their album and the cover art which, I'll be honest, I was a little skeptical about.  A peach with a flower caught me off guard. It seemed strange as it really differentiated from their previous album artwork, which always featured Phoenix somewhere on the album art, and the title, and I was afraid that Phoenix was stepping far away from their sound, but I wasn't disappointed.
Back in February they released their single "Entertainment," which was met with mostly favorable reviews, and included a strange Korean drama type music video.  They then released the album for streaming as an iTunes exclusive and announced that, with the deluxe version of the album, they would release over an hour of "demos and sketches" that they made throughout the course of recording the album. Personally, I haven't listened to the whole thing, but from what I have heard, it's interesting to see how they changed up what they demoed in studio, changing tempos and even how they sing the songs, to how it sounds on the album.
This album really follows an 80's type beat, something I'm starting to notice is becoming prevalent in the music scene again (see Daft Punk's new single "Get Lucky"). It's one of those "Wow I really want to drive off into the sunset in an old car with a girl with ridiculously poofy hair" type of albums. Songs on the album like "S.O.S In Bel Air" and "Drakkar Noir" make you want to get up and dance, while songs like "Bankrupt!" can kind of remind you of an electronic version of The Postal Service.
"Bankrupt!" was definitely worth the four year wait. Although it isn't my favorite they've made, and while they're trying some new things as they move with an ever evolving music scene, it's still their sound, it's still the same band, and it's still pretty awesome music.