Miley Cyrus: Bangerz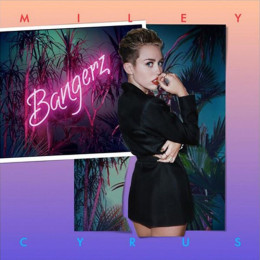 Admittedly, Miley Cyrus did have quite the task on her hands with this fourth studio album release. She needed to prove to the world that she's grown up, left Hannah Montana in the past, and that she's a unique, talented artist.
I wanted to write Miley a positive review, I really did. She's had to grow up with the criticism of the world constantly surrounding her, and I wanted her to hit a big break. But for me, "Bangerz" just doesn't get the job done.
There is a definite effort to make Miley seem like an adult, with lyrics such as "don't you think it's time to get it on," but flaunting her sexuality seems more immature to me than anything. In her long-awaited collaboration with Britney Spears, the pop song was unoriginal and Miley's rapping a bit sad. Critics all around the internet have been writing disappointed reviews regarding the flop for the two pop sensations.
As for the breaking away from Hannah Montana, that seems to be too difficult for her. Maybe she can't let go of her past, or maybe it's in her contract to milk the blonde wig for as long as possible. Either way, "Adore You," the first song on the album, has parts that vaguely resemble the transitions between scenes on the kids show.
There are also a couple songs with uniquely weird vibes, ranging from attempted dubstep to a country/polka mix that somehow makes you want to do the "Hoedown Throwdown." Coincidence? I think not. (Hint: it's Hannah making a comeback).
Although she may not know how to put together a show-stopping album, Miley sure has got the hang of the video release game. Both her videos off this album, "We Can't Stop" and "Wrecking Ball," broke records on YouTube and attracted hundreds of millions of views in only days.
Even though the album as a whole doesn't accomplish what I think Miley was looking for, there are a couple hidden gems.
The last two songs on the record appear to come from a deeply emotional place in Miley's heart, presumably her breakup with Aussie heartthrob Liam Hemsworth. Both the songs "Maybe You're Right" and "Someone Else" have powerful lyrics and showcase Miley's actual raw talent.
So, if you want a mix of music that will give you both a pounding headache and bring tears to your eyes, "Bangerz" is what you're looking for.
About the Contributor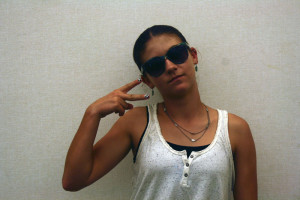 Sarah Kochanek, Sports Editor
Senior, Sarah Kochanek. Sports Editor and notorious Ezra-selfie impersonator.  (4 year veteran)