"The Winter's Tale," a Shakespeare B-side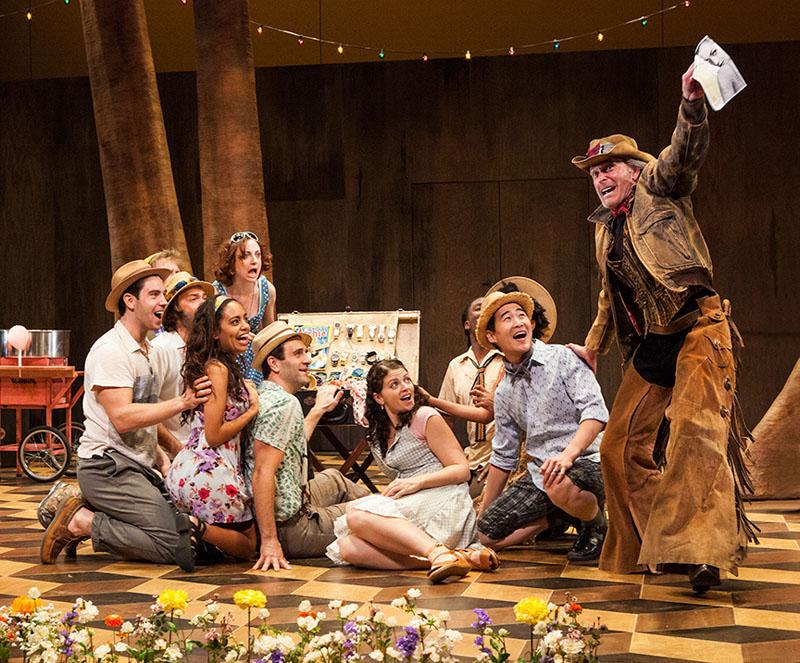 *UPDATE* 
This story was featured on the Best of Student Newspapers Online. Read it here!
If you find yourself debating on whether to go see the new movie "Winter's Tale" at Edwards San Marcos or the timeless play "The Winter's Tale" at The Old Globe, the latter is undeniably the better choice.
Something of a Shakespeare B-side, "The Winter's Tale" is one of the last plays written by the Bard. The title is explained by the royal heir to Sicilia, Mamillius, who warns in the beginning that it is "a sad tale best for winter". This is true for the first half, but the play is unique in that it doesn't stick with a single genre. Instead, it turns on a dime from tragic melodrama into comedy, and finally into romance. The play's schizophrenic nature means that it's rarely performed, but The Old Globe's talented cast and Artistic Director Barry Edelstein (in his directorial debut) artfully maneuvered through the tricky changes in tone, pulling together a production that prompted its audience to laugh, gasp, wonder, and even sing along.
The story centers on Leontes, King of Sicilia, who works himself into an insanely jealous rage when he (incorrectly) connects the dots between his wife Hermione's pregnant state and the 9-month-long visit from his childhood friend Polixenes, now the King of Bohemia.
Billy Campbell, who is taking a break from starring in the new TV series "Helix" to play Leontes, does an impressive job of making whiplash transitions from outwardly showing brotherly affection towards Polixenes to furiously shaking his fists as he cursed him to the audience during interwoven monologues.
Leontes unleashes his anger with orders to poison Polixenes, and publicly accuses Hermione of having an affair. Polixenes manages to escape back to Bohemia after being tipped off to Leontes' plans, but Hermione is not so lucky, thrown in jail and forced to face Leontes' wrath. Dressed in an orange prison gown, Natasha Roi strikes an imposing figure as Hermione and easily has the audience empathizing with her plight. Leontes banishes their newborn daughter, and a messenger abandons her (Harry Potter style) on the outskirts of Bohemia. Having cast out all the wrong in his life, Leontes consults the Oracle (here, in the form of a booming reel-to-reel tape recorder) to justify his actions, and Hermione falls dead right before the Oracle pronounces she and Polixenes to be innocent. Things get increasingly worse for everyone as the first half goes on, culminating in perhaps the cruelest stage direction imaginable: "Exit, pursued by a bear."
If the plot alone wasn't enough to get the tragic feel across, the music enhanced the melancholy atmosphere a hundredfold. Music Director Taylor Peckham played Michael Torke's original score on an onstage grand piano, hitting the keys heavily to accent Leontes' more menacing moments. At times it seemed a bit overkill, but it steered the play in Edelstein's desired direction, enforcing the coloring in every scene and creating a powerful vibe.
The audience is welcomed back after intermission by Time, personified as an ensemble with ticking metronomes to explain a 16-year leap into the future. It was very surreal, and even more surreal was the 360 change in scenery for the second half of the play, the sophisticated glass and metal of Sicilia giving way to something more reminiscent of a hillbilly picnic (complete with flowers that appear to sprout directly from the stage and real apple pies). The audience is treated to a love story between the long-lost Sicilian princess, raised by a shepherd, and her sweetheart, who just happens to be the Prince of Bohemia. The Shepherd and his son, played by Mark Nelson and Brendan Spieth respectively, brought in some much-needed comic relief. The man who really stole the show though, a roguish conman (played by Paul Kandel), traipsed around the stage with his larger than life personality, making pop culture references and encouraging the audience to join in on the refrain of his musical number.
The play progresses in hilarity and ridiculousness to a magical conclusion and an inherently happy ending (not to give too much away, but make sure to watch the statue). In the end, Edelstein's modern take on "The Winter's Tale" is very accessible to audiences, and is a refreshing Shakespeare production for those who've seen "Midsummer Night's Dream" or "Macbeth" one too many times. It brings up interesting questions about disasters and miracles and what to do when one happens to you, and Shakespeare even provides you with an answer, if you listen carefully.
If you're interested in hearing what Shakespeare has to say on how to put your life back together when it's in pieces (crying and/or laughing along the way), "The Winter's Tale" runs at The Old Globe theater in Balboa Park through March 16.
About the Contributor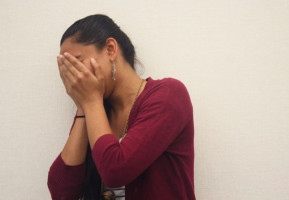 Elizabeth Tarangelo, Staff Writer
ET is thrilled to be reporting for The Mustang. As for why her face in hidden in her profile photo…

One reason could be that she's an enigma, a...