"Water by the Spoonful"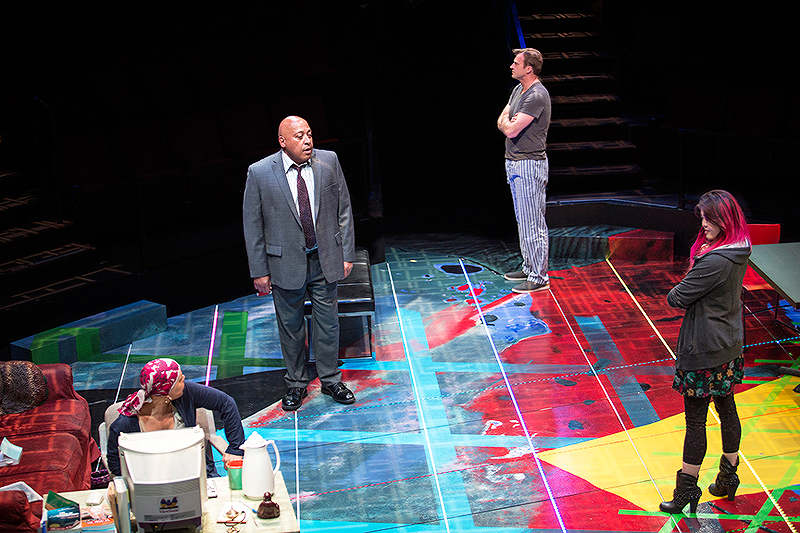 I've seen my share of plays. School plays, professional plays, community theater performances – I've seen them all.
Plays have always intrigued me, mostly because I find it impressive that the actors have to memorize all their lines prior to be watched, and recite them with perfect timing and energy in front of a crowd of audience members , staring like vultures, picking apart the precise movements of their prey.
Recently, I witnessed perhaps the most satisfied flock of vultures I've ever seen, and additionally perhaps one of the best plays I've ever seen.
"Water by the Spoonful," currently playing at the Old Globe Theater in Balboa Park , was both heartwarming and heart pounding.
The play, written by the Tony Award-winning playwright behind "In the Heights,", is based off of a novel by the same name which won the 2012 Pulitzer Prize for Drama.
The story is centered on former marine, Elliot Ortiz, played by Rey Lucas, who is haunted by memories of his time spent in Iraq and his struggles with an injury and intense family problems. As the play progresses many other characters surface, each with their own challenges and demons, including Orangutan played by Ruibo Qian, and Fountainhead played by Robert Eli. Eventually these troubled characters find each other on an online chat room and help each other through all the hurdles life throws at them.
Each character was played with great care and I truly felt I had been dropped into their chaotic lives, watching as a bystander rather than an audience member.
The set was simple, with several small sets within one room simultaneously, but somehow the actors made it work.
Overall, I truly enjoyed "Water by the Spoonful." There were moments when the audience broke into laughter, followed in mere seconds by heart wrenching plot twists that left me feeling a connection to the characters I don't normally feel watching a play. Not a single detail was overlooked or sloppy, and when the play was over I wanted to see more. Each entwining backstory was fascinating. Each character's life had a depth to it that held my interest for every minute of the production. I would highly suggest seeing "Water by the Spoonful." It made for an evening well spent.
The play will continue to be shown at the Old Globe Theater until May 11, with ticket prices starting at $29.