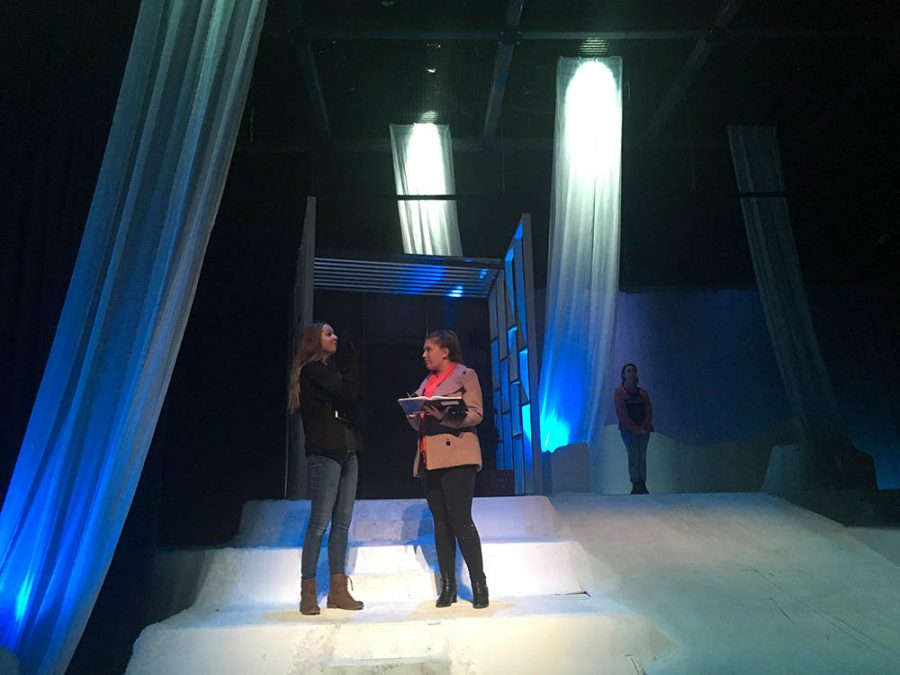 "Snow Angel" Comes to SDA
March 14, 2017
When the biggest blizzard in 107 years hits the small town of Deerpoint, Vermont, a peculiar girl by the name of Eva steps out of the snow covered hills and into the lives of 15 puzzled and confused teenagers. Throughout the play, Eva's friends help her deal with her daily struggles, and they help her to discover who she truly is.
Tickets for "Snow Angel" are now on sale for $15 per adult, and $8 per student. Tickets can be purchased at the door or at www.seatyourself.biz/sandieguito. San Dieguito Academy will present the show on March 16-18 at 7 p.m. in the Clayton E. Liggett Theater.
The cast members of "Snow Angel" are very prepared, and have been working diligently since the week before winter break. Savannah Casey, a senior, said, ¨We have about three rehearsals a week that are an hour and a half long, and beyond that we have things like prep days that are from ten to four p.m., so six hours long of just tech work where we're working on lighting, we're working on sound, a poster, a t-shirt, or something. We are always busy.¨
Gibran Mustafa, a junior, said, "Auditions were the week before winter break. So since then, we've been working hard the whole time. Once 'The Addams Family' ended, the rehearsals immediately kicked up."
Every year, San Dieguito Academy's theater donates all of its proceeds to a charity. This year, they have chosen to donate their funds to the Community Resource Center, a charity that donates its funds to programs that end hunger, homelessness, and domestic violence in North County San Diego. Casey said, ¨I've really thought about becoming involved in non-profits, and so this is just one more opportunity to give back to the community and really just be selfless. All of the profits go to the CRC, just like every year. Every year, we pick a play that kind of has a premise of what kind of charity we want to donate money to.¨ Mustafa said, "We just really want to make an impact on people's lives; that's our end goal."
The money made from the play really helps this organization out. The CRC Interim Development Director Deborah Murray said, ¨Although we get funding from other areas, in terms of grants and foundations, a good portion of our funding comes from the individuals and fundraisers, like the one with theater. We rely pretty heavily on donations, whether it's five dollars or five thousand dollars. All of it is put to good use and goes to our programs. We have programs that end hunger, homelessness, and domestic violence in North County San Diego. Through the program, we have an emergency shelter, and a hotline for domestic violence. We assist people with resources in helping them find shelter, whether it be emergency shelter, temporary or permanent. So any money that is raised on our behalf goes towards helping those programs.¨
Students will really like this show because it is about high schoolers and the struggles they go through. Also, the show relates to a lot of modern TV shows that students tend to enjoy. Casey said, "I find that I relate this show to the 'Breakfast Club', where all of these very vulnerable students get together and deal with their problems together. It's a very beautiful connection that they all have. Or maybe even 'Glee' or 'High School Musical'."
Max Ryan, a sophomore actor, related the play to a different show . "I would say it's like 'South Park'… just a bunch of different characters that have their personality shown through their Journals," he said.
Stage manager Ava Lilie, a junior, said, "I think that it's like 'High School Musical' because there are some romantic interests, everyone has a common interest, and some people get bullied a lot." Lilie added, "…I think that it's always great to support your local theatre crew, and your thespian club. You can also get inspired. Also, people can relate to the characters, so they might learn something new about themselves if they come."