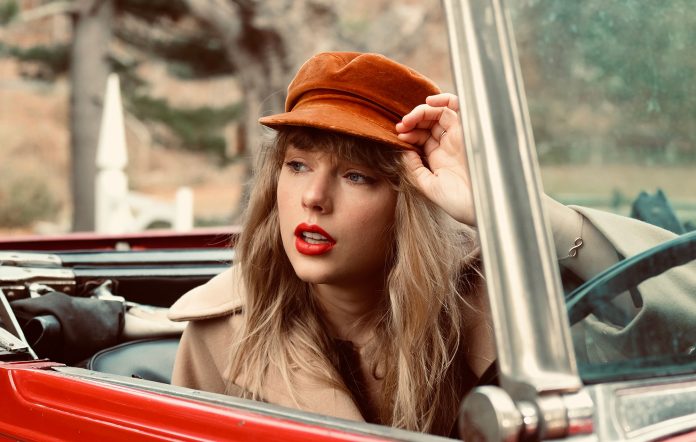 Photo Courtesy of Beth Garrabrant
"Red" begins again with an all-new version
"Everything Has Changed" after the re-release of Taylor Swift's acclaimed 2012 album
November 29, 2021
November 12th. I lay on the ground, heart hammering. My friend stares at the TV and then covers herself with a blanket. We were two minutes away from the release of "Red (Taylor's Version)," and we were, needless to say, freaking out.
But why were we freaking out about the release of songs we'd already heard millions of times before? In 2021, Taylor Swift began her journey of re-recording her masters, which means she will own her music for the first time. Many artists don't own their music, surprisingly, and Taylor is shepherding a movement specifically for female artists to go back and reclaim their old art.
Along with the re-recording of many songs we've heard before, there was also the promise of nine "from the vault" songs, meaning ones which were written for the album originally but were cut for some reason or another. As artists like Swift have gotten the opportunity to go back and re-record, they also have the creative freedom to release songs they never have before…and put out songs like "All Too Well" that include the original lyrics, making the beloved song five minutes longer and  introducing some of the incredible lyrics left on the cutting room floor. 
Sitting there on that Thursday night, I was transported back to 2012 when this heartbreak album first debuted. Red marked not only the first time Taylor truly made her transition to pop music, but also holds some of her biggest hits, like "22" and "We Are Never Getting Back Together."
However, when you look past the admittedly incredible popularized lead singles, you find a wealth of complex emotions buried beneath the surface. To hear what Taylor was thinking in songs like "Nothing New," which explores the pittance of time female celebrities are seen as shiny and exciting, and seeing her explore themes she only first talked about five years after the album's release in 2017, is to know things about Taylor we've never known before.
Here's a breakdown of some of the best re-recorded songs, as well as a look at the standout "from-the-vault" songs.
"Red (Taylor's Version)"
 We can't talk about "the album without mentioning the album's title track. "Red "is chock full of similes which I find delightful. With lines like, "Losing him was blue like I'd never known," and "Memorizing him was as easy as knowing all the words to your old favorite song, fighting with him was like trying to solve a crossword and realizing there's no right answer," this song is relatability at its height. Through her use of color, Taylor is able to explore her emotions in a way she never has before. In the re-recorded version, her vocals are more mature and deep, and the way she says "loving him was red,"  is far more heartbreaking than the original. Her lyrics cut deeper, and the desperation in her voice is more tangible.
Best lyric: "Remembering him comes in flashbacks and echoes / Tell myself it's time now, gotta let go / But moving on from him is impossible / When I still see it all in my head / In burning red"
"22 (Taylor's Version)"
Happy. Free. Confused. Loney. Miserable. Magical. All words Taylor uses to describe her experience of being 22, but I think they're applicable to most of our teenage years as well. Set to the background of pop music, Taylor abandons any responsibilities, exes and deadlines in this fast paced and sweet ode to being twenty-two. In the music video, Taylor and her friends enjoy a sleepover where they neglect any heartbreak and responsibility that they have in their lives (which is weirdly relatable.) In the re-recorded version, Taylor's vocals are definitely more mature which slightly diminishes the youthful angst of the lyrics.  At the same time, though, it was hilarious to hear a 31 year-old Taylor sing,"Who's Taylor Swift anyway? Ew."
Best lyric: "We're happy, free, confused, and lonely at the same time"
"Nothing New (ft. Phoebe Bridgers) (Taylor's Version)" (From the Vault)
Nothing says reclaiming your work more than doing anything you can to own it, while including some incredible from-the-vault songs and not-so-casually discussing the blatant sexism of the music industry with another young female artist. By bringing in Phoebe Bridgers, Taylor is able to expand the narrative of her experience to include another young pop icon whose experience is similar to her. "Nothing New" laments the fact that, as young female stars grow up, they often lose a lot of their novelty and feel out of the spotlight by the time they're past 35. Taylor says in her documentary "Miss Americana" that "the female artists [she] know[s] of have to remake themselves 20
 times more than the male artists." She talks about this and more in her 2019 documentary, but it's special and sad to see that she was thinking about the same things at the ripe old age of 22. Song lyrics like, "Lord, what will become of me once I've lost my novelty?" and "It's a fever dream / The kind of radiance you only / Have at seventeen," beckon you to take a peek behind Taylor's public persona to see a very vulnerable place of self-examination.
Best lyric: "How did I go from growin' up / To breakin' down and I / Wake up (wake up) / In the middle of the night / It's like I can feel time moving / How can a person know everything / At eighteen, but nothing at twenty-two?"
"All Too Well (10 Minute Version) (Taylor's Version)" (From The Vault)
Alright, everyone. The moment we've been waiting for. A ten minute version of one of the most iconic Taylor songs of all time. There's a lot to unpack here, so grab your coziest scarf and dartboard with Jake Gyllenhaal's face on it, and let's get to it.
In short, I and many other Swifties lost our minds for several days after this song was released. Imagine your favorite song being five minutes long, but you KNOW a longer ten minute version exists. 
In this ode to her short-lived relationship with Jake Gyllenhaal (who probably needs to consider hiding underground after the backlash he has received since this song has been release,) Taylor puts some of her greatest lyrics, most heart-wrenching lines and prettiest imagery in one scream-inducing package. 
In addition to being an extended version of her most beloved song, it is also explicit, which many Swifties find too amazing to put into words. "**** the patriarchy" is the second line of the new lyrics, which is the perfect way to start it and a nod to the re-recording process. In a way no artist has before Taylor rendered me speechless, I will never forget the moment I heard these new lyrics for the first time and the feeling I felt as my favorite part of the song, the bridge, was extended in lines by Taylor's favorite number: thirteen.
Best (new) lyric: "The idea you had of me, who was she? / A never-needy, ever-lovely jewel whose shine reflects on you / Not weeping in a party bathroom / Some actress asking me what happened, you / That's what happened, you"
Leave a Comment
About the Contributor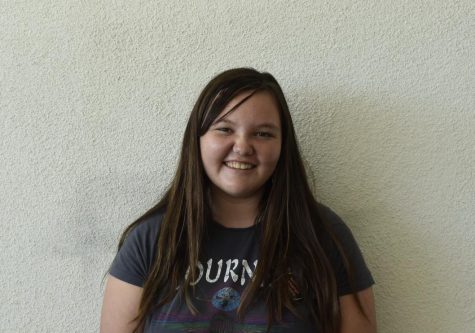 Kaya Simcoe, Staff Writer
Supplying trees with CO₂ faithfully since 2005™️