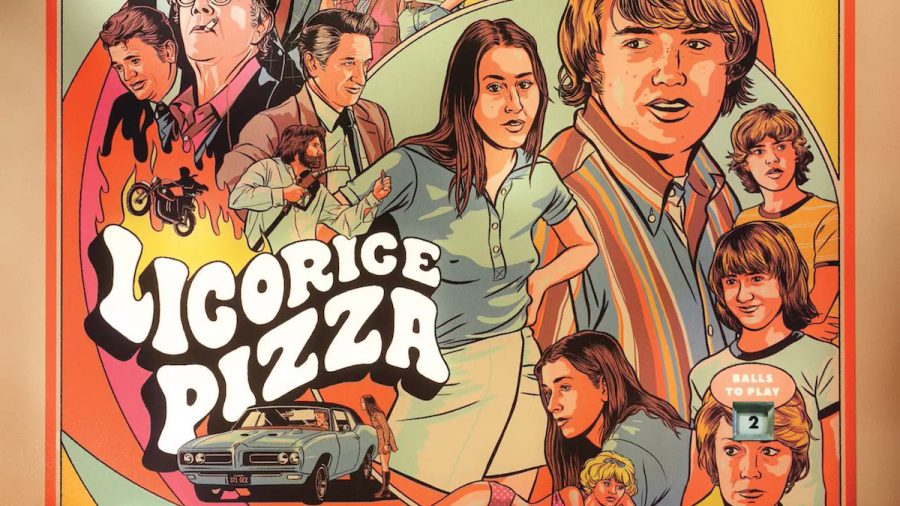 Licorice Pizza: Paul Thomas Anderson's latest gem
New film does not disappoint
January 24, 2022
Paul Thomas Anderson's newest feature film, Licorice Pizza, paints the San Fernando Valley, just north of central Los Angeles, in a golden hue reminiscent of childlike wonder and evokes a won't-grow-up feeling throughout. The movie, released  in select theaters on November 26, 2021, then widely released on December 25, 2021, has been nominated for Best Film, Best Motion Picture – Musical or Comedy,  and named one of the best films of 2021 by the American Film Institute.
Set in Anderson's hometown of Encino, the film follows 15-year-old Gary Valentine, played by Cooper Hoffman, a charismatic, somewhat mature high schooler who, upon meeting 25-year-old Alana Kane, played by Alana Haim, automatically asks her on  a date. The rest of the movie follows the two through a sticky San Fernando summer, where Gary starts at least three businesses, dragging Alana with him on all his grand ideas. 
Licorice Pizza is both Haim and Hoffman's acting debut, and they are both nominated for Best Breakthrough Performers. Haim knew Anderson from him directing music videos for Haim, the band she is in with her two sisters, Este and Danielle. The Haim family cameos as Alana Kane's real family, bringing genuine interactions to the silver screen. Anderson told the New York Times he knew Haim would be good, but he  "didn't know she was going to be that good." He recalls looking around at his production crew for validation and "everybody collectively on set was seeing what I was seeing — her skill and the way you can photograph her."
While the movie is set in 1973 and despite the subplot of Alana volunteering at a politician's office, there aren't many current events talked about in the movie,furthering the childlike innocence of a summer where news is left to the adults. About halfway through the movie, the oil crisis, the one thing that connects the movie to 1973 besides costumes and sets, is introduced. "It's the end of the world, Greg!" yells Gary to his brother as he runs through lines of parked cars, on his way to deliver a new waterbed to a customer as part of his and Alana's Fat Bernie Waterbed business. After Alana tells Gary that the waterbeds are made of oil, the pair get into another of their jealous fights-which happen a few times throughout the movie- as Alana realizes she wants to grow up and stop hanging out with "Gary and his fifteen year old friends."
The movie feels just like it was filmed in the summer of 1973, thanks in part to PTA's directing style but also from the costumes, sets and music. Costume designer Mark Bridges, who is Anderson's go-to designer, raised the bar on the costumes- most are found from scouring LA's vintage shops, old Cosmo and Seventeen magazines, 70s catalogs, and even movies and shows from that time period- so the authenticity is genuine. The crew also made the decision to keep the actors looking natural. "It wouldn't be truthful to the movie," Haim told the New York Times, "because growing up in the Valley where it's 100 degrees outside, you would look worse if you wore makeup, because it would melt off and you'd look insane."
While Alana and Gary bounce from fight to fight and business to business together, Gary never fails to ask Alana out again and again throughout the movie. It's never quite established how old she is- at one point she says she's 25, but pauses before saying "five…" "There was never really a conversation between me and Paul about how old Alana was," Haim told the New York Times. "Somewhere in her early 20s. I say some ages in the movie, but you don't really believe Alana. She kind of doesn't even know how old she really is? She's very secretive. But really, it's about her and Gary's friendship more than anything."
A wonderful soundtrack takes viewers through the story of Gary and Alana, from Gordon Lightfoot to The Doors to Sonny and Cher as the pair navigates growing up together during the summer of 1973. The songs follow them as they run from the police, travel to New York together, and drive around in Gary's family car. Anderson's directing, along with Haim and Hoffman's acting makes this movie not only unforgettable but also worth every moment. 
View Comments (1)
About the Contributor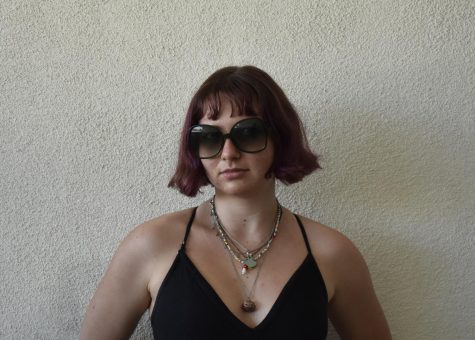 Skyler Martin, Arts Editor