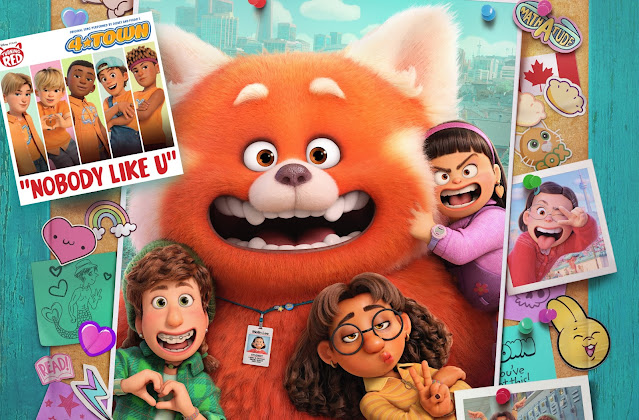 Turning Red Review
"Turning Red" is turning heads.
May 1, 2022
Released February 21 on Disney+, "Turning Red" is a new Pixar movie about Meilin, a 13 year old Chinese-Canadian student who lives in Toronto with her overbearing mother and shy father. Mei helps her parents run the temple her family dedicates to her ancestors, gets straight A's in school, plays the flute, and "has a gang of rather nerdy friends." However, Mei also has a less obedient side- one that has a crush on the high school boy who works at Daisy Mart, listens to the super-popular boy band 4*TOWN, and sneaks out at night to middle school parties. 
Mei's life completely changes one day when she wakes up (after a scary nightmare involving her crush turning into a fish) to realize she has transformed into a red panda. When Mei's mother Ming (played by Sandra Oh) discovers her daughter has been turned into a giant fluffy red panda, she explains that the spirit of the red panda (and the ability to transform into it) was passed through generations. 
Mei learns that her ancestor once called upon the spirit of the panda to protect her family from invaders and thieves in China. Her mother tells her that there is a ceremony to forever trap the panda, but if Mei continues to embrace the panda before the ceremony, it will be harder to trap. Mei is forced with a very difficult decision- will she keep the panda, which has helped her become more liked by people at her school outside of her friend group, or will she abide by her family's wishes and trap it?
Directed by Domee Shi, "Turning Red" is inspired by her own experiences as growing up as an Asian American girl in a strict household- ""I was definitely Mei when I was 13, and I still identify with her now. I was that good little mama's girl who one day, BOOM, puberty hit. I was bigger, hairier, more emotional, and fighting with my mom almost every day," she told Vanity Fair. Shi says that the panda is a metaphor for all the "messiness inside of [Mei] that wants to come out." 
Shi is the first Asian woman to direct a full-length Pixar film alone– she's been working at Pixar since 2011 and previously won an Academy Award for directing "Bao," an animated short film. "Turning Red" is inspired not only by her personal experiences as a young girl, but also the shows and anime she watched growing up in the 90s and early 2000s, including "Sailor Moon," "Fruits Basket," and "Ranma ½." The battle at the end of the movie between Mei and her mother could be seen as straight out of an anime with fast-paced movements and key shots. Japanese anime and Pixar's hallmark style of cartoonish 3D animation blend beautifully together into very expressive characters with a pastel color palette. 
Turning Red, a classic coming of age story, addresses subjects that may be uncomfortable- mostly towards parents wanting to "shield" their kids from growing up too fast. However, the film addresses subjects like puberty, a first crush and rebelling against parents in a way that parents shouldn't be afraid of. "Mei and her crew connect and explore their feelings through pop culture in a very safe and healthy way… something that should be applauded," says Sona Charaipotra, author for  yahoo.com. Addressing these topics in a subtle but still prevalent way makes the story of growing older more relatable for viewers, and can even be a good stepping stone for parents to discuss changing and growing older with their children.
The movie is fun and relatable to many, thanks to Shi's directing talents and influences. "Turning Red" is great for all ages, even high schoolers who might think they are too cool to watch an animated movie. It's mature, refreshed, and will undoubtedly bring back memories from embarrassing encounters with a first crush. 
Leave a Comment
About the Contributor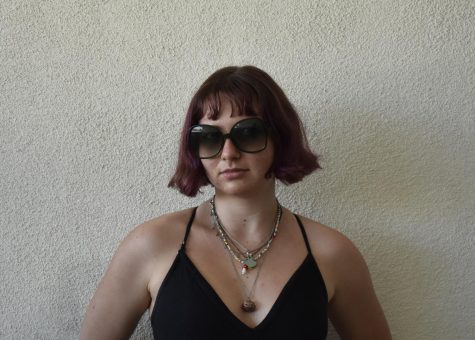 Skyler Martin, Arts Editor