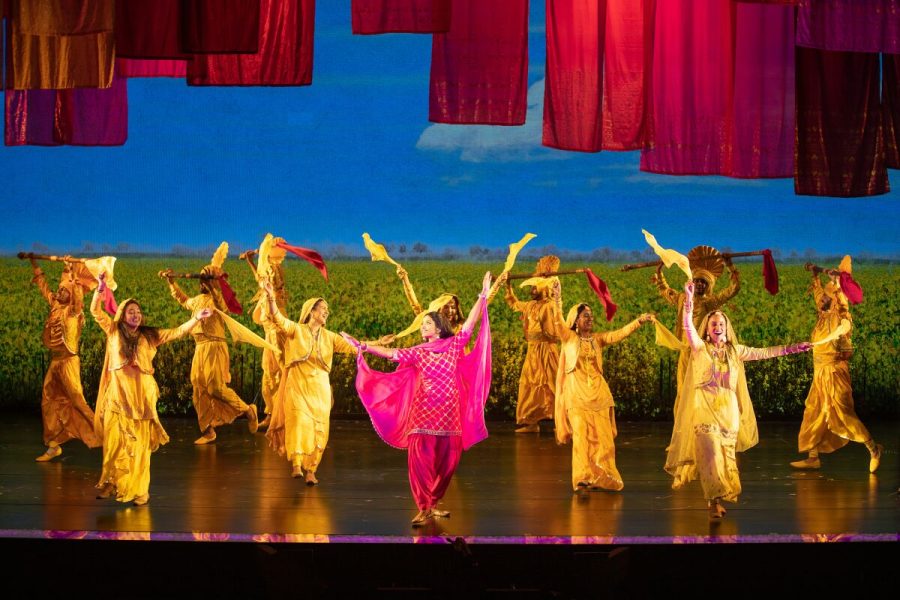 Bollywood musical dazzles at San Diego theater
"Come Fall in Love" rom-com tackles interracial relationships with song and dance
September 16, 2022
In the first five minutes, the stage exploded into colorful fabric, painted flowers, hand-sewn sequins, and joyful dance. And that was basically how the rest of the show went. 
Come Fall in Love is a broadway-bound show running in San Diego at The Old Globe until October 16th. 
This long-awaited production is a musical spin-off of the most popular Bollywood film of all time, DDLJ (Dilwale Dulhania Le Jayenge), and shares a director with the film. 
Come Fall in Love follows Simran, an Indian-American first-generation woman studying philosophy at Harvard and Rog, a white son of divorcees (a tech giant and his jokingly manipulative ex-wife). After a fluorescent frat party kicks off their relationship, they follow an enemies-to-lovers plot, with hilarious trips around the world, the one-bed trope, and adorable musical numbers to boot. 
The production, whose book and lyrics are by Nell Benjamin, writer for Broadway's Mean Girls and Legally Blonde, pulls together references almost all audiences will be entertained by-from Ivy League consumerism and teenage frivolity, to Boston and police officer humor, to Bollywood plots and immigrant parent fears-and most will be smiling by the end of this rom-com. 
The stage design utilizes both rolling sets and projected paintings to transport audiences wherever Rog and Simran may be; highlights include changing sunset landscapes with drifting projected clouds, yellow flower fields, a small city bodega, and even a plank of automated pecking.
The score is another triumph—incorporating gorgeous minor chords, heartfelt and sometimes funny lyricism, and genres ranging from classical South Asian to R&B. And the actors do right by the composers, with stunning vocals from Simran played by Shoba Narayan, who just played Princess Jasmine in Broadway's Aladdin and Rog played by Austin Colby, who among other off-broadway and regional shows, played Kristoff in the national Frozen tour. 
As such, this show has an almost Disney feel, complete with shimmering saris, big smiles, and plenty of song breaks. It is clear this is one of the most expensive productions in Old Globe history, and it is both a worthy risk, and a great success for the usually-traditional theater. 
Although applauded widely in Indian-American communities, it is worth mentioning that this show does change a major element-Rog, a white man, was originally Raj, an Indian man, and this alters the way the romance plays out. 
The writer and composers defended this, reminding audiences in an article for The New York Times that the original movie was supposed to be about a mixed-race couple, and that his privilege is especially vital because it doesn't help him with the approval from Simran's family. 
Even with its discussion of important issues of our time like interracial and interfaith couples, immigration, and the financial pressures of college, Come Fall in Love is shockingly traditional aside from the casting. It portrays no explicitly queer couples, has an almost entirely straight-sized cast, and doesn't discuss the intricacies of different Indian cultures—or dances. 
This is in contrast to La Jolla Playhouse's recent Bollywood production, Bhangin' It. To have the two most influential theaters in San Diego both doing shows about Indian-American experiences is incredible, but scheduling them within a year of each other means comparisons come naturally. 
While Come Fall in Love is more polished and gives audiences the "Broadway" feel, Bhangin' It is also educational, and shows audiences what it means to be biracial, queer, and to have morally gray antagonists. It is intersectional performance art and was successful at The Playhouse. 
However, it is hard to know whether that is the point of Come Fall in Love. 
Does a musical about Indian culture need to be subversive and nuanced or can be simply gorgeous and entertaining? Which San Diego show will benefit our culture more? It will be up to American audiences how Come Fall in Love will do on Broadway, but at the very least, they will be wowed by the set, music, and explosions of joy onstage.