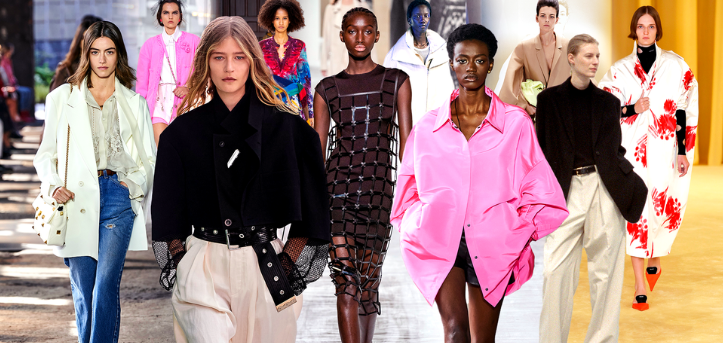 Photo Courtesy of Getty Images
2022 Trends Ranked
Old trends and some new ones from 2022 are addressed and rated
October 3, 2022
   2022 is the year of taking risks, whether they are in fashion or in everyday life. The current age allows for people to truly express themselves, but, as culture shifts, new trends are bound to come and go. These styles are constantly changing, and some of them can be quite controversial. Despite the uncomely look of a few popular fashion statements, there is no doubt that analyzing these fads is very enjoyable. On that note, I am going to discuss the current trends of 2022 and rate them based on my opinion. 
Corsets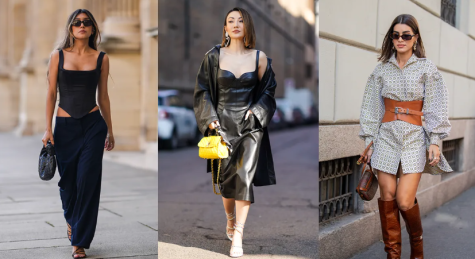 Images courtesy of Getty Images.
     Corsets are an ancient fashion staple. According to Vogue's fashion encyclopedia, they were primarily worn by women through the 16th to 20th century, but some men also chose to wear them. These corsets were used in order to shape bodies into the desired hourglass figure. In modern times, however, corsets are used as crop tops and fashion statements. Most of the trending tops are made in a solid color, with a supportive fit around the bust and a fitted body surrounding the waist. Some of them are complete with beautiful embroidery that can be the perfect addition for a night on the town, while others are more casual. But as with all clothing styles, there are pros and cons. Some pros of the newfound corset tops are that they are flattering on every body type and they can add an extra flair to an outfit. Some cons, though, are that they might be uncomfortable or over-the-top and they can be quite expensive, especially from mainstream stores. Overall, I rank corset tops an 8/10.  They might not be for everyone, but I personally think they are cute, flattering, and worth the splurge.
Platform Shoes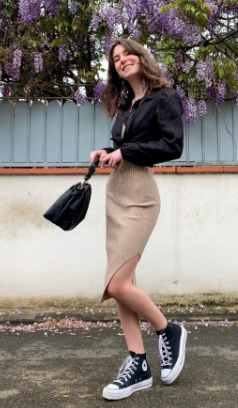 Image courtesy of Converse.com.
     Like most popular styles, platform shoes have made a huge comeback from the 80s and into the present. The chunky bottom of the shoe adds both flair and extra height. Many popular shoe brands have been producing new colors and cute designs of platform shoes, but some of these are harder to come by because of their newfound popularity. Converse, Vans, and Doc Martens are only some of many well-known brands that released well-received platform shoes. Personally, I think these shoes deserve all the attention they are earning. Every style of shoe looks arguably better with the added height of the platform, and they also pair well with most outfits, but this returning style of shoe also has many pros and cons. Some pros of platform shoes are their ability to complement an outfit and their fashion flair, while the cons are potentially their chunky shape and high prices. All in all, platforms are one of my favorite trends to come out of 2022.  I am personally more inclined to purchase a shoe with a platform because of the height addition and fun shape. With that being said, I rank platform shoes a 9.5/10.
Piercings 

Image courtesy of Allure Magazine.
     Moving on to less of a clothing style and more of a popular trend, piercings have lately been in high demand – whether they are ear piercings, nose piercings, or belly button piercings. With the help of social media influencers, the trend of getting several piercings has taken over the internet. In addition, many celebrities have gotten multiple piercings, which makes the fad even more popular. In my opinion, while certain piercings are cute and look cool, some  piercings just seem uncomfortable and not worth the money. Getting earrings or charms is expensive, and taking care of the piercings can be  a tough task. And if a piercing winds up infected, it can turn into an urgent health concern. On the other hand, I think getting some piercings to add a little style can be a positive thing.  Piercings are meant for expression and experimentation, and I think it is a great investment if you are willing to take care of it.  I personally rank piercings a 7/10 – while they can be a cute addition to an outfit, multiple piercings seem very difficult to deal with.
Birkenstock Clogs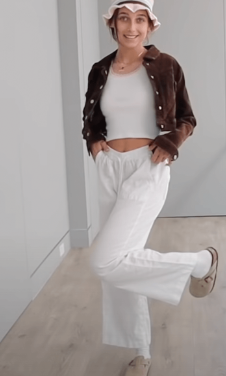 Image courtesy of Emma Chamberlain's YouTube.
      Now, for a more controversial trend, I will be discussing Birkenstock Clogs. It's no surprise that Birkenstocks have always been a crowd pleaser, especially back in the summer of 2019, when Birkenstocks (and the VSCO girl style) were extremely popular. In 2022, however, a new style of Birkenstocks caused the shoe brand to blow up again – Birkenstock clogs. These are a unique and slipper-like shoe that allows for both style and comfort. A big reason these shoes are gaining popularity is because of internet sensation Emma Chamberlain. Though trends come and go, she remains one of the main style inspirations for many members of Gen Z fans and even other generations. Chamberlain has mentioned that she enjoys thrifting and finding interesting pieces that might not look appealing at first glance, and also revealed that she takes ugly clothes and styles them. She has bought a pair of Birkenstock clogs and wears them in a way that upgrades the style of the shoe itself. To most average consumers such as myself, these shoes look like something an old man would purchase. The way that Emma Chamberlain styles them, however, makes me want to buy a pair, even though they don't really match my style. With that being said, I rank this trend a 6/10. I might not be a huge fan of this trend, but if the clogs are worn in the right way, I don't have a problem with it.
Cargo Pants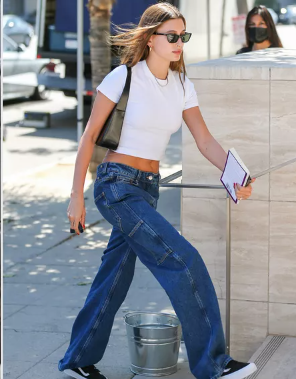 Image courtesy of People Magazine .
     Lastly, cargo pants have also made a comeback from the 80s. They were super popular back in the day, and now they're back with a vengeance in 2022. Cargo pants are baggier than normal mom jeans, come in a variety of different colors, and have wide pockets on the side. Personally, I think cargo pants are the perfect option for a comfortable yet stylish outfit. They are suitable for almost every occasion, extremely flattering, and frequently donned in model-off-duty looks by celebrities like Hailey Bieber (as pictured above). On the other hand,  cargo pants may add more of a sloppy look to an outfit due to their general bagginess. They can also be fairly expensive, but in my opinion, the style and comfort are totally worth it. Overall, I rank these pants a 10/10. They are right up my style alley, and I think they should be a staple in everyone's closet through fall and winter. As stated before,  many of this season's trending clothing items are going to be on the pricey side – but as long as you wear your cargo pants frequently, the price range is absolutely worth it for a cute and comfy look. 
     Overall, all of the trending clothing in 2022 has been exceptional. As with most trends, there are many recurring fads that often come from the 80s and earlier, like the corset. Although I wasn't able to address all of the current trends, it was interesting to see what has made a comeback and how it is worn differently in current times.  2022's current fashion favorites are definitely some of the best, and I look forward to seeing the trends that make a comeback in the future.