Why Disneyland is the Best at Christmas
The joyous attractions you can experience during Christmastime at Disneyland.
December 22, 2022
It's that time of year again! It's Christmastime again – a time for joy, cheer, and all of those amazing Christmas specials! Though people say "there's no place like home for the holidays", that's a lie. There is one place that's more magical – my grandparents house – but Disneyland is also a great place to celebrate the holidays! 
Disneyland is the happiest place on earth.  It's even better than Disney World. Being there at Christmas is truly an experience – Main Street is more beautiful than ever, and snow and ice adorn Sleeping Beauty's Castle. There's no better way to get into the holiday spirit  than listening to instrumental Christmas songs while purchasing a Gaston ornament (that plays the song "Gaston"). 
Of course, another way to enjoy Disneyland at Christmas is to go on some of the seasonal attractions. Small World and The Haunted Mansion are all decked out this time of year. They transform into Small World Holiday, and Haunted Mansion Holiday – they can't get too creative with these names, can they? 
Do you want to know about a holiday attraction that Disney World doesn't have? Well then, let me tell you a tale about dear Sandy Claws. First opened in 2001, Haunted Mansion Holiday combines an iconic Disneyland attraction with the excellent Disney movie "The Nightmare before Christmas". Jack has added his version of holiday cheer to this ride; the exterior is covered in jack-o-lanterns and his sleigh rests on top. As Disneyland-goers walk inside, they will see bone garlands and black-and-white bows decorating the walls, as Jack's ghost dog Zero moves through portraits. Of course, the queue isn't the only changed part of the ride, as the attraction itself is  covered in all sorts of holiday fear. Songs from "Nightmare Before Christmas" – such as "Kidnap the Sandy Claws" and "What's This?" – play throughout the ride,while a man-eating wreath looms and Madame Leota recites the 13 days of Christmas. Arguably the greatest part of the ride, however, is the gingerbread house – yes, even a gingerbread house can be scary! It's always delightful to see what spooky cookie creation is sitting on the ballroom table. 
Now, every attraction needs its climax, and all Disney fans should know by now that the mansion's peak of terror is its graveyard scene. During the holidays, animatronics of Jack, Zero and Sally can be seen, and all of our favorite ghosts sing a new song! This graveyard Christmas carol is a combination of holiday favorites , such as "Jolly Old St. Nicholas", "Jingle Bells", "We Wish you a Merry Christmas" and "Grim Grinning Ghosts" (the Haunted Mansion classic). 
Let's leave New Orleans Square and move over to Fantasyland to ride Small World Holiday! The tradition started in 1997, turning "It's a Small World" into a Christmas classic. You go through different places and see different cultures celebrating the holidays, while beautiful scents fill the room and the totally-not-creepy-at-all dolls sing a mash-up of "Jingle Bells", "Deck the Halls", and "It's a Small World". Everything is so beautiful, and the decorations are outstanding. Nothing gets me more in the Christmas spirit than riding Small World Holiday! Small World Holiday's exterior gives the iconic Small World clock a Santa hat, which seems to be the only change until it becomes nighttime. Then colorful lights light up around the whole building, and it is absolutely incredible! Small World Holiday can get anyone in the Christmas spirit. 
Now it's time for the best way to celebrate Christmas at Disneyland – the famous Christmas Parade! Beautiful holiday floats drive around the streets of Fantasyland and Main Street, and there are always cool characters walking around. Of course Mickey and Minnie are there, but the best characters are the ones you only see at the Christmas parade – like the gingerbread men and the reindeer! The two greatest are the snowmen and the toy soldiers; the snowmen are extraordinarily cute, as they're chubby and have cute lil' dot eyes and wear these cute little clothes. And the toy soldiers, who were originally from the movie "Babes in Toyland", are now more well known for their appearance in the parade, walking around playing trumpets and drums while being in sync with the music! The toy soldiers are so iconic, and to me, they're the face of Disneyland at Christmas.
So now you know, the beauty of Main Street at night, the wonderful holiday versions of ride, and the parade, bringing us characters we think of when we think of Disneyland Christmas time. That is what Disneyland Christmas is about. Merry Christmas to all and to all a good night!
Leave a Comment
About the Contributor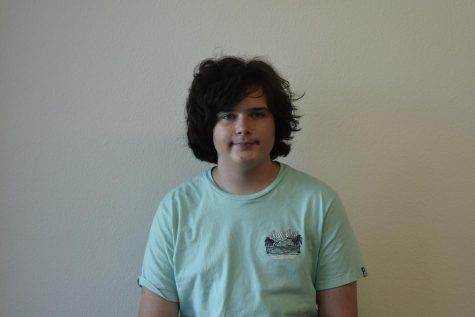 Holden Abelmann, Staff Writer
"Have you ever heard the tragedy of Darth Plagueis the wise?"