Foster The People Concert Preview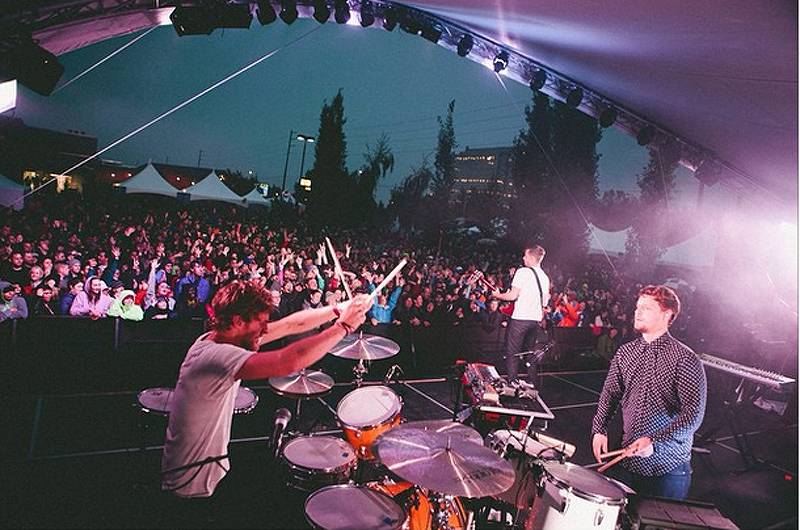 By Gina Checchia, Staff Writer
September 5, 2014
If you haven't heard the song "Pumped up Kicks" being played on the radio at least once an hour for the past three years, you must be living under a rock. The inventive indie-rock band, Foster the People, have been firing out alternative radio hits since early 2011 and are in no position to stop anytime soon. They have been on numerous tours throughout the world, and for the first time since 2012, they are coming back to headline North America for a full-length 30- date tour.
This tour will be promoting their synth-filled dance-rock album, "Supermodel," released on March 14 of this year with the included hit single, "Coming of Age." Our local date for this tour will be at the Rimac Arena on the campus of UCSD on 7 p.m. Saturday, Sept. 27, with support from an opening band that hasn't been announced yet.
Tickets are still available on Ticketmaster online only for general admission pit starting at $35.50 with added arena fees of $17.85, and free parking also included at the venue.
It's a surprise the tickets aren't hitting the $80 to $100 zone for general admission, especially because this is a headlined arena tour with a band that has made Billboard top charts. Nevertheless, I hope to see old and new fans coming out to this show to catch a glimpse of just how talented Mark Foster, Cubbie Fink, and Mark Pontius really are.
I've been an involved fan of FTP since 2011, when the release of their premiere album, "Torches," came out and I've been waiting to see them after missing their last tour in early 2012. They have played festivals as opening bands here and there in their hometown San Diego and since their last headlining tour, but haven't headlined.
I'm one of those types of fans that will watch numerous YouTube live videos taken from different tours and festivals because I prefer to listen to the raw sound. That being said, I have a lot of high expectations that the bands I see will sound close to their studio versions live and have the same atmosphere I come to see and love on live videos. I expect that they will have that stage presence that hooks you in with dancing and moving around the stage, the synth connected to lighting to make effects that make them different from any other band, and a sound quality that doesn't disappoint from the original studio version.
I've never myself been to the Rimac Arena; so I am also hoping the venue will have easy entrance into the venue, lots of parking, and security that does their job without being too in your face. I'm hoping that the setlist will combine old and new songs with a good balance of hits being played so newer fans and older fans can know the songs being played and learn new ones at the same time. All in all, I am just overwhelmed that I get to finally see one of my favorite bands play live and have my hopes fulfilled. I also want to see other SDA students amidst the crowd, so be sure to get your tickets as soon as possible before they sell out!