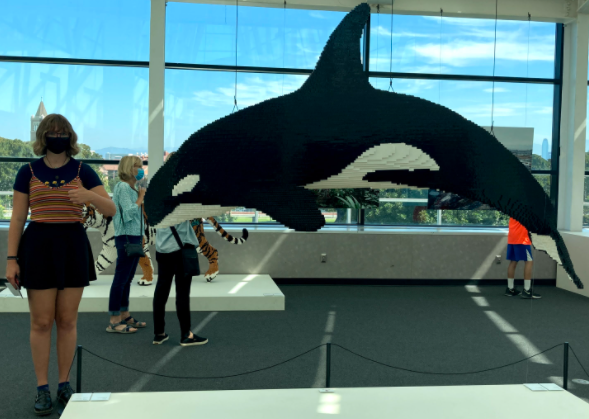 Photo courtesy of Skyler Martin
The Lego Art of the Brick Exhibit
A beautiful exhibit at the Los Angeles Science Center showcases artist Nathan Sawaya's amazing creations.
September 21, 2021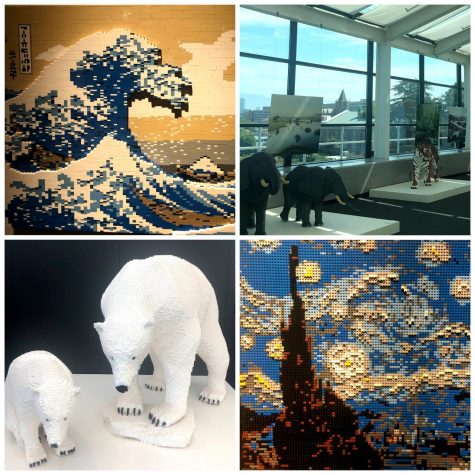 Legos are widely known, especially by kids in middle and elementary school, but there's also a big Lego fan base that includes people of all ages around the world. There's even a show (hosted by Will Arnett) about adults who are self-proclaimed "Lego Masters" and compete in challenges which include making puppets and hats out of Legos. 
My brother is obsessed with Legos- it's all he's asked for his birthday since he knew what they were. My grandparents invited us to meet them at the California Science Center in Los Angeles. A new exhibit had just opened: The Art of the Brick. 
This exhibit has previously been showcased at the Fleet Science Center in Balboa Park, and it is put on by artist Nathan Sawaya, who has been building with Legos ever since he was a kid. He said that he thinks it would be really great if kids these days could learn history, art, and other subjects from things that interest them- hence, Legos. Nathan Sawaya first gained traction in 2012, when he published a book called The Art of the Brick. His builds are considered "the world's largest display of Lego art," beating Legoland, and fill very large exhibits.
One of my favorite things about the exhibit was how it was set up. At the beginning of the exhibit, there were famous paintings and pieces of art that were recreated in Legos. Sawaya built "A Starry Night", "Girl with a Pearl Earring", and the "American Gothic." Additionally, he recreated still lifes, stained glass, and "The Scream". The "Mona Lisa" hung on the wall next to "The Great Wave of Kanagawa". It felt almost surreal to see all these recreations of famous artworks, one after another- although, of course, they were made of Legos.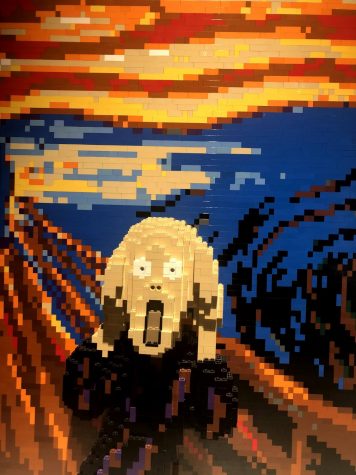 The next room was even more impressive. The "Venus de Milo", "Augustus of Prima Porta", and Michelangelo's "David" stood together on a platform, life-sized and, of course, made of Legos. The "Little Dancer" and more small statues stood behind them, giving people the opportunity  to take a closer look at art that they might not have the chance to see in real life. Sawaya even recreated a head from Easter Island and traditional Asian and African masks, vases, and statues. His capabilities seemed infinite, as in the next room he built a full tyrannosaurus rex skeleton.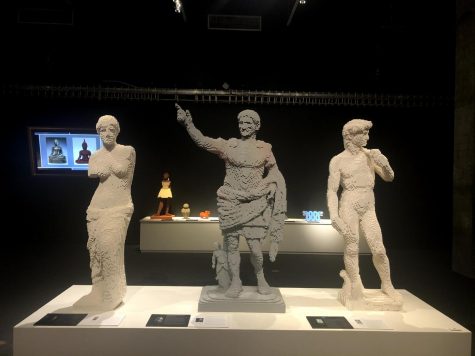 As the exhibits passed by, they developed into more abstract ideas, including a statue of a man whose hands turned into a ladder he was climbing, and the title image for the exhibit, a man tearing open his own chest, spilling thousands of Legos out onto the table.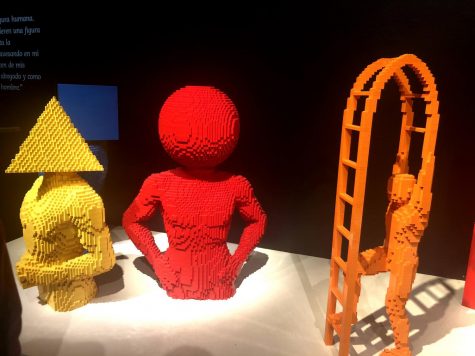 There was a room full of seemingly random Lego creations- a dog, a floating red dress, and a barren tree- all coordinated to their respective images hung on the walls. A few years ago, Sawaya collaborated with photographer Dean West, to bring his creations to the real world. Sawaya introduced his creations to barren landscapes and colorful settings, challenging the viewer to find the Lego dog, cloud, or towel. These realistic images put a new spin on what's really there right in front of you.
The last room was my favorite. Life sized-cheetahs sat next to arctic foxes and reef sharks. Sawaya had collaborated with West again, "bringing light to the critical need to save the world's most loved and endangered species." 
The exhibit, PERNICIEM, which is Latin for extinction, showcases endangered species from around the world. However, instead of photographing real animals, Sawaya built them out of Legos. Sawaya and West photographed Lego elephants at the watering hole, Lego cheetahs walking on sand dunes, and Lego macaws sitting on trees. The animals look right at home in the wild, besides the fact that they were not actually in their natural habitats. I loved the Lego orca hanging from the ceiling in the actual exhibit, which was posed to look like it was swimming through the science center.
 Most of all, I appreciated the creativity of the whole exhibit. I walked in knowing that I'd see some amazing creations, but nothing could have prepared me for the originality and imagination that was put into the sculptures.
View Comments (1)
About the Contributor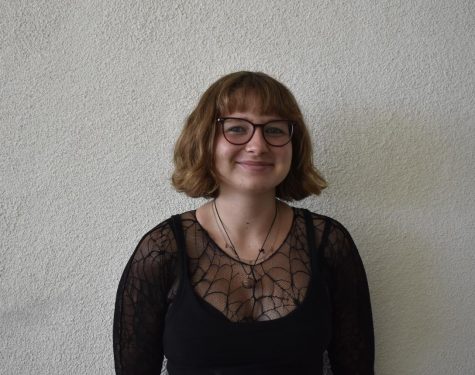 Skyler Martin, Arts Editor